Mortgage rates may have cratered, but mortgage stress has lifted to another record high with 1.1 million households now under stress, comprising 32.7% of borrowing households. From Martin North:
We are releasing the results of our rolling household surveys, which were completed before the latest round of bushfires started raging. Nevertheless, the results are a concern because the total number of households registering as financially stressed rose again, to 32.7% of borrowing households. This represent 1.1 million households across the country and a predicted default count of 83,220, despite lower cash rates, and some deeply discounted mortgages.

Stress is assessed in cash-flow terms, and when money in is not sufficient to cover the costs of the mortgage and other regular outgoings, the household is flagged as stressed. Granted they may have the capability to tap into deposits, pull down on credit cards, or even sell property, but on a regular basis they are in strife. We find a significant gap between those we assess as at risk, and those who believe they do have financial difficulty. Many adopt the head in the sand approach and hope things will improve, but given the current economic outlook, we think that is a courageous stance to take.

The RBA reported their E2 Selected Household ratios to September just before Christmas and weirdly, the entire debt to income ratio series was restated lower, not just the current quarter, but back through the series. As a result the average debt to income ratio dropped from 191 to a still high 186.5. We always have a issue with this series because it includes small business and households without borrowings, but the downshift in the series is quite significant, and unexplained. I have written to the RBA asking for an explanation. Note this is not the first time the series has been revised down, yet they do not include any explanation in the dataset.

Across the states, NT, SA and TAS recorded the highest proportion of households in difficulty, though WA has the highest default probability risk over the next 12 months at 4.2%, whereas the three most populous states, VIC, NSW and QLD sat at 2.2%. Victoria proportionally to New South Wales has a higher mortgage stress reading.

Among the DFA household segments, 57% of young growing households are in mortgage stress, and within this group there is a large cohort of first time buyers. 2.5% of these households risk default in the next 12 months.

47.5% of battling urban households are also in mortgage stress, and 1.7% risk default ahead. Many of these households occupy properties in the urban fringe, often on newish high density estates. The largest cohort is the disadvantaged fringe group, with 300,000 households in stress and 13,00 risking default. Stress continues to build in our more affluent segments too, with young affluent households at 11.3%, or 4,400 households and exclusive professionals at 21.5% in stress and 3.4% risking default. Losses from this exclusive group are expected to be as high as $1 billion dollars, and is the most value exposed group from a lender perspective.
While mortgage rates have cratered, actual debt repayments (comprising both principal and interest) remains high by global standards, running well above other English-speaking nations: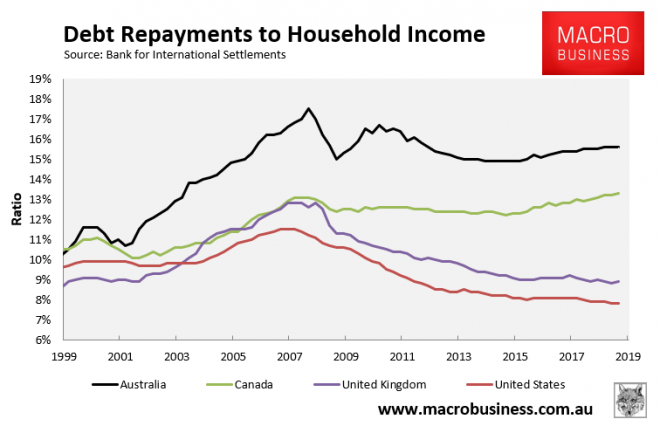 Despite the massive interest rate cuts experienced over the past decade, Australia's debt repayments are little lower today (15.6%) than it was at its absolute peak (17.5%) in June 2008, just prior to the GFC.
This has left Australian households in a precarious position as the RBA cash rate hits its absolute bottom and income growth stagnates.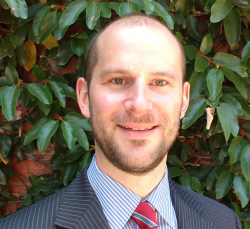 Latest posts by Leith van Onselen
(see all)