History doesn't repeat but it sure does rhyme. With the Australian property bubble back in full swing, the 'bank of mum and dad' is once again on the rise:
The "bank of mum and dad" is helping adult children with not only housing costs but everything from fuel and phone bills to holidays, a new survey shows.

More than half of Australian parents surveyed subsidise the lifestyles of their adult children, with almost 40 per cent letting them live rent-free and about the same proportion paying for their groceries.

About one in three parents help pay for mobile phones, internet or other bills, according to a survey by comparison platform Finder, while one in five pay for some or all of their children's holidays.

Another 15 per cent lent or gifted money for a home deposit, 15 per cent charged lower rents, 5 per cent went guarantor on a home loan and 4 per cent helped with mortgage payments.

Rising property prices, particularly the return to price growth seen in Sydney and Melbourne after their market slumps, have raised fresh worries about how aspiring home owners can afford to get onto the property ladder.
This is hardly a surprise.
The intergenerational bargain broke down long ago in Australia. Employment prospects for younger Australians have cratered: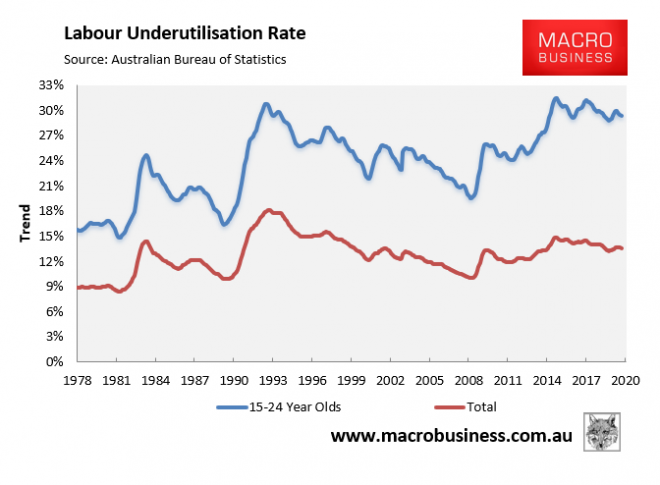 At the same time, housing costs have soared, coincidentally enriching their parents: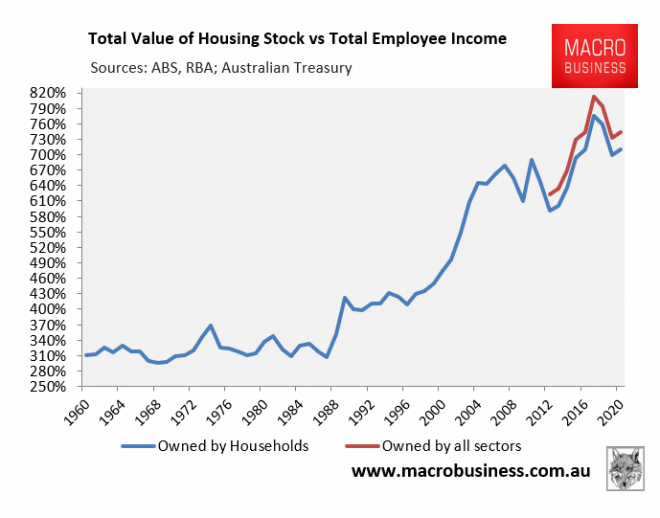 This has left the younger generation far worse-off financially relative to their parents at a similar age.
The 'bank of mum and dad' is really just a way of restoring intergenerational equity – effectively an internal re-distribution of housing riches from old to young.
Perversely, it is also helping to keep the housing bubble aloft by sucking in a whole cohort of otherwise sub-prime buyers with the help of 'mum & dad'.
The upshot is that the housing bubble is now so gargantuan that it threatens to take down entire families if ever it bursts.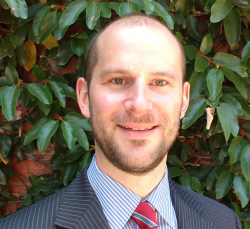 Latest posts by Leith van Onselen
(see all)