Via the AFR:
Competition chief Rod Sims has warned gas producers on the east coast that he expects them to lower prices to customers, to eliminate what appears to be an unreasonable gap between what they are paying and slumping international tariffs.

Mr Sims said the further softening in international gas prices, as measured by LNG "netback" prices from Australia, has left them sitting "extremely oddly" with the higher prices that local gas users are paying.

…"It looks like it's getting increasingly out of kilter with international prices, and if that's the case I think there are some questions to be answered."

… industry sources say many industrial gas buyers on the east coast are locked into term contracts for gas at $10-$12 a gigajoule.

"The average price in 2020 is $5.35, the average price for 2021 delivery is $7, so the forward markets are pretty soft not just for one year but for two years, and I think beyond," Mr Sims said.
The Australian Domestic Gas Security Mechanism (ADGSM) agreed between the gas cartel and the Morrison Government stipulates that the cartel will supply gas locally at export netback prices benchmarked to the Japan/Korean Marker (JKM). Today the JKM price is crashing. The May price is USD3.80! Going out to 2025 the average is about USD7.
In other words, we should be able to buy May delivered gas in Australia for around AUD4Gj, once currency and netback costs are removed. Instead spot is trading at $5.85Gj, though at least it is falling: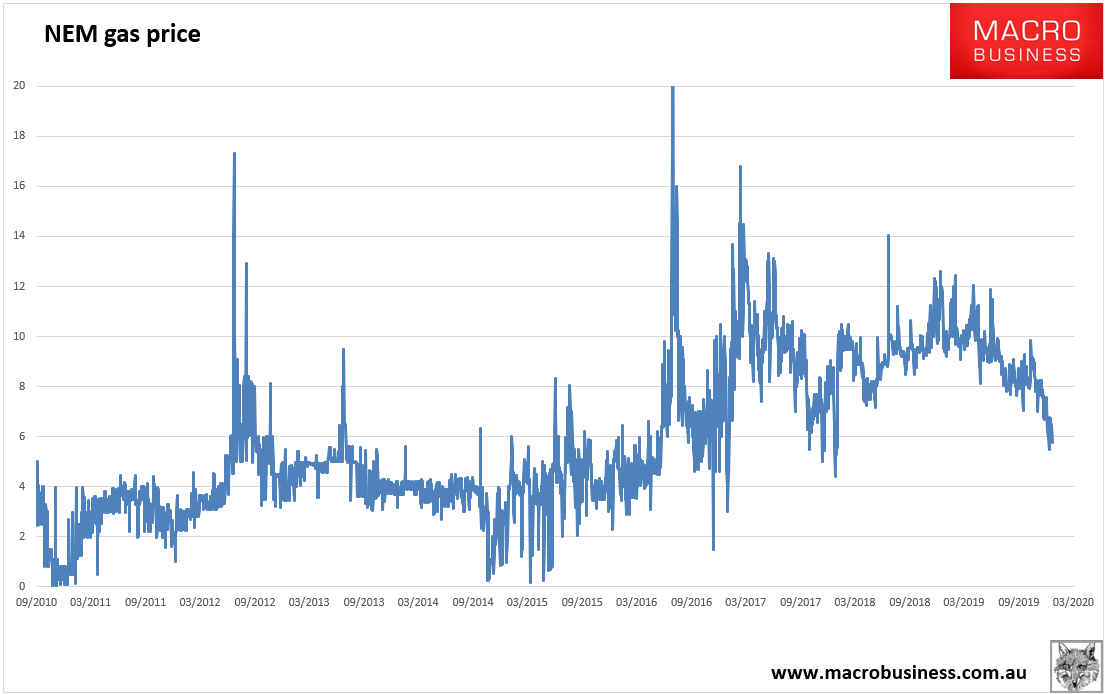 But that's not the real problem. 95% of the gas market is contract based. That is still being charged at AUD10-12.
The kicker is that the gas price sets the marginal cost of electricty on the east coast so the great gas robbery is a major factor in the east coast economy income squeeze on every household and business as well.
I don't know what to tell you. I've tried outrage. I've tried the plain truth. I've tried media interviews. Nothing sticks. The MSM doesn't care and neither do Aussies who are on the wrong end of a greatest burglary in history in the plain light of day.
Latest posts by David Llewellyn-Smith (see all)