Robert Gottliebsen has just gotten off the blower with High-rise Harry Triguboff, who is smitten by the resurgent Sydney property bubble:
A jubilant Harry Triguboff, who dominates the Sydney apartment market, called last night to say: "What makes me so happy is that the Reserve Bank has dropped its interest rates to 0.75 per cent and it is not frightening us that interest rates are too low.

"But what makes me even happier is that the government is helping people to buy. The government is no longer saying that young people cannot afford to buy and people now feel that the government wants them to buy.

"And the young people now can afford to enter the apartment market and they are buying.

"This is a wonderful market. As long as present policy continues prices will recover to where there were in 2016. All the people who bought properties then will recoup their losses."

The return of first-home buyers means that those who want to access the government's housing guarantee scheme need to be quick.

There were only 10,000 guarantees put on the table and they have created the rush in demand for apartments in Sydney and Melbourne…

Developers are urging the government to either allow another 10,000 guarantees…
High-rise Harry has cause to be excited. Sydney's dwelling values are rising at break-neck speed that rivals the peaks of the last two booms: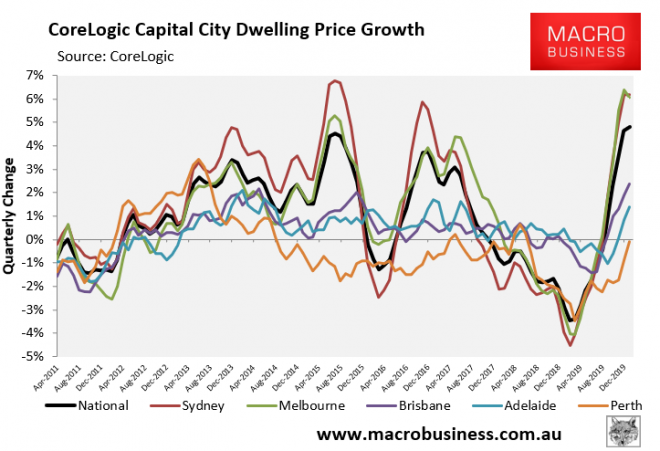 NSW first home buyers have also rebounded; although their numbers remain below historical averages owing to record high mortgage loads: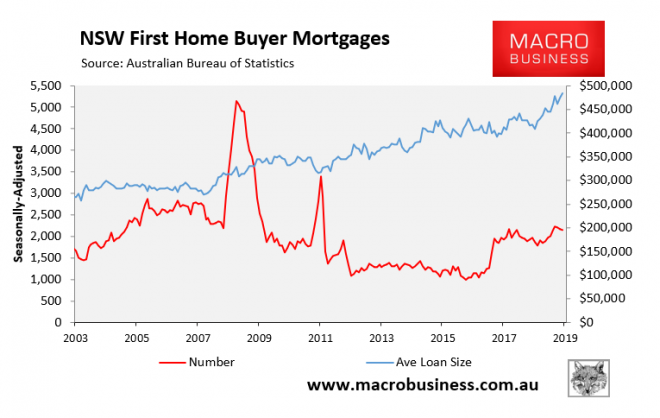 Rent-seekers like High-rise Harry remain the prime beneficiaries of Australia's ponzi economy, feasting on the swathes of migrants stuffed into Sydney each and every year alongside demand-side stimulus.
The AFR adds to the joy:
Housing markets in Melbourne and Sydney have taken off with a gallop, with values up strongly in the first three weeks of the year as buyers with improving access to credit hunt down the thin pickings of available listings.

Melbourne home values have gained 0.8 per cent since the start of January and Sydney values are up 0.7 per cent, data provider CoreLogic's daily index shows.

The headline index, which doesn't break figures down between houses and units, shows the pace of gain in the two largest cities is more than double anywhere else. Brisbane-Gold Coast values up 0.3 per cent, Adelaide 0.2 per cent and Perth 0.1 per cent.
Nothing like plucking some figures out of your butt to get the punters excited. That these figures are a marked slowing in price gains has somehow been overlooked: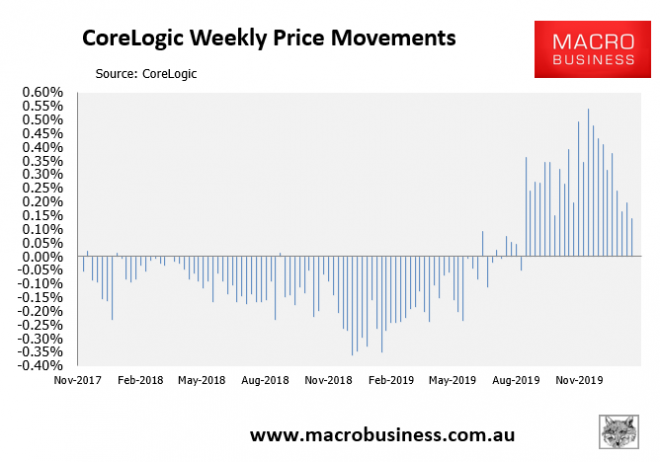 That's not saying that prices won't continue upwards for a while. We think that they will. But price gains will face mounting headwinds as the weak economy is greeted with falling commodity prices the deeper into 20/21 that we get. The gains are likely to slow some more over this time frame.
And run out shortly after.
These issues were discussed in detail in the MB Christmas Special Report.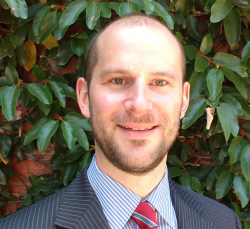 Latest posts by Leith van Onselen
(see all)