Productivity Commission (PC) chairman, Peter Harris, has lashed the Coalition's economic plan, claiming that it risks locking Australia into a low productivity, low wage growth future:
Peter Harris, who chaired the Productivity Commission between 2012 and 2019, said productivity had collapsed and wages had stagnated but "the political leadership tool of choice today is simply to emphasise the positive".

"With no policy catalyst coming out of Canberra to address the constraint that low productivity growth places on wages, our future growth looks set to enter a realm best described as chronically slow," he said…

Mr Harris said "the best that can be currently said in Canberra for structural reform is to trot out that old whipping dog, red tape, and give it another beating"…

Treasurer Josh Frydenberg said the economy's future prosperity will require Australia to boost its productivity.

"We are pursuing reforms across the tax, industrial relations, deregulation, competition, education and health systems allowing us to produce more with what we have."
The next chart from the ABS says it all: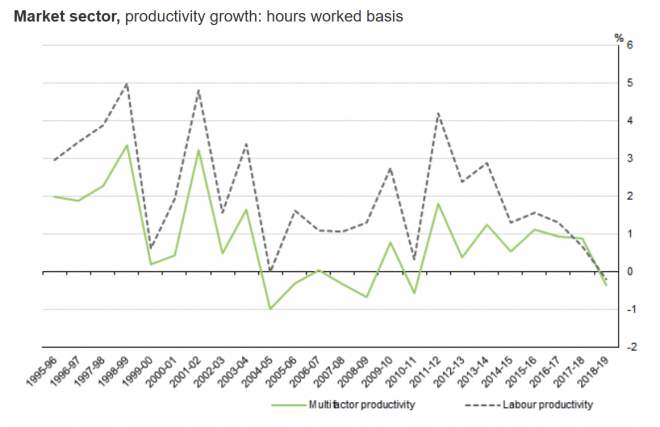 There are many underlying reasons why:
Crush-loading infrastructure via the immigration ponzi, thus diluting Australia's capital stock and requiring expensive new infrastructure to be built that is less efficient than what was already in place;
Massive over-investment in unproductive capital via the housing bubble (driven in part by egregious property tax concessions);
Massive mis-allocation into white elephant energy infrastructure;
Over-inflated land costs; and
Oligopolies and rent-seeking across almost all facets of the economy, thus destroying innovation, efficiency and good management.
In short, Australia's economic structure is stuffed and requires broad tax, energy and immigration reform.
As long as the economy relies on mass immigration and the housing ponzi to juice growth via consumption and pushing the capacity envelope, productivity will remain poor.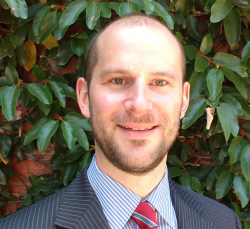 Latest posts by Leith van Onselen
(see all)