Former Liberal MP and Gosford Mayor, Malcolm Brooks, has attacked Australia's policy makers for encouraging "unchecked" population growth, claiming that it is destroying our quality of life:
"Unchecked population growth will have a dramatic impact on our quality of life and our politicians seem to be oblivious to this fact," Brooks said. "Without adequate planning and government action, our unchecked population growth also threatens our limited water supplies and makes the risk of running out of water more likely…

"Where will our additional water supply come from? "The over populated Sydney basin won't have enough for its own needs…

"With population growth and climate change placing increased stress over our limited water supplies. there appears little political will (Federal, State and Council) to manage population growth or to recognise the limitations of our available water supplies.
Separately, residents of Melbourne's migrant-stuffed South Eastern suburb of Casey – home to around 350,000 people and one of Australia's fastest growing areas –  are up in arms over excessive development and over-crowding, which they claim is turning the area into a "slum":
Two huge new housing estates in Casey have angered neighbours and experts who say the area has inadequate infrastructure and transport links to accommodate the growth.

The partially built Casey Green on Centre Rd in Narre Warren and the planned Horizon estate on Pound Rd in Hampton Park are accessed by just two already busy main roads.

Hampton Park resident Heather Pasnin said she was "dumbfounded" the estates had been approved by Casey Council, despite a lack of infrastructure in the area.

"Casey's mass development is making residents feel boxed-in like sardines – it's becoming a slum – like a third-world country," she said…

While the rapid expansion of large swathes of the southeast is putting ever-increasing pressure on often gridlocked roads, Casey Council Mayor Susan Serey said the council was fighting for State Government finance for road duplications…

Casey's population is 356,555 and is forecast to grow to 549,190 by 2041.
Policy makers need to deal with the cause of the problem and not the symptoms. The immigration program has been too high for too long and must be reduced to a sustainable level – below 100,000 people a year – as a matter of urgency. This would merely return Australia's immigration intake to historical norms: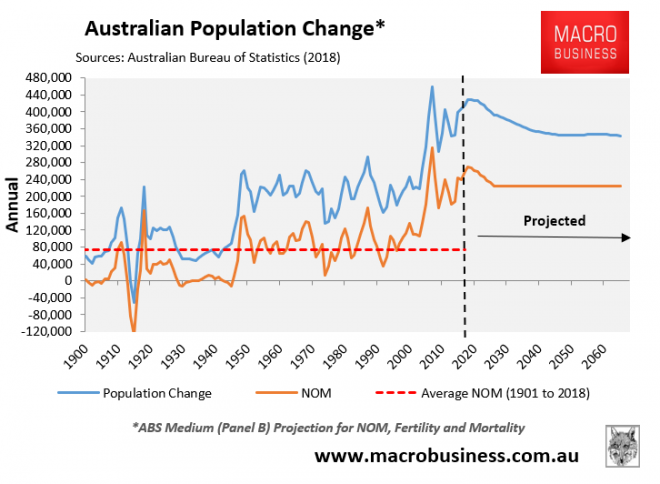 Otherwise, Australia's population is projected to balloon to 43 million people over the next half-century, driven entirely by immigration: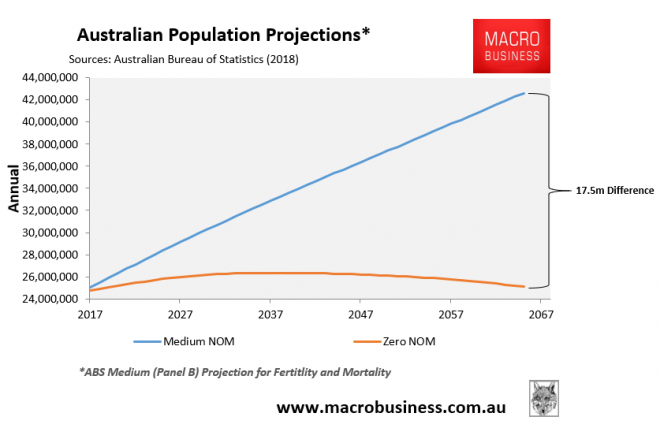 And Australia's major cities will roughly double in size: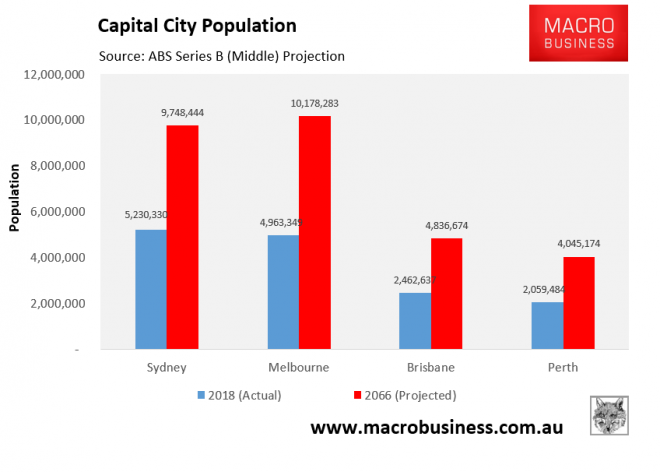 Such growth will place undue strain on infrastructure, housing, water supplies, and the environment, in turn crushing quality of life.
This population ponzi scheme benefits nobody other than the 'growth lobby' elites who stand to make huge profits out of population growth at everybody else's expense. Time to end the 'Big Australia' scam.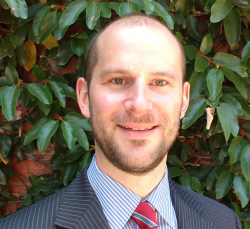 Latest posts by Leith van Onselen
(see all)