Former federal Labor MP, Craig Emerson, has penned an article in The AFR warning that the relentless rise of migrants workers on temporary visas is crushing Australian wage growth, alongside the expansion of low productivity personal services industries, like food delivery.
According to Emerson, there is minimal sophisticated capital equipment used in these services sectors, thus labour productivity is low. As a result, workers in these sectors will not get paid very much. By contrast, high productivity sectors like manufacturing and mining are shrinking in relative terms:
Employers are not giving their workers wage rises because they don't need to; with a combined unemployment and underemployment rate exceeding 13 per cent, there's plenty of surplus labour in Australia and also in the increasingly globalised labour market.

Strong growth in temporary work visas over the last few years is adding to the surplus supply, with the federal government's own migrant workers taskforce estimating that temporary migrant workers, excluding New Zealanders, now constitute about 6 per cent of the workforce "and are having a significant effect on the operation of the labour market"…

Even more fundamentally, in the digital age and the emerging era of artificial intelligence, job opportunities will increasingly shift to personal services such as aged care, childcare and food delivery.

Compared with the few workers who will supervise and operate the machines embodying artificial intelligence, the many workers in personal services will not be working with a lot of sophisticated capital equipment.

That is, their GDP per hour worked – their labour productivity – will be low. This doesn't mean they won't be working hard; they just won't be paid very well.
Coincidently, a group of academics recently warned that Australia's gig economy, which includes the food delivery industry, is dominated by migrants and is pushing down wages:
Wages and working conditions could take a hit if 'gig economy' jobs such as takeaway delivery continue to expand, researchers of a new study have warned.

In 2017 the researchers spoke to 58 Uber Eats and Deliveroo workers in Melbourne and Perth… 47 of the 58 riders interviewed said they were in Australia on student or working visas…

Study co-author Tom Barratt from Perth's Edith Cowan University said the major issue was workers were engaged as independent contractors and could be paid less than minimum wage without breaking employment laws… "if more and more jobs enter the gigosphere, this can put downward pressure on the wages and conditions of workers in non-gig jobs," he said…
The latest temporary visa statistics from the Department of Home Affairs shows there were more than 2.3 million temporary visas on issue in Australia as at September 2019, up 640,000 since September 2012: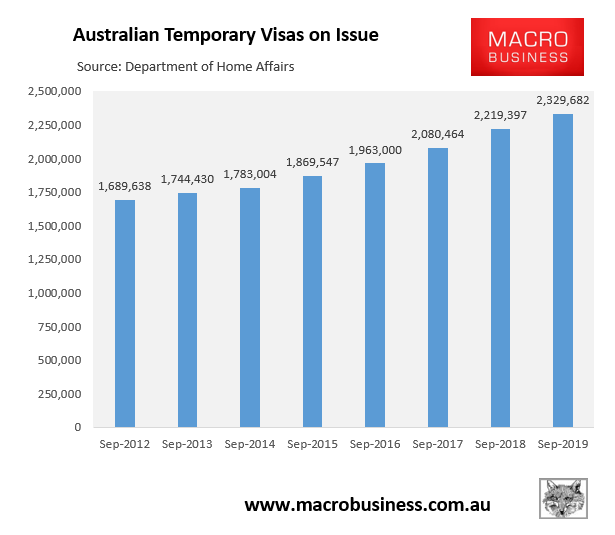 Moreover, this increase has been driven by the boom in international students, whose numbers have ballooned by nearly 300,000 since 2012: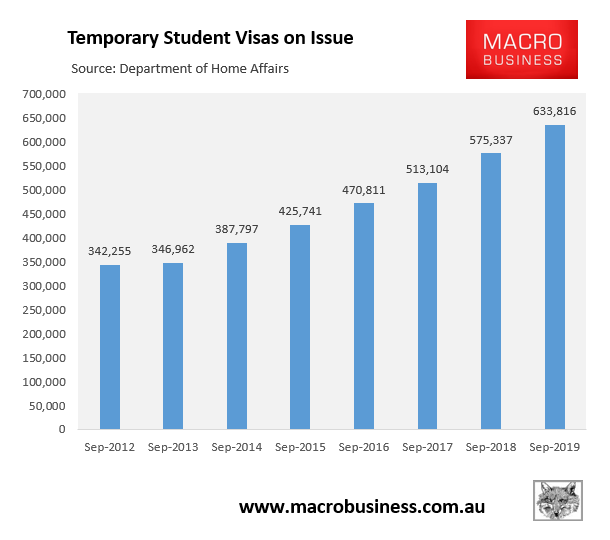 Clearly, the boom in international students and the gig economy goes hand in hand, as does systemic exploitation and erosion of Australian wages.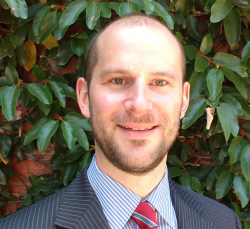 Latest posts by Leith van Onselen
(see all)