The hits keep on coming for Victoria's beleaguered West Gate Tunnel Project.
After the project's cost ballooned by $1 billion, and amid widespread criticism from transport experts and the state's Auditor-General, it was revealed this week that the project could be delayed for another six months as the project's builders, John Holland and CPB Contractors, seek to determine what to do with tonnes of toxic waste discovered at the tunnel site.
Now a legal battle is brewing between the State Government, the project's builders and Transurban over who will foot the bill for managing and disposing of the contaminated soil:

Sources close to the project said the state government, Transurban and the joint building venture John Holland and CPB Contractors are pointing the finger at each other over who is liable for the PFAS issue, with no solution in sight…

The deadlock raises concerns that taxpayers who are paying $2.7 billion for the toll road could now be charged even more to build the project. Motorists are also facing an extra 10 years of CityLink tolls as part of the road's funding deal.

The Andrews government's flagship road project is already set to be a year behind its tunnelling schedule, with nearly 140 tunnelling workers preparing to be sacked on Thursday morning over the inability to continue digging. It is due to be completed in 2022.
No doubt, Victorian taxpayers will be slugged for the extra costs, which comes on top of the extortionate tolls that will be charged on the project.
Under the terms of the project, tolls are permitted to rise by a whopping 4.25% a year until 2029 – well above inflation and wage growth – and then rise by CPI, with the current CityLink toll trip cap to increase from just over $9 currently to more than $20 by 2045.
No wonder that former Victorian Premier Jeff Kennett labelled the deal "absurd" and claimed Transurban had "the government in their pocket".
Let's also not forget that this debacle has only come about because the Victorian Government is desperately trying to build infrastructure to keep pace with the federal government's mass immigration 'Big Australia' policy, which is growing Melbourne's population by around 120,000 people a year: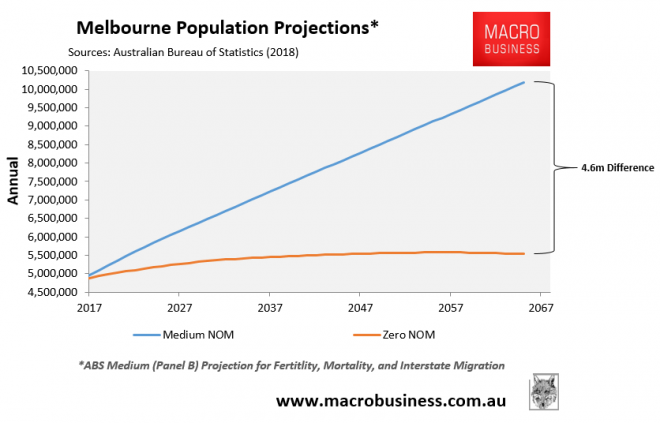 Expect a lot more dodgy dealings in the future as Melbourne's population continues to balloon out of control beyond 10 million, and complex and expensive infrastructure is retrofitted across the city.
Latest posts by Leith van Onselen (see all)