Thursday's housing lending data from the Australian Bureau of Statistics revealed that mortgages for the construction of new homes dived to the lowest level since 2012, as illustrated below: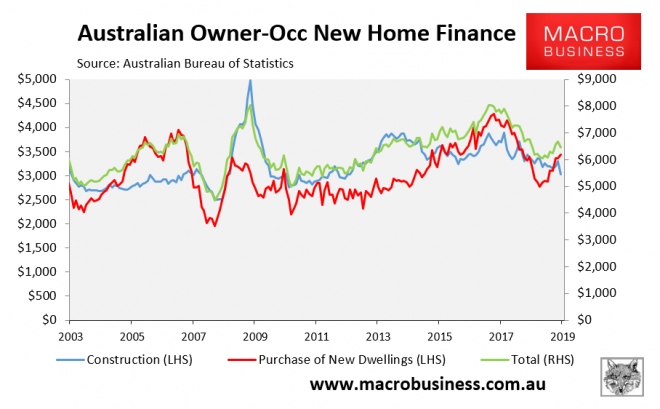 According to the Housing Industry Association (HIA):
"The weakness in construction lending in November is largely a legacy of the very soft sales volumes that home builders were experiencing during the first half of the year".
Indeed, separate new home sale data from the HIA, released on Friday, revealed more weakness, down 5.7% year-over-year; although the HIA sees green shoots:
"New home sales in the three months to November 2019 were 2.8 per cent higher than in the previous three months, but still 5.7 per cent lower than in the same period in 2018.

"The improvement in sales is occurring alongside increases in home lending and a return to growth in housing prices in the key Sydney and Melbourne markets.

"The withdrawal of APRA's counter-cyclical regulatory interventions, followed by a fresh round of cuts to the official interest rate were among measures which arrested previously-deteriorating market conditions.

"Add to that federal income tax cuts and then the government issuing its first tranche of first home loan deposit guarantees, and a growing number of households previously sitting on the margins of the housing market are finding they can now enter.

"This recovery in overall housing market conditions looks set to support demand for new homes, with building activity set to stabilise in 2020 before returning to growth further down the track," concluded Ms Hopkins.
The HIA might want to curb its enthusiasm, given the collapse in dwelling approvals and commencements, according to the ABS: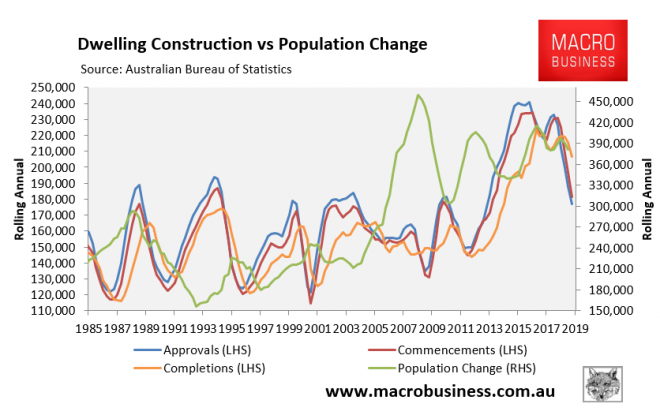 This has all but baked in falling dwelling construction over 2020.
Latest posts by Leith van Onselen (see all)