The AFR's Infrastructure reporter, Jenny Wiggins, penned a detailed report over the weekend on how Australia's cities are facing declining living standards and must shift from being car-based towards mass transit:
…as horrific bushfires rage around the country, filling cities with smoke, and the nation's population of 25.5 million keeps rising – the Australian Bureau of Statistics forecasts it could potentially double by 2066 – our cities are struggling to stay liveable.

The economic cost of urban congestion, or hours wasted sitting in traffic, to the country over the next decade will be $86 billion – about 3.3 per cent of our gross domestic product, according to HSBC…

Australian cities are trying to get people out of cars by investing more money in public transport…

Daniel Ramot, chief executive and co-founder of Via, a New York-based company that develops technology for car-pooling apps, says the era of the personal car is over. "I hope that one day we will look at the people who are by themselves in a car and it will be like walking into a kindergarten and lighting up a cigarette"…

Marion Terrill, director of the Grattan Institute's transport and cities program, says building new roads and providing more public transport is not enough to cut congestion…

But the eternal question of who will pay for new infrastructure remains. "If we want Australian cities to provide world-class public transport where it really is an option for most people, we're going to need to keep going with the infrastructure build and that's going to be hard as we run out of money," says the Committee of Sydney's Metcalf. "We're going to have to get really creative about how we keep paying for the infrastructure"…

"We have a strong view that mass transit is the way forward in Melbourne and Sydney," says Emmanuel Jaclot, CDPQ's head of infrastructure.
It is true that traffic congestion is soaring across Australia's cities and this is generating large economic costs and wrecking liveability.
The Bureau of Infrastructure, Transport and Regional Economics estimated that congestion cost the Australian economy $16.5 billion in 2015. Moreover, without fundamental policy changes, congestion costs are projected to reach between $27.7 billion and $37.3 billion by 2030 (see next chart).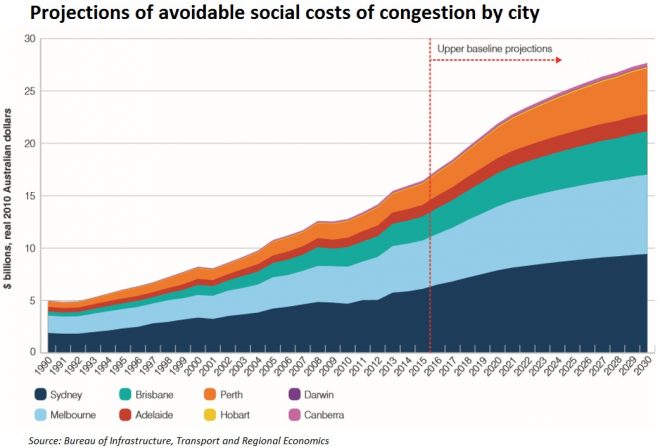 Infrastructure Australia, in its 2019 Infrastructure Audit, estimated that the annualised cost of traffic congestion and public transport crowding in Australia would rise from $19 billion in 2016 to $39.6 billion in 2031. These congestion pressures will be particularly acute in Sydney and Melbourne. Infrastructure Australia further noted that:
This growth in congestion is in spite of significant investments in new transport infrastructure across our largest cities, particularly Sydney and Melbourne. … Despite their scale, recent investments in transport infrastructure in our fast-growing cities is largely playing 'catch-up' rather [than] providing additional capacity that will support substantial future growth.
As usual, the article failed to mention the primary reason why congestion costs are rising and liveability is plummeting across Australia's major cities: mass immigration.
Australia is increasing its population by around one million people every three years and is officially projected by the ABS to grow by an insane 17.5 million people in the 48 years to 2066: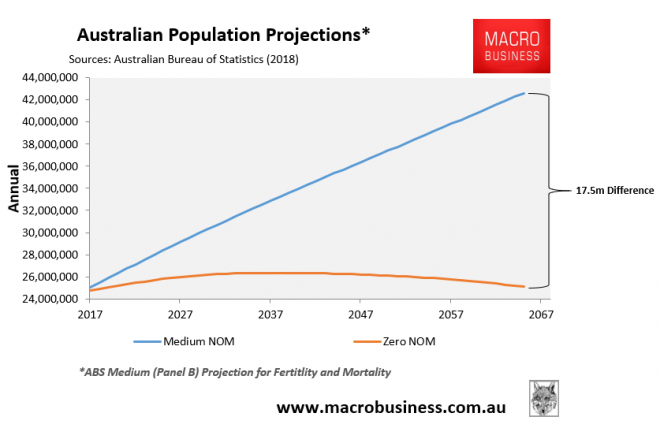 All of this population growth is projected to come from net overseas migration (NOM) – i.e. both as migrants step off the plane and have children (counted later as 'natural increase').
It's primarily because of this endless mass immigration that Australia's four biggest cities are projected to roughly double in size by 2066, with Sydney and Melbourne to become mega-cities of around 10 million people each: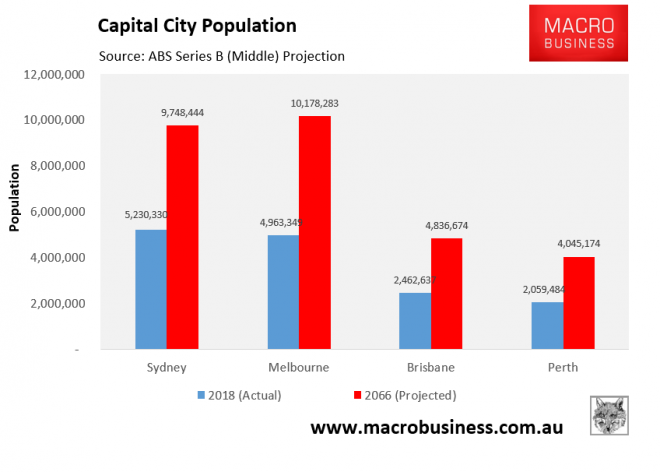 The suggestion that liveability can magically be maintained by densifying our cities and turning to mass transit is also a pipe dream.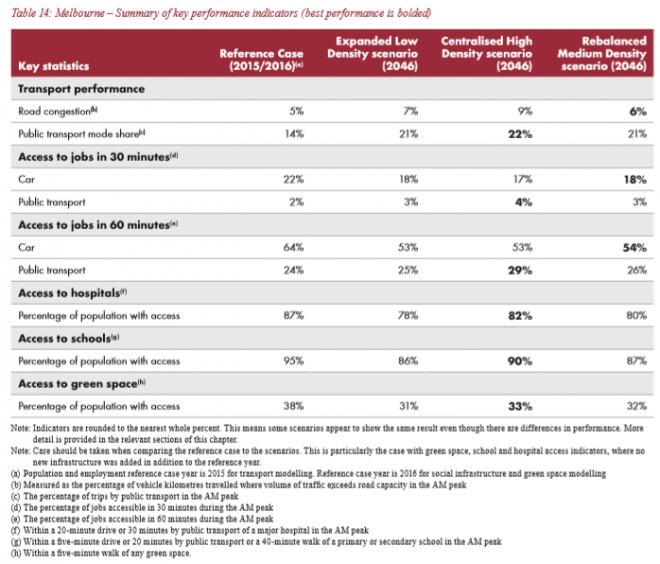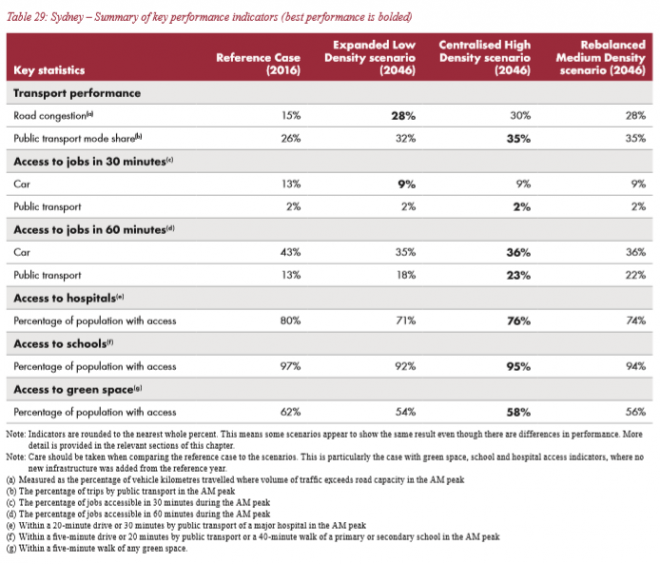 As shown above, under the "high density" scenario (Sydney 90% infill; Melbourne 80% infill), all indicators of liveability will worsen as the populations of our two largest cities balloon under the never-ending immigration crush.
In short, commentators and policy makers need to stop gaslighting the public and confront the primary cause of Australia's declining liveability: mass immigration policy supported by all major parties.
Unless Australia's immigration intake is lowered back to historical norms – i.e. well under 100,000 NOM a year: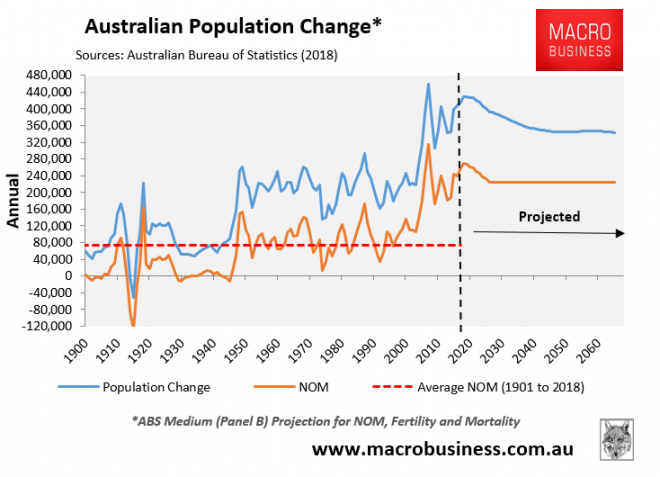 Australian living standards will collapse.
No more policy band aids and false solutions.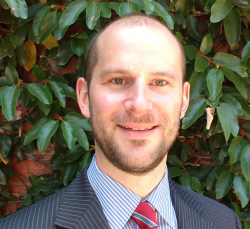 Latest posts by Leith van Onselen
(see all)