Chen Hong – professor and director of Australian Studies Center, East China Normal University – has written a stern article in the Global Times (the Chinese Communist Party's nationalistic tabloid) attacking delays in visa processing times for Chinese students and warning Australia that any "significant decline in Chinese students would indeed bring about economic calamity":
International education is one of the most important components of Australia's economy. It is the country's fourth largest export after coal, iron ore and natural gas…

Chinese students currently make up about 38 percent of international student enrolments at secondary and higher education institutions in Australia…

It is true that any significant decline in Chinese students would indeed bring about economic calamity to Australian universities and secondary schools. For example, at the University of Sydney alone in 2017, Chinese enrolments generated A$ 500 million, which was in fact one-fifth of the university's annual revenue…

However, it is dumbfounding to learn that Australia has been continually obstructing and delaying the visa processing of 135 Chinese PhD candidates and 30 visiting students who have applied for Australian visas and waited for over 5 months or even over a year…

To use visas to block prospective Chinese students is like building up the allegorical Trumpian wall, which purports to stop the free flow of human knowledge and the mutually beneficial cooperation in scientific inquiry related to the mysteries and wonders of the world and the universe.
For its part, Australia's Department of Home Affairs has rejected the accusation that it is deliberately delaying visa applications from Chinese students:
The spokesperson for Australia's Department of Home Affairs said in the response e-mail to the Global Times that the authorities have to run complete health, character and national security checks for the applicants.

The spokesperson said that the checks are not specific to Chinese nationals and said "any suggestion otherwise is incorrect"…

The spokesperson noted that the student visa grant rate for Chinese postgraduate applicants was 98.9 per cent from July 1, 2019 to December 31, 2019, higher than the overall rate for the same period.
Whether it is true or not, stemming the flow of Chinese international students would be a positive development.
Chinese student growth has been extreme, with 240,000 Chinese enrolled across Australia's various educational institutions in 2019, according to the Department of Education: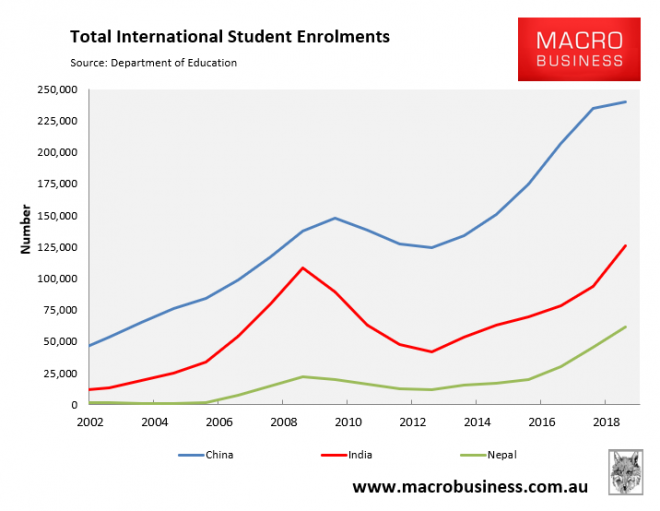 Australia has by far the highest concentration of Chinese international students in the world, as illustrated by Professor Salvatore Babones from the Centre for Independent Studies (CIS):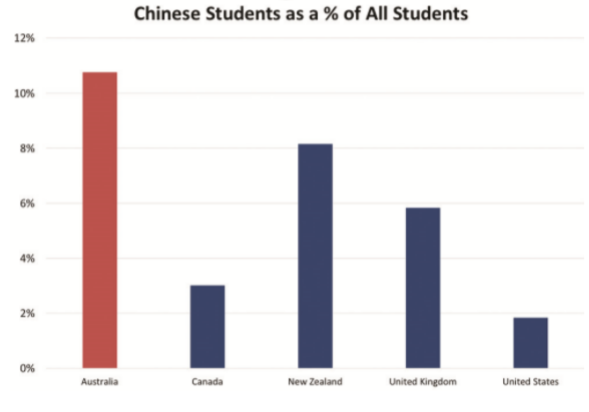 China's creeping influence is reflected in the 13 China-backed Confucius Institutes operating at Australian universities, including many of the prestigious Group of Eight (G8) institutions such as the universities of Sydney, Melbourne, NSW, and Queensland.
It is true that a significant fall in Chinese student numbers would negatively impact Australian university finances. As noted by Salvatore Babones:
It has been reported in the press that Chinese students account for 60% of combined international enrolments at Australia's G8 group of research intensive universities, which includes the ANU, Melbourne, Sydney, and UNSW (but not UTS). In addition to these four universities, Monash, Adelaide, Western Australia, and Queensland round out the G8…

In 2017, they relied on Chinese student course fees for anywhere from 13% (Adelaide and ANU) to 22-23% (UNSW and Sydney) of their total revenues. Even these figures likely understate their true China exposure, since they generate substantial non-course revenue from Chinese students as well.
However, their importance to the broader Australian economy is overstated.
While China ($12.1 billion) dominated Australia's education 'exports' in 2018-19: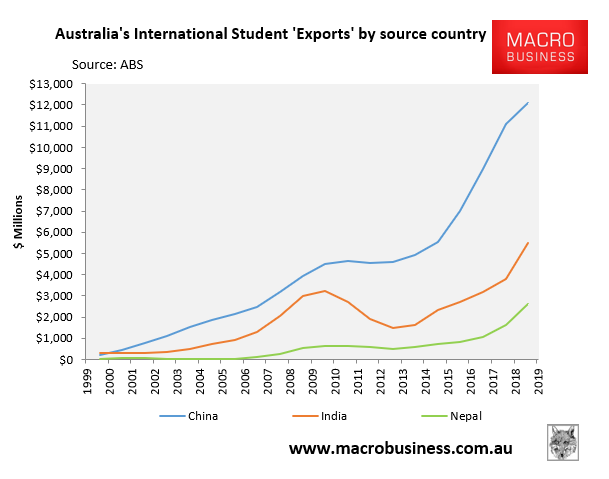 These 'exports' are overstated, since they include both tuition fees ($15 billion in 2018) as well as expenditure while studying in Australia ($20 billion in 2018); the latter of which is often paid for via money earned while working in Australia: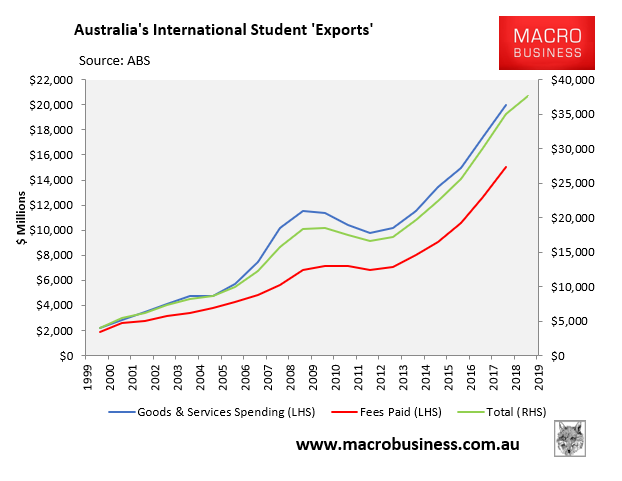 Thus, much of this "goods & services spending" is no more an 'export' than a domestic university student that lives out of home and supports themselves through paid employment.
Professor Salvatore Babones' also debunked the myth that education 'exports' are critical to the Australian economy:
International students are clearly important for Australia's universities, but their importance to the economy as a whole is frequently overstated. One oft-quoted statistic is that educational exports have risen to become Australia's third-largest export after iron and coal. That doesn't really capture the full story, since exports in different sectors are reported at different levels of granularity.

Figure 5 compares the size of Australia's educational exports to that of other major sectors from across the economy, using data from the Australian Bureau of Statistics (ABS). Additional historical data going back to 2002 are reported in Table 5 in the Appendix. Educational exports overtook receipts from all other travel (tourism, family, and business combined) in 2008, but are still smaller than Australia's exports of agricultural or manufactured goods. Moreover, more than half of Australia's reported educational exports (53.7% in higher education and 57.2% for the education sector as a whole) consists not of student fees, but of goods and services bought by students while in Australia. Since this spending is at least partly generated by income that students earn from working in Australia while studying, the true net value of education exports to the Australian economy is likely lower than the headline figures reported by the ABS and DET…
Certainly, any significant decline in Chinese international students would be painful for Australia's universities. But the impact on Australia's broader economy is overstated.
Moreover, it is necessary to return their enrolment concentration to a more balanced and sustainable footing, as well as to safeguard Australian university standards and academic freedoms, which are both under threat.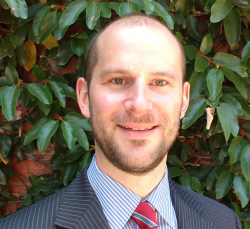 Latest posts by Leith van Onselen
(see all)