Via Fathom Consulting:
As our clients will know, we have long been sceptical about the accuracy of China's official GDP data. To gain a better insight into true economic activity we developed the China Momentum Indicator (CMI), first published in 2014. This combined rail freight volumes, electricity production and nominal bank lending; all three of which were identified by Premier Li Keqiang as providing a better gauge of economic activity than the official estimate of GDP. Since then we have expanded our measure so that it better reflects new-model growth, with our latest estimate (the CMI 3.0) combining twelve measures of economic activity, including retail sales, unoccupied housing and net trade. Although the headline measure is similar to its predecessor, the CMI 2.0, there are key differences in the way that we now capture China's trade and housing data, as well as small methodological adjustments. According to our CMI 3.0, the slowdown in China's economic activity halted around the middle of last year, with our most recent reading nudging up to 4.7% in the twelve months to November.
I completely agree. There is nothing to suggest an imminent Chinese growth lift. Indeed, the key leading indicator of broad credit suggests ongoing slowing: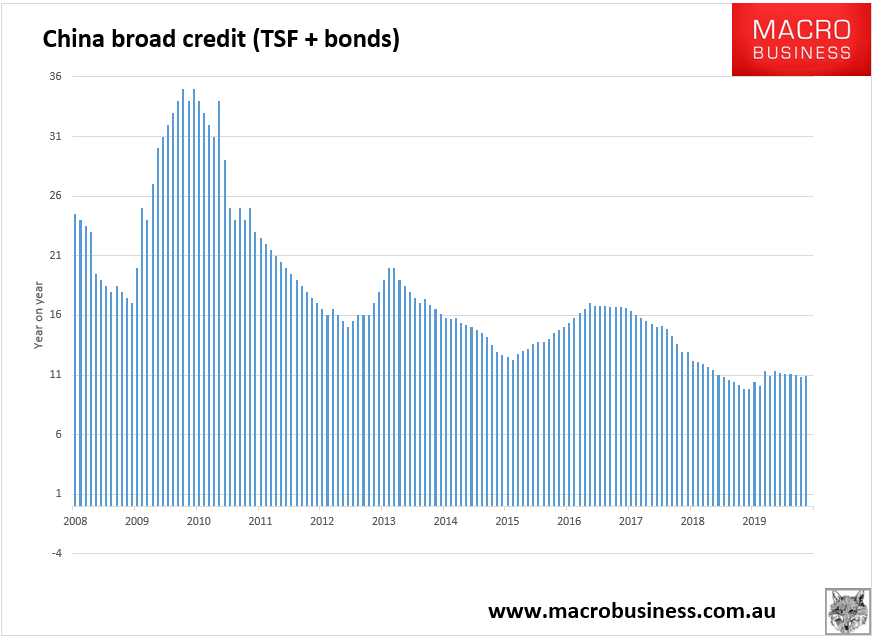 Credit tightening is intact. The immense property market is slowing. The external sector will remain under pressure. Fiscal stimulus is abroad but not enough to generate growth better than the traget of "around 6%". That is, below it.
It's steady as she goes into slow slowing.
Latest posts by David Llewellyn-Smith (see all)