The Australian dollar is going nowhere versus DMs:

EMs were a little weaker:

Gold is holding gains in the hope of a falling DXY. I'm not confident:

Oil lifted:

Metals are still not very interested in the great reflation:

Miners have stalled:

EM stocks are flying:

And junk:

Treasuries softed:

Bunds were bid:

Aussie bonds too:

Stocks are a rocketship:

Westpac has the wrap:
Event Wrap

US Dec. retail sales rose +0.3%m/m (control group rose +0.5%m/m, est. +0.4%m/m) and solid consumer activity into year-end was affirmed by US NRF citing a +4.1% lift over the 2018 holiday period and especially strong online sales (+14.6%)

US Jan. Philly Fed index at 17.0 soundly beat expectations (est. 3.7, prior 2.4) to retest mid-2019 highs and showed solid gains in employment and new orders components.

US Jan. NAHB housing index at 75  (est. 74) remained close to last month's multi-year high of 76

US Senate approved the USCMA trade agreement leaving it poised for Trump's imminent signing as well as Canadian approval.

EC trade negotiator Hogan warned of risks around US-EU negotiations, citing EU's digital tax and urged US to work with EU on trade challenges.

Event Outlook

China GDP for Q4 is today's key release. Annual growth is expected to print at 6.0%yr, in line with the Q3 result. This will leave year-average growth at the low-end of authorities' 6.0-6.5% target for 2019. Detail on investment and consumption will be key and monthly data for December will provide additional context.

In Europe, annual inflation is expected to be confirmed at 1.3%yr in December. Energy prices supported the rise from 1.0%yr in November. Underlying price pressures remain muted.

Following four consecutive declines for UK retail sales, a flat outcome is expected in December. Further soft outcomes are likely come 2020.

Finally in the US: the JOLTS report will provide further context on the labour market at November; and University of Michigan Consumer Sentiment will again be confirmed as above-average at January. Housing starts/ permits and industrial production will also be released for December.
US consumers love a stock boom more than anybody else does. Property is rising now too and will continue as mortgages remain strong: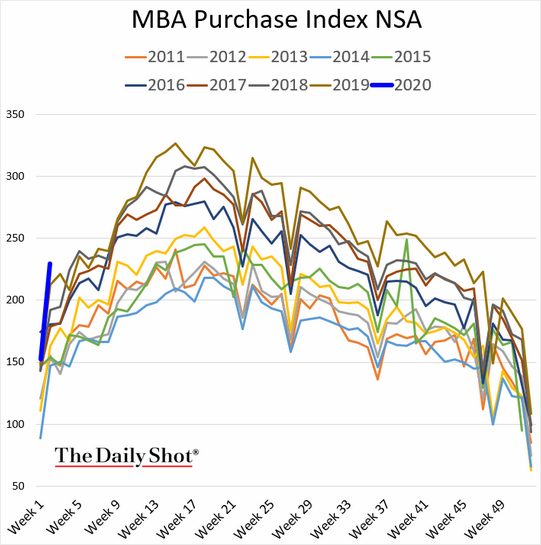 Leading to:
Advance estimates of U.S. retail and food services sales for December 2019, adjusted for seasonal variation and holiday and trading-day differences, but not for price changes, were $529.6 billion, an increase of 0.3 percent from the previous month, and 5.8 percent above December 2018. Total sales for the 12 months of 2019 were up 3.6 percent from 2018.
Plus it's goign to have a net exports tailwind: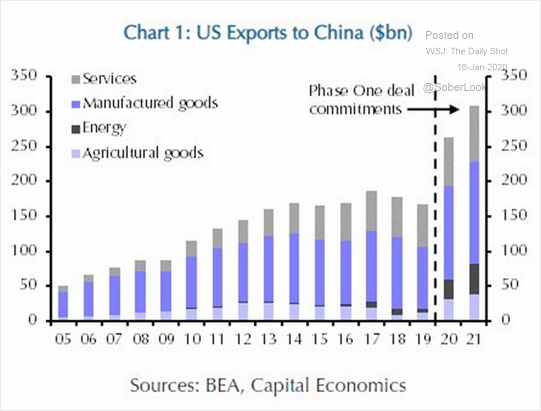 Yet US activity is still not radiating outwards as traditionally it would, thanks to America First. Thus China is stuck in slowdown mode and the great European mercatilist lemon remains squashed: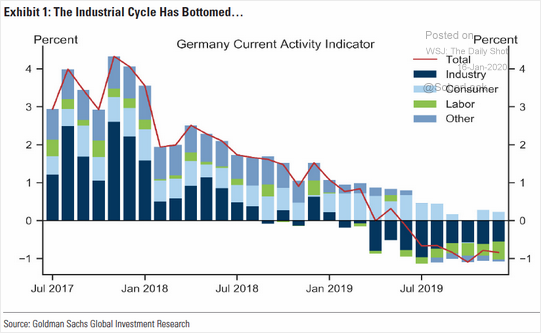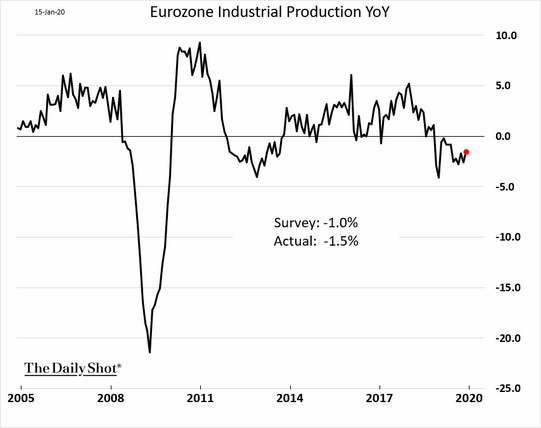 Things will improve for Europe a bit this year but it'll be slow and disappointing.
US growth and inflation leadership is intact so DXY can't weaken leaving the AUD exposed to downside in due course.
Latest posts by David Llewellyn-Smith (see all)