Fifteen years of rapid population growth has driven a massive infrastructure deficit across Australia's cities although estimates of this backlog vary significantly.
For example, the 2013 National Infrastructure Plan produced by the Federal Government's advisory body, Infrastructure Australia, concluded that "we still face a significant infrastructure deficit, estimated at around A$300 billion".
Infrastructure Australia's 2018 report, entitled Planning Liveable Cities, found that Australia's infrastructure provision is failing badly to keep pace with rapid population growth:
Infrastructure delivery is struggling to keep pace with rapid population growth and change. Our largest cities are 'playing catch up' in delivering infrastructure to support population growth… Our infrastructure funding mechanisms have not kept pace with growth… Communities are increasingly disappointed by their experience of growth…
In its 2019 Infrastructure Audit report, Infrastructure Australia reiterated the failure to keep pace, noting:
By 2034, Australia's population is projected to grow by 23.7 per cent to reach 31.4 million, adding to infrastructure demand, while existing infrastructure struggles under maintenance backlogs and the condition of many assets is unknown.
In 2010, Engineers Australia estimated Australia's infrastructure deficit to be $700 billion. A follow-up report in 2018 by Engineers Australia examined 10-year construction trends and concluded that infrastructure is "not keeping up with population and economic growth … [following] almost a decade of underinvestment".
The International Monetary Fund's (IMF) latest Article IV report on Australia similarly noted that Australia "has a notable infrastructure gap compared to other advanced economies" and that "there is an average forecasted annual infrastructure gap of roughly 0.35 percent of GDP through 2040 for basic infrastructure (roads, rail, water, ports), and an additional gap in social infrastructure (schools, hospitals, prisons), likely of a lesser magnitude".
The IMF also warned that "gaps may also be opening faster than expected, given the greater-than-expected rapid population growth in Sydney and Melbourne".
The most publicly recognisable symptom of Australia's infrastructure shortfall is traffic congestion, which has progressively worsened across Australia's major cities. The Bureau of Infrastructure, Transport and Regional Economics estimated that congestion cost the Australian economy $16.5 billion in 2015. Moreover, without major policy changes, congestion costs are projected to reach between $27.7 billion and $37.3 billion by 2030.
Infrastructure Australia, in its 2019 Infrastructure Audit, estimated that the annualised cost of traffic congestion and public transport crowding in Australia would rise from $19 billion in 2016 to $39.6 billion in 2031. These congestion pressures will be particularly acute in Sydney and Melbourne. Infrastructure Australia further noted that:
This growth in congestion is in spite of significant investments in new transport infrastructure across our largest cities, particularly Sydney and Melbourne. … Despite their scale, recent investments in transport infrastructure in our fast-growing cities is largely playing 'catch-up' rather [than] providing additional capacity that will support substantial future growth.
The TomTom Traffic Index, which benchmarked congestion levels in urban areas between 2008 and 2016, showed that travel times have steadily increased across Australia's largest cities, with Sydney and Melbourne experiencing the greatest deteriorations (see Chart 8).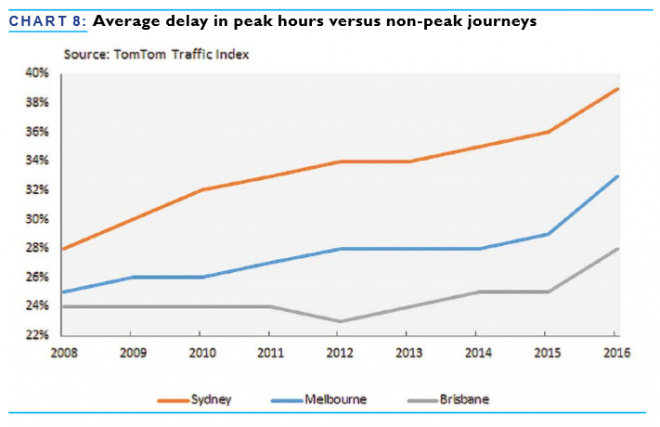 According to TomTom, extra travel times when compared to free-flowing traffic rose in Sydney from 28 per cent in 2008 to 39 per cent in 2016, whereas in Melbourne excess travel times increased from 25 per cent to 33 per cent over the same period.
In a similar vein, the Australian Automobile Association's (AAA) latest Road Congestion in Australia report stated that "traffic congestion is growing worse year after year", and that "average driving speeds have declined markedly in Australia's capital cities".
Predictably, AAA ranked Sydney and Melbourne worst overall across the various measures, including average speed across capital city arterial road networks; average speeds as a percentage of the speed limit; average speeds as a percentage of free flow speeds; and predictability of journey time.
Consistent with the above findings, the 2019 Household, Income and Labour Dynamics in Australia survey found that average daily commuting times (city and rural) have increased by 23 per cent, from about 49 minutes in 2002 to almost one hour in 2017. The share of workers with lengthy commutes has increased from approximately 12 per cent in 2002 to 18 per cent in 2017. In parallel, the share of workers with short commutes has declined, from above 62 per cent to below 53 per cent.
Finally, the 2019 Global Urban Mobility Index, which assesses the mobility of 38 leading cities, showed that Sydney and Melbourne have significantly worse traffic congestion than New York and Toronto. Specifically, for every 100 kilometres travelled, Sydney-siders spent, on average, an extra 40 minutes of driving time during peak periods than at non-peak times (29th out of 38 cities where 1st ranking is the city with least delay), whereas Melbournians spent an extra 35 minutes (25th out of 38 cities). By comparison, for New Yorkers it was an extra 29 minutes (19th out of 38 cities), while for Torontonians it was 18 minutes (5th out of 38 cities).
Claims that Australia just needs to 'plan better,' invest more and build more, ignore the increasingly costly and constrained options for further infrastructure build in the face of such unprecedented numbers of people pouring into our major cities.
First of all, such claims ignore the fact that there have already been massive increases in infrastructure spending by all levels of government. The Grattan Institute in 2014 showed that, since the escalation of population growth from 2004, "unprecedented infrastructure spending by states and territories is largely responsible for a $106 billion decline in their finances since 2006". They further note that:
After a threefold increase in capital spending over the last 10 years, states are paying 3 per cent more of their revenues in interest and depreciation.
Continuing growth in infrastructure spending is adding very significantly to state government debt, with the combined government sector net debt across the eight states and territories projected to more than double from $81 billion in the 2019 financial year to more than $184 billion by the 2023 financial year.
For its part, the 2019 Federal Budget boasted $100 billion of planned infrastructure investment over 10 years. While this figure sounds huge, it won't be nearly enough to keep pace with the 3.5 to 4.0 million population growth expected to be added over this 10-year period, nor will it backfill the infrastructure deficit that has accumulated over the past 15 years as Australia's population has soared.
Despite increasing infrastructure investment, we are running faster to stand still, in fact we are moving backwards into more congestion and reduced quality of life. This is a direct outcome of continuing high population growth – the magnitude and speed of the investment and planning required to catch up to a rapidly moving target becomes increasingly difficult, if not impossible, to achieve.
The near-impossibility of the task, despite major efforts to date, is wrongly perceived as being caused by a neglect of infrastructure planning and investment.
Furthermore, the sheer pace of change due to this rapid growth, and the strong pressures from big developer interests, create incentives for sub-optimal planning outcomes. This produces inferior results in land-use zoning, aesthetics, environmental protection, quality of building design and construction, and social inclusivity.
Rapid population growth is actually a cause of bad planning outcomes. The more we grow, the more costly, disruptive, logistically difficult and sub-optimal each additional increase in capacity becomes.
In already built-out cities like Sydney and Melbourne, the cost of retrofitting new infrastructure to accommodate greater population size and densities becomes prohibitively expensive as we buy back, bridge over or tunnel under existing assets, and as each new project disrupts more heavily-trafficked services causing greater productivity losses. These are what economists call 'dis-economies of scale'.
The Productivity Commission has been at the forefront highlighting the huge infrastructure costs associated with population growth.
In its 2016 Migrant Intake into Australia report, the Commission noted:
Physical constraints in major cities make the costs of expanding infrastructure more expensive, so even if a user-pays model is adopted, a higher population is very likely to impose a higher cost of living for people already residing in these major cities…

Funding will inevitably be borne by the Australian community either through user-pays fees or general taxation…
The Commission's 2018 Shifting the Dial: 5 year productivity review similarly noted that infrastructure costs will balloon due to Australian cities' rapidly growing populations:
Growing populations will place pressure on already strained transport systems… Yet available choices for new investments are constrained by the increasingly limited availability of unutilised land. Costs of new transport structures have risen accordingly, with new developments (for example WestConnex) requiring land reclamation, costly compensation arrangements, or otherwise more expensive alternatives (such as tunnels).
Infrastructure Australia has also regularly warned on the rising cost of infrastructure provision caused by rapid population growth. For example, its 2018 Planning Liveable Cities report noted:
… construction of new infrastructure is often more expensive, due to the need to tunnel under existing structures or purchase land at higher costs. The small scale, incremental nature of growth in established areas can also lead to an over-reliance on existing infrastructure, which can result in congestion and overcrowding.
The huge cost of expanding the road network illustrates these dis-economies of scale. Chart 9 shows that road construction through undeveloped greenfield land is many times cheaper than tunnelling under existing brownfield land.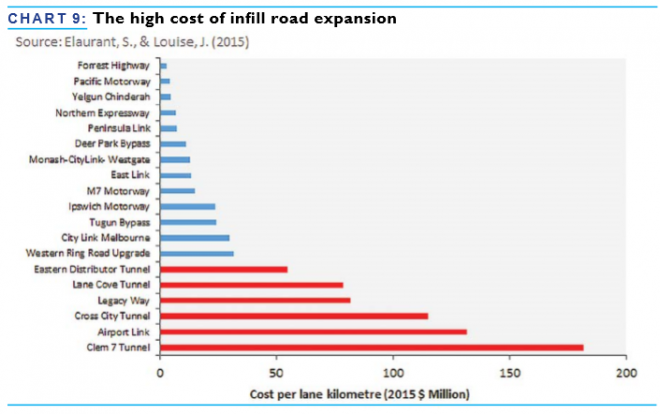 More recent examples are equally stark. The WestConnex project in Sydney will reportedly cost $17 billion for 33 kilometres ($515 million per kilometre) while Melbourne's West Gate Tunnel is expected to cost $6.7 billion for five kilometres of highway ($1.34 billion per kilometre). In contrast, the 155-kilometre Woolgoolga to Ballina highway upgrade, costs $4.9 billion, or just $32 million per kilometre (approximately 16 times less than WestConnex, and 42 times less than the West Gate Tunnel, on a 'per kilometre' basis).
And yet, with all of this current and proposed investment, of increasing orders of magnitude, congestion is still expected to increase.
The cold hard truth is that the quantity of infrastructure investment required for a Big Australia is mind-boggling and impossible to meet. The infrastructure catch-up is illusory – proponents of a Big Australia keep expecting it to happen or promising it, but there is no evidence of it to be found.
As a further indication of the magnitudes involved, The Productivity Commission's 2013 final report on An ageing Australia: Preparing for the future projected that Australia's population would swell to 38 million people by 2060 and estimated that total private and public investment requirements over the 50-year period would be around five times the cumulative investment made over the last half century.
In a submission to the Commission's Inquiry into Infrastructure provision and funding in Australia, Dr Jane O'Sullivan (2014) estimated that "each additional person requires well over $100,000 of public infrastructure, to enjoy the same standard of living provided to existing residents".
Dr O'Sullivan identified three key ways in which the cost of added people is not linearly proportional to the number of people added but escalates with both growth rate and population density:
population growth drives up the inflation of land values;
population growth has overrun Australia's natural endowment in areas such as water provision, meaning governments have been forced to turn to expensive technological solutions like desalination; and
increasing density in our cities caused by population growth requires retrofitting already built-up areas with higher-capacity infrastructure (e.g. tunnels).
Reflecting the above, modelling conducted by Infrastructure Australia in 2018 projected that traffic congestion and access to jobs, schools, hospitals and green space will all worsen in Sydney and Melbourne as their populations balloon to a projected 7.4 million and 7.3 million people respectively by 2046, irrespective of whether these cities build up or out (see Table 1).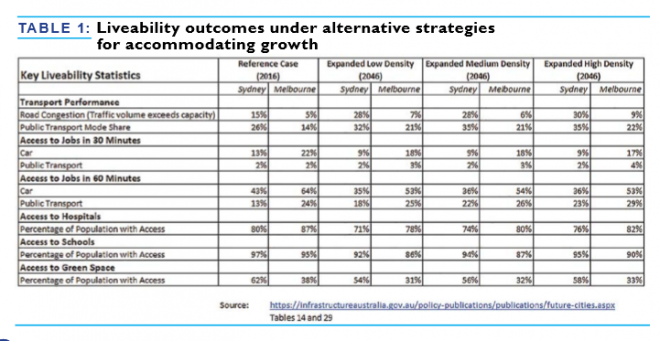 A recent example is Parramatta's new Arthur Phillip High School, a high-rise campus costing $225 million for 2000 students. At $112,500 per student place, it is six to ten times the cost of traditional low-rise schools, while denying students the physical outlets and contact with nature formerly available on school campuses.
The empirical evidence clearly shows that Australia has failed dismally to build enough economic and social infrastructure to cater for the past 15 years of hyper-immigration. This is despite spending more than ever before on infrastructure – not only more as a proportion of GDP, but more per person added to our population.
Therefore, expecting infrastructure to magically catch-up as Australia adds a projected 17.5 million people over the next half century is pure fantasy. Not even Infrastructure Australia believes this is possible. Regardless of whether the projected population growth would be accommodated by increasing density or low-density sprawl, their modelling found that congestion, car commute times, and access to hospitals, schools and green space are all expected to worsen in Sydney and Melbourne (see Table 1).
The above article is an edited extract of the new discussion paper, entitled "Population growth and Infrastructure in Australia: the catch-up illusion", of which I was the lead author. This paper was commissioned by Sustainable Population Australia (SPA), which "is an Australian, non-partisan, special advocacy group that seeks to establish an ecologically sustainable human population".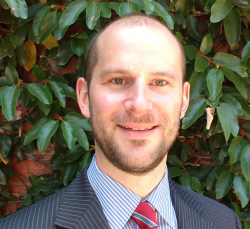 Latest posts by Leith van Onselen
(see all)