It's raining mid-year Budget Updates with Victoria's also released today:
The general government sector operating surplus is estimated to be $618 million in 2019-20, with annual operating surpluses averaging $3.3 billion a year across the forward estimates.
Compared with the 2019-20 Budget, the net result from transactions has been revised down by an average of $193 million a year over the budget and forward estimates. This largely reflects the funding of new initiatives in priority areas and a reduction in expected GST revenue from the Commonwealth due to the weaker macroeconomic outlook.
Revenue growth is expected to average 4.4 per cent a year over the budget and forward estimates, exceeding average expense growth of 3.3 per cent a year.
Net debt is projected to be $57.8 billion by June 2023. As a proportion of gross state product (GSP), net debt is projected to be 8.5 per cent at June 2020 and increase to 10.5 per cent by June 2023.
Government infrastructure investment (GII) is projected to average $13.9 billion a year over the budget and forward estimates.
The most interesting bit is the upwards revision in stamp duty receipts following the strong bounce in Melbourne property values:
Land transfer duty revenue is forecast to be $6.0 billion in 2019-20 and grow by an average of 6.3 per cent a year over the forward estimates. Following downgrades of $5.2 billion to land transfer duty in the 2018 Pre-election Budget Update and the 2019-20 Budget, residential property prices, auction clearance rates and housing sentiment have improved earlier than expected. However, below-average housing turnover, high levels of household debt and elevated global uncertainty are still weighing on the property market.
Indeed, Victoria's stamp duty receipts have been revised up by $731 million over the forward estimates, from this in the May Budget: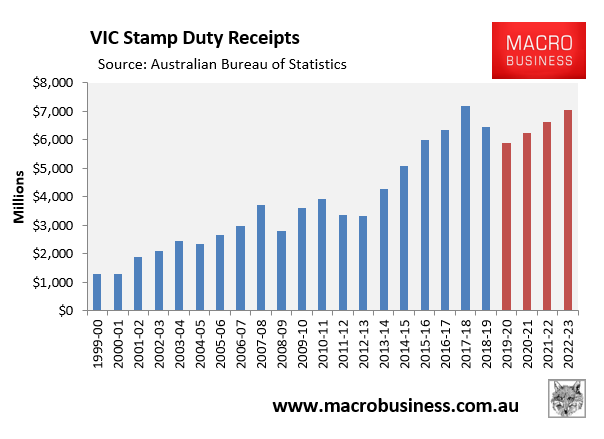 To this: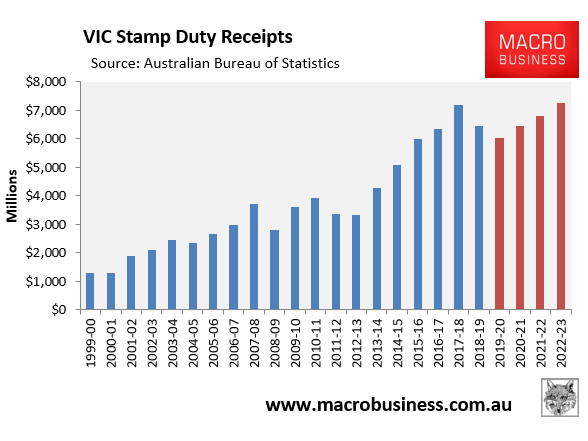 To its credit, the revisions look conservative given the strength of the rebound taking place in Melbourne.
Leith van Onselen is Chief Economist at the MB Fund and MB Super. Leith has previously worked at the Australian Treasury, Victorian Treasury and Goldman Sachs.
Latest posts by Leith van Onselen (see all)