The Australian Bureau of Statistics (ABS) today released the national accounts for the September quarter, which registered soft 0.4% growth in real GDP over the quarter and just 1.7% growth over the year.
On a per capita basis, real GDP was flat over the quarter, and rose a mere 0.2% over the year.
According to the ABS, seasonally adjusted GDP growth for the quarter was driven by public consumption spending and net exports, which each contributed 0.2% to growth: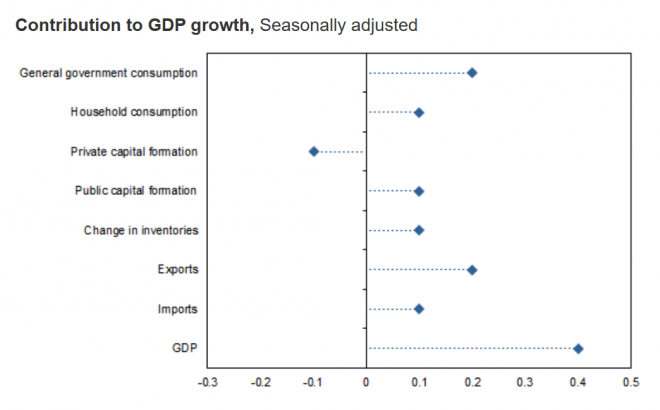 Quarterly final demand, which excludes export volumes, weakened to only 0.2% growth over the September quarter, with significant variation across jurisdictions: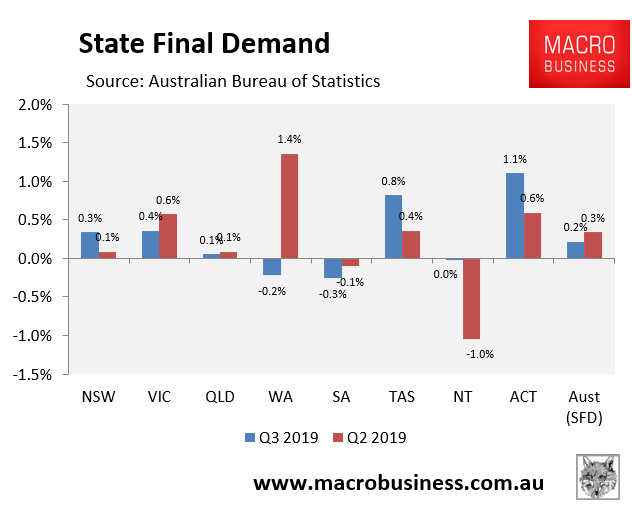 In the year to September 2019, final demand growth was also anaemic, slowing to just 0.9% nationally (-0.6% on a per capita basis), with the mining strongholds continuing to struggle: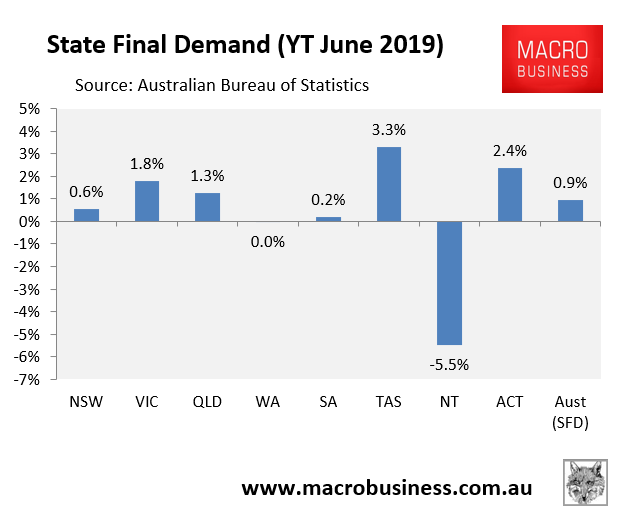 The terms-of-trade jumped by 0.4% over the quarter in seasonally adjusted terms and by 1.2% in trend terms. Over the year it rose by 7.8% in seasonally adjusted terms and by 8.0% in trend terms: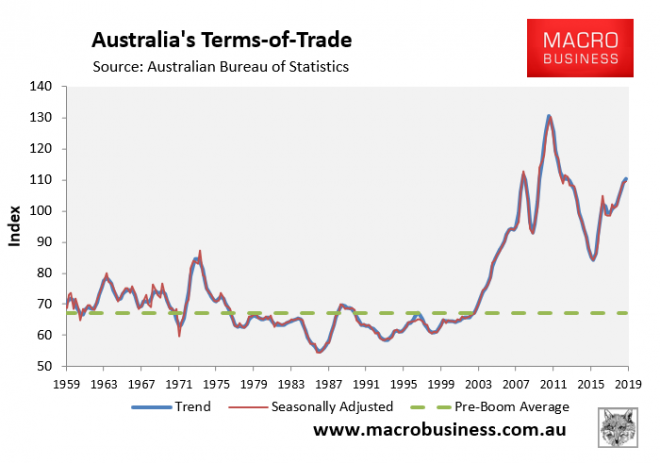 The strong lift in the terms-of-trade helped boost national income growth, with real NDI rising by 0.9% over the quarter and by 4.8% over the year.
After population growth, per capita NDI rose by 0.5% over the quarter and by 3.3% over the year.
In trend terms, since December 2011, per capita NDI has risen by just 3.4% versus 6.8% growth in real per capita GDP: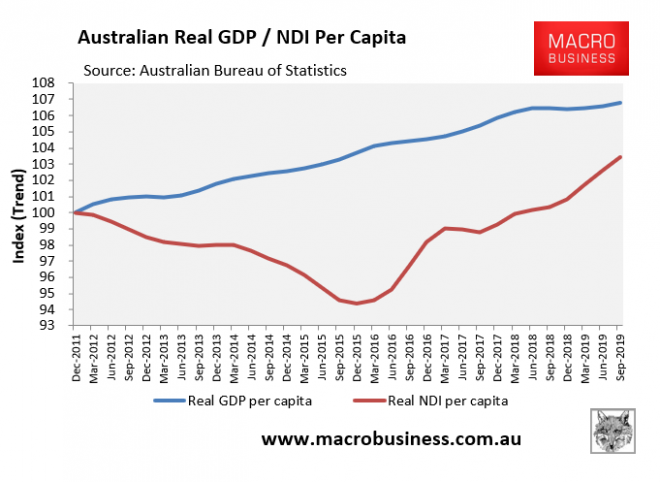 In a similar vein, nominal GDP rose by 1.1% over the quarter and was up 5.5% over the year, thanks to the rebound in the terms-of-trade: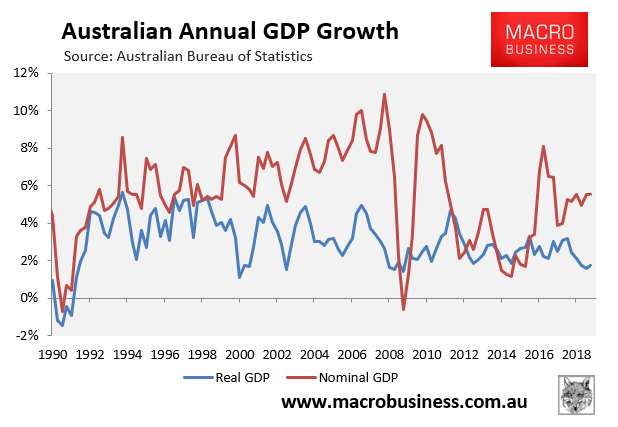 Average compensation of employees posted a modest rebound. It rose by 0.8% in the September quarter in nominal terms and was up 2.8% in the year to September 2019 – still well below average: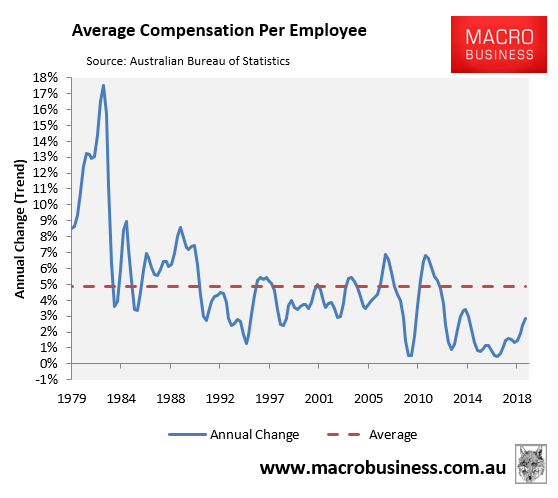 However, taking a longer view and adjusting for inflation, real average compensation has fallen by 2.2% since March 2012: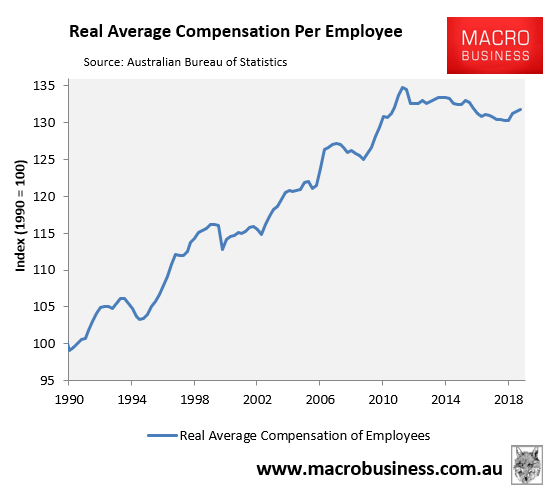 Real GDP per hour worked (i.e. labour productivity) remains stillborn. It fell 0.2% over the September quarter and has posted zero growth in three years: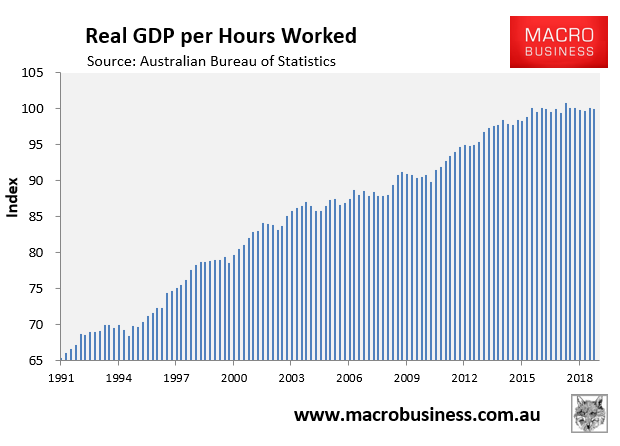 Meanwhile, the household savings ratio rebounded from 2.7% in June to 4.8% in September, which helps to explain why household consumption was so weak: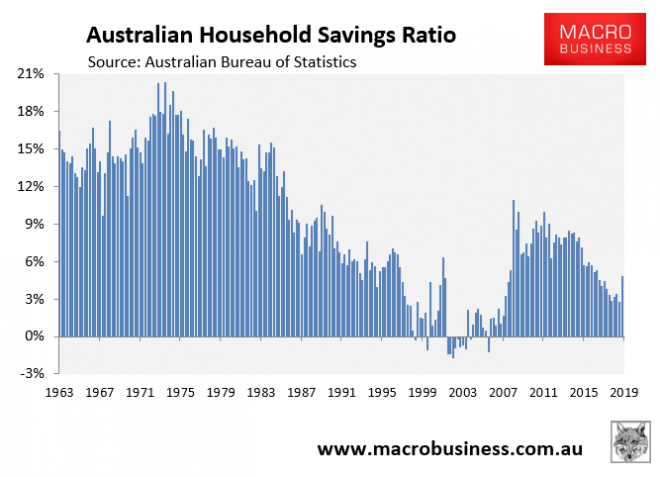 In summary, not only is the headline GDP growth figure weak, there is further trouble under the hood.
First, the household saving rate has finally rebounded after falling to post-GFC lows. This rebound will drag down household consumption, which is the main contributor to domestic demand.
Reflecting this, domestic demand is stillborn and plummeting in per capita terms, suggesting the domestic economy is in recession.
Second, labour productivity is frozen having registering zero growth in GDP per hour worked in three years.
Third, Australia's growth is being driven largely by public (taxpayer) expenditure, rather than the private sector, which is ultimately unsustainable.
Fourth, commodity prices and the terms-of-trade surged on the back of temporary factors (i.e. the closure of iron ore mines in Brazil after flooding). As Brazil's iron ore production comes back on line next year, the terms-of-trade will necessarily fall, dragging down national income and nominal GDP.
Thus, while there is still the 'illusion' of growth at the aggregate economy level, thanks to force-fed mass immigration and government spending, the situation facing ordinary Australians remains glum.
This is Australia's ponzi economy in action: everyone's share of the economic pie is not increasing sufficiently, household incomes are stagnating, and living standards in the big cities are being crush-loaded by the never ending people flood.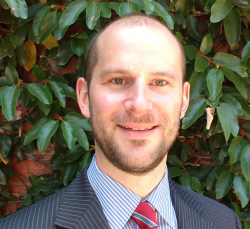 Latest posts by Leith van Onselen
(see all)