The Australian's Adam Creighton has warned that the collapse of Australia's manufacturing sector has left the economy dangerously reliant on volatile commodities and low-productivity immigration to drive growth:
Our standard of living increasingly hinges on commodities — now two-thirds of our exports — whose prices in the long run are destined to fall… Meanwhile our manufacturing sector has shrivelled to 7 per cent of the workforce, far below comparable nations… Manufacturing makes up about 16 per cent of the workforce in Germany, Japan and Switzerland. Canada, whose economy otherwise is similar to ours…

Indeed since the mid-1960s economists have seen the productivity of a nation's manufacturers as the source of its citizens' living standards. Higher productivity in manufacturing means higher wages for those workers; and higher manufacturing wages dictate higher wages across the economy…

The government has pinned its hopes on population growth… Population can boost the size of the economy but not our living standards… Treasury and the Reserve Bank don't like to acknowledge how immigration-dependent our growth has become… Reserve Bank deputy governor Guy Debelle gave a 4200-word speech on employment and wages, which never mentioned it.
Adam Creighton is spot on.
The Harvard Kennedy School's Center for International Development recently released its latest Atlas of Economic Complexity, which ranked Australia as having one of the least complex economies. The Atlas measures the diversity and sophistication of national exports, with almost all of Australia's exports not requiring a degree to make. The Center for International Development contends that for countries to get richer that they need to develop more sophisticated products, but Australia has been very tardy when it comes to innovation:
The enormous wealth generated by iron ore, coal, oil and gas masks, and probably contributes to, an economy that has failed to develop the industries needed to sustain its position among the top ranks of the developed world.

Put simply, Australia is rich and dumb, and getting dumber.

On the primary metric used in the database, an index of economic complexity, Australia fell from 57th to 93rd from 1995 to 2017, a decline that is accelerating. Australia's top trading partner, China, rose from 51st to 19th over the same timeframe…

The Harvard data exposes the paradox of the Australian economy: the eighth-richest nation in the study has the export profile of Angola.
You will note from the above table that the most sophisticated nations have big manufacturing industries. By contrast, Australia has let its manufacturing industry collapse and now has the lowest manufacturing share across the OECD, with manufacturing jobs also at an all-time low: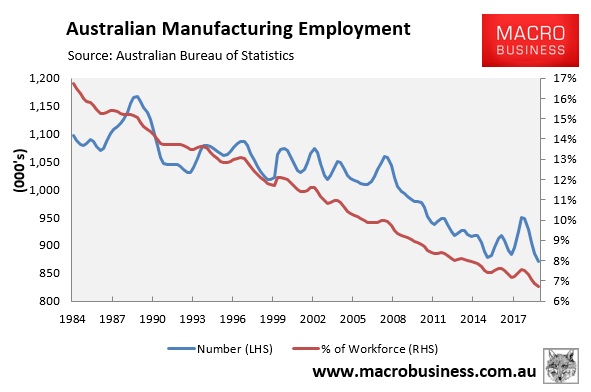 Adding to Australia's malaise is its 'dumb growth' economic model, which relies on importing hundreds of thousands of bodies every year, alongside increasing household debt, which drives consumption and malinvestment into property and catch-up infrastructure, rather than productivity.
Perversely, adding a million extra people every 2.5 years also dilutes Australia's mineral base – the primary source of its wealth – which then makes us poorer per capita.
"Rich and dumb, and getting dumber" perfectly describes the contemporary Australian economy.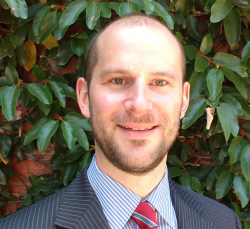 Latest posts by Leith van Onselen
(see all)