Earlier this week we reported the findings of the Australian Bureau of Statistic's (ABS) latest Personal Income of Migrants survey for 2016-17, which revealed that skilled permanent migrants that have arrived in Australia since 1 January 2000 earned an appallingly low median of only $55,900 in 2016-17.
This was a shocking result given these migrants are purported to be highly qualified and brought into Australia to overcome 'skills shortages'. Therefore, for them to be paid so low suggests that Australia is instead operating a low-skilled migration program that is undercutting Australian workers.
A breakdown of median pay levels by migrant nationality reveals that Koreans and Chinese are by far the lowest paid permanent migrants to have arrived under the skilled stream (see below table).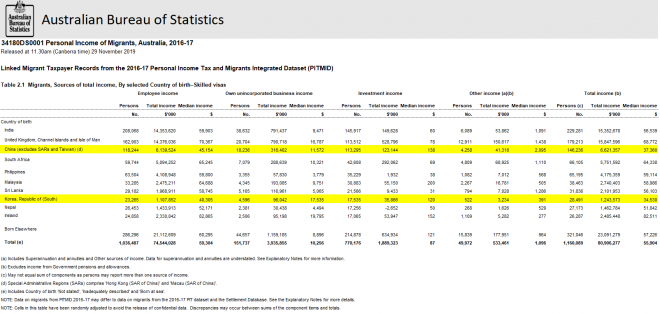 As you can see, the median employee income of 'skilled' Koreans and Chinese were a lowly $40,305 and $45,154 respectively in 2016-17, way below the median employee income of all skilled migrants of $59,304.
When looking at total median income, Koreans ($34,530) and Chinese ($37,360) were again by far the lowest paid, earning way below the median total income of all permanent skilled migrants of $55,904.
To add insult to injury, these so-called 'skilled' migrants from Korea and China also earned far less than the median employee income of all Australians ($49,412). This is astonishing given the median employee income of Australians is dragged down by unskilled workers, kids and university students working casually, mums working part-time, seniors working part-time, etc.
Back in April, Adam Creighton argued that Australia should focus on migrants with strong English-language proficiency, since they are likely to be the most productive and earn the highest salaries:
"The single most important measure of successful settlement in Australia is the ability to communicate in English," states that 2014 analysis, written by David Smith and Therese Smith…

Indeed, a quarter, or 186,000 immigrants, from non-English speaking countries since 2006 haven't had a job since they ­arrived, and three fifths of those hadn't looked for one. For those from English-speaking countries the figures were 8 per cent, and a quarter. Overall, the unemployment rate for migrants from non-English speaking countries was 7.7 per cent in 2016 compared to and 2.1 per cent for those from the main English speaking countries…

It turns out skilled South African and English immigrants have unemployment rates of about 2 per cent, compared to a 5.6 per cent rate nationally, according to a 2014 study by the Immigration Department of arrivals between 2001 and 2011.
Certainly, the above data from the ABS supports Creighton's argument, with skilled permanent migrants from Ireland ($82,865), the United Kingdom ($70,367) and South Africa ($65,245) having the highest median employee incomes in 2016-17.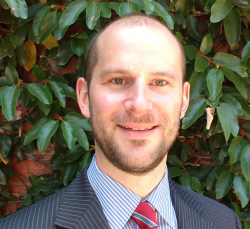 Latest posts by Leith van Onselen
(see all)