The greatest capital misallocation in the history of human civilisation continues today with China's November data dump.
On the surface, all appears well as data beat expectations comfortably. Industrial production was in at 6.2%. Retail sales at 8% and fixed asset investment at 5.2%: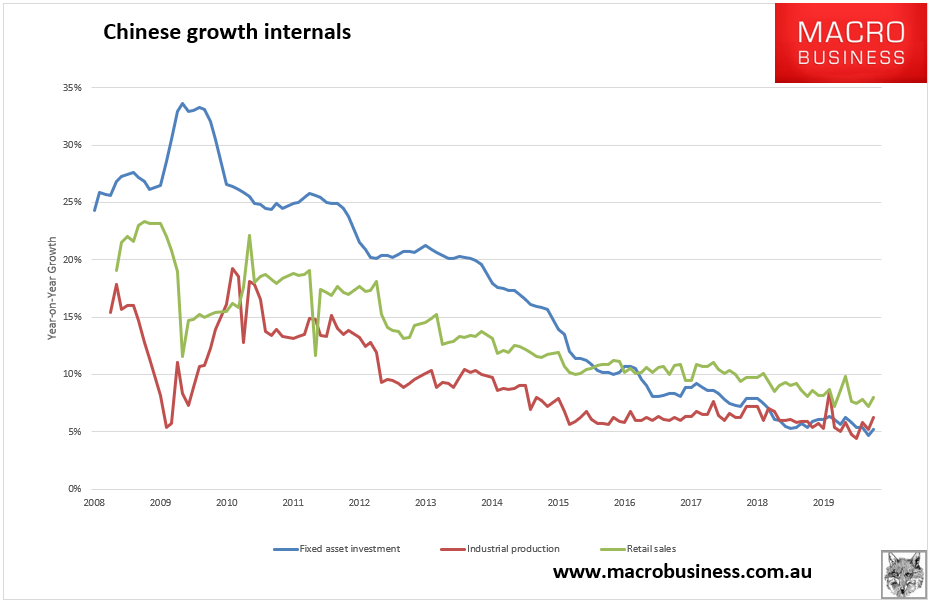 However, I am neither impressed nor comforted. The story of 2019 has been an industrial slump offset by an empty apartment construction boom. There is little to suggest that any lift in manufacturing is enduring but plenty to suggest that realty is on the slide.
Floor area sales have been falling all year (the yellow line is YTD):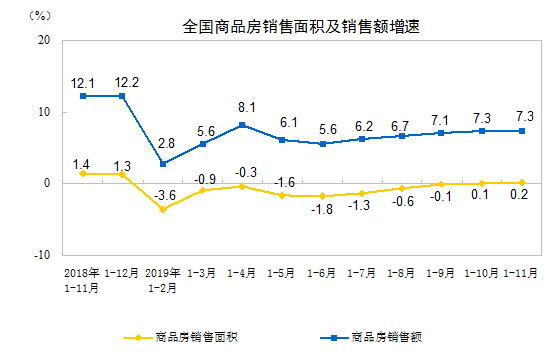 Developer land purchses are also a good leading indicator and are still down 15%. Moreover, year on year floor area starts fell in November: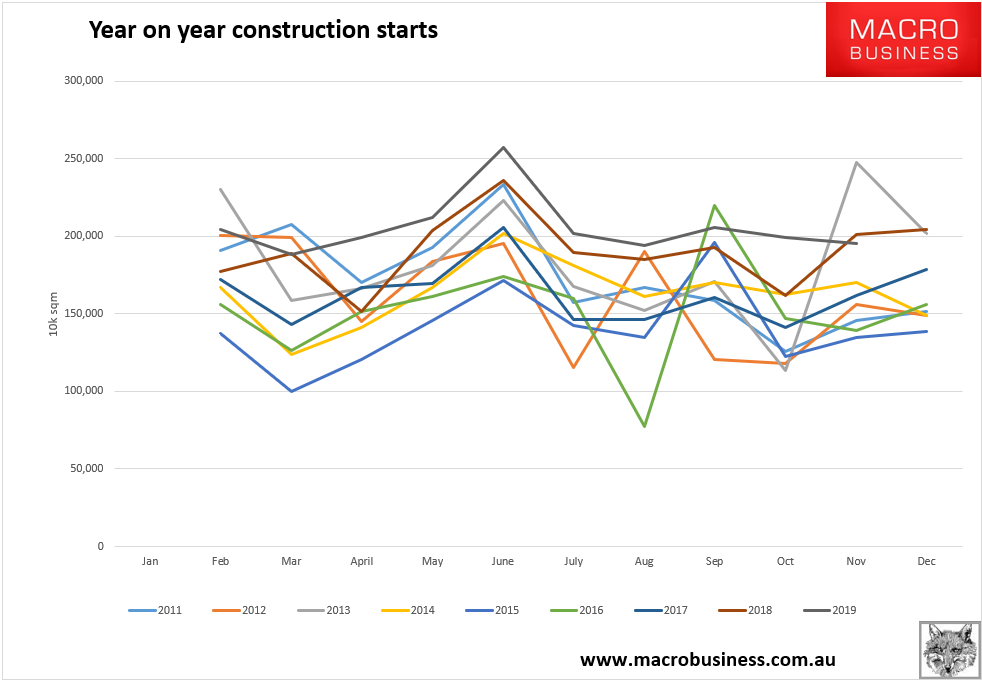 As well, the ultimate leading indicator, Chinese house prices, are sliding away quite quickly, up just 0.3% in November and 7% year on year: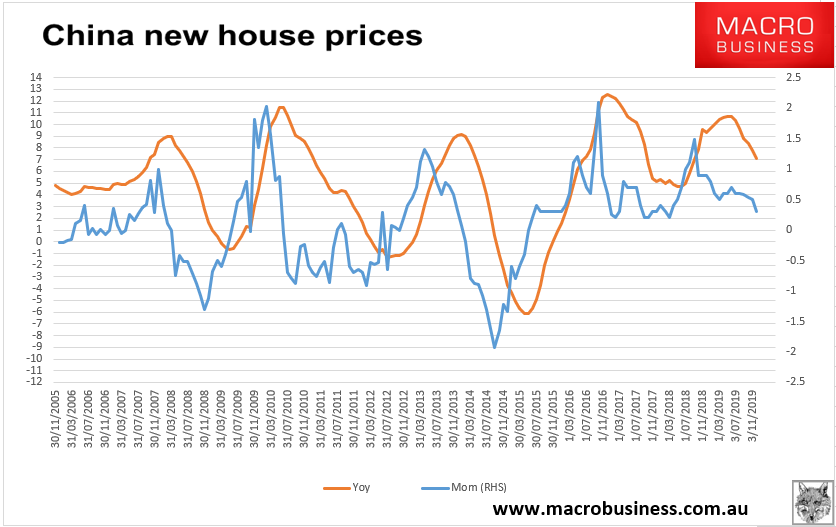 Lower tier cities, which have dominated construction, are sloing fastest: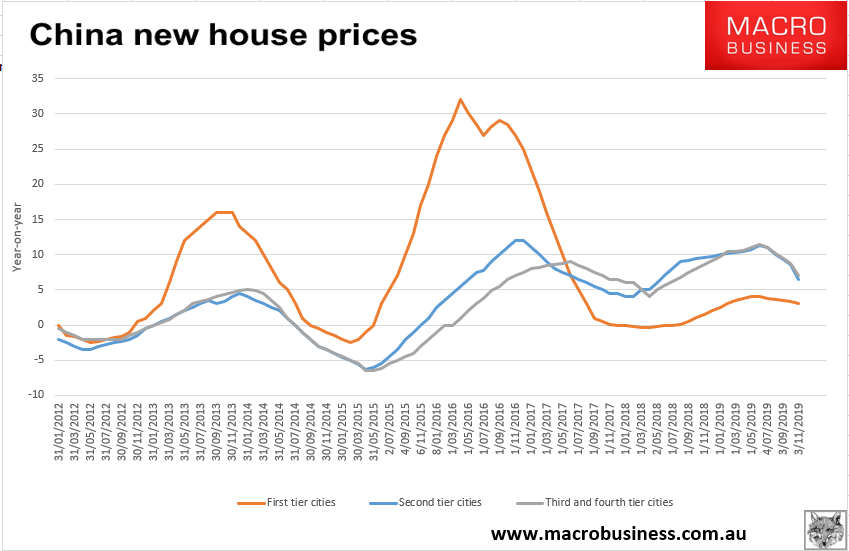 The spread of cities with price losses has almost overhauled those with price gains: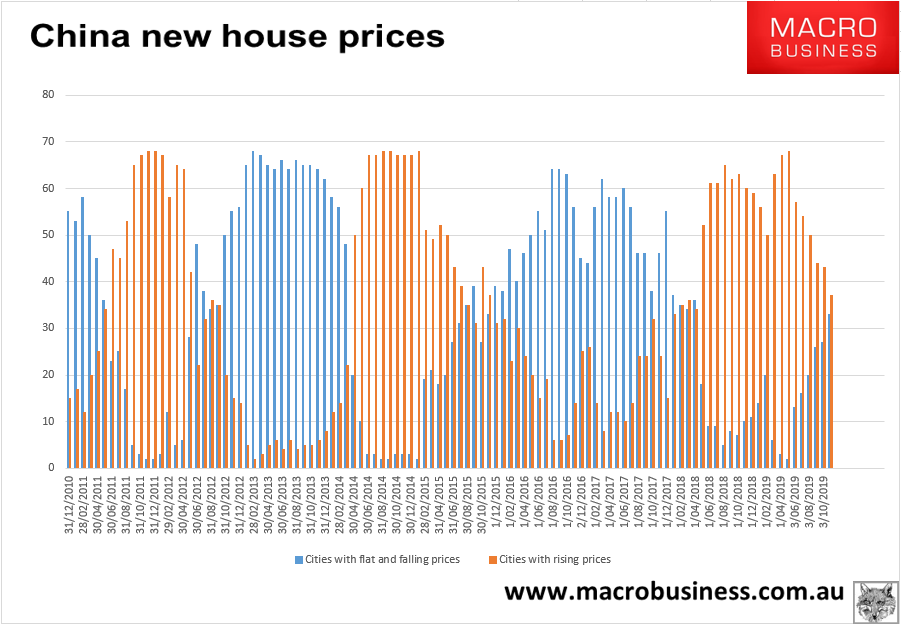 Nonetheless, floor area starts will definitely post a record in 2019 at 8.6% YTD: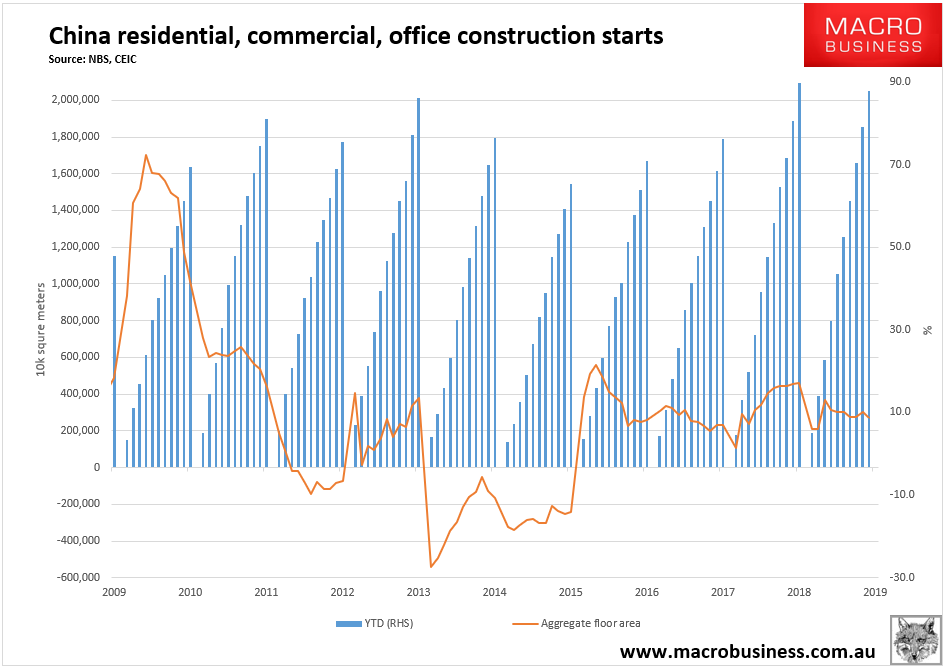 With floor area under construction still up a staggering 8.7% YTD for the largest jump in history: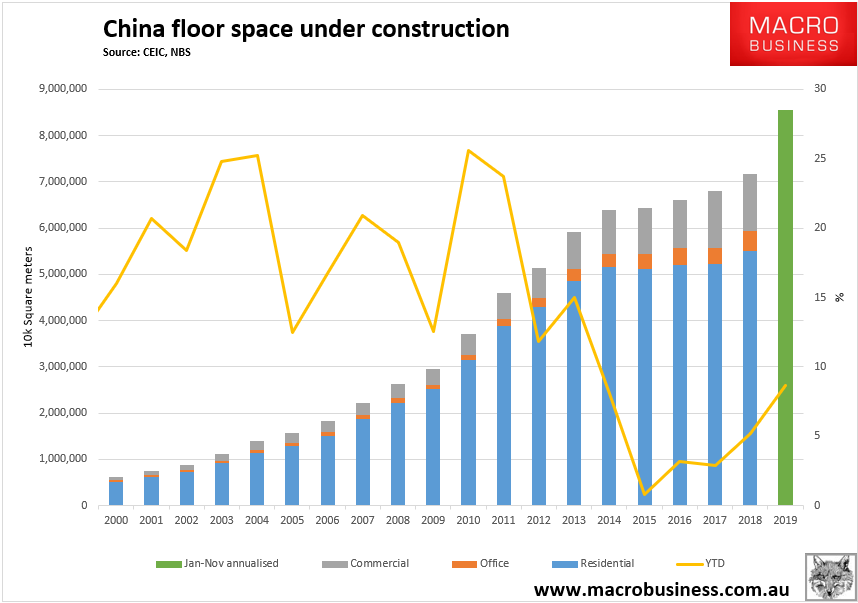 So, empty apartment construction is sliding at last and is not going to be a growth driver in 2020.
What will have to take its place is bridges to nowhere. The fixed asset investment rebound, such as it is, is very much still driven by public spending and infrastructure: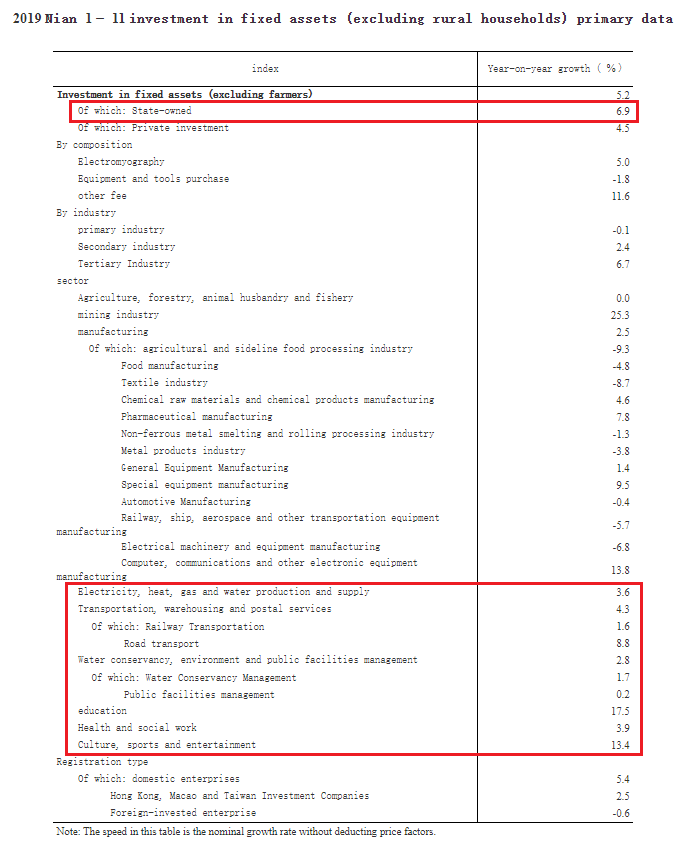 This ought to keep steel ouput from collapsing even if it falls away a little. It was still at a record in November on 80.3mt: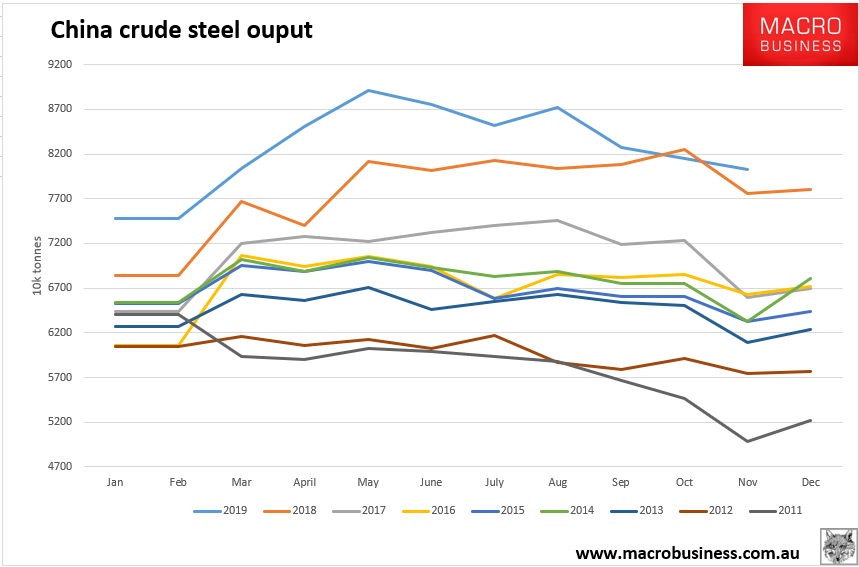 Scrap inputs were close too: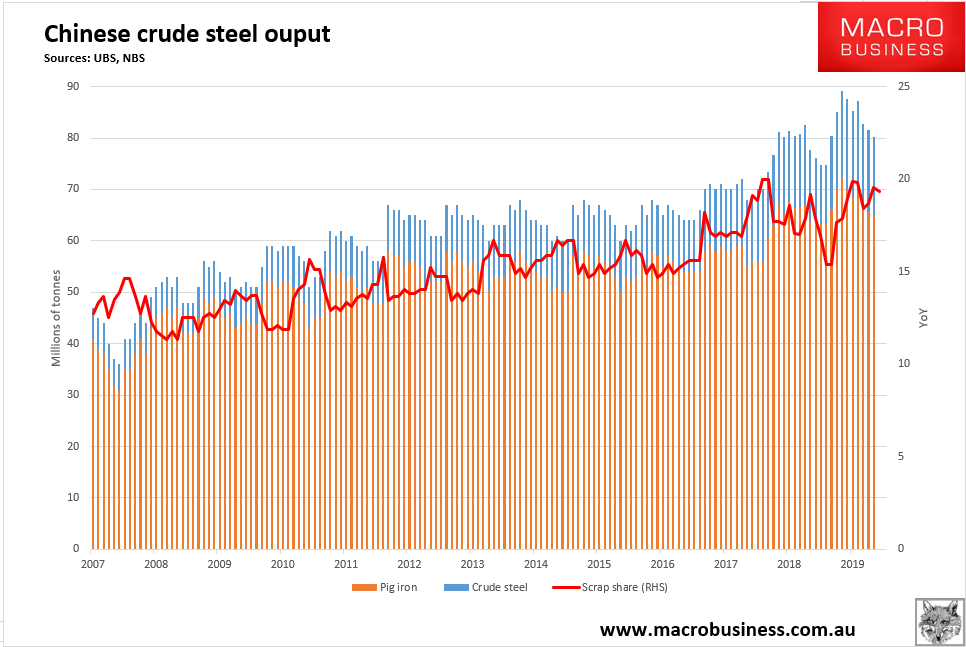 And, suggesting again that the new build is bridges to nowhere over empty apartments, cement production has also risen to all-time highs year on year after a weak 2019: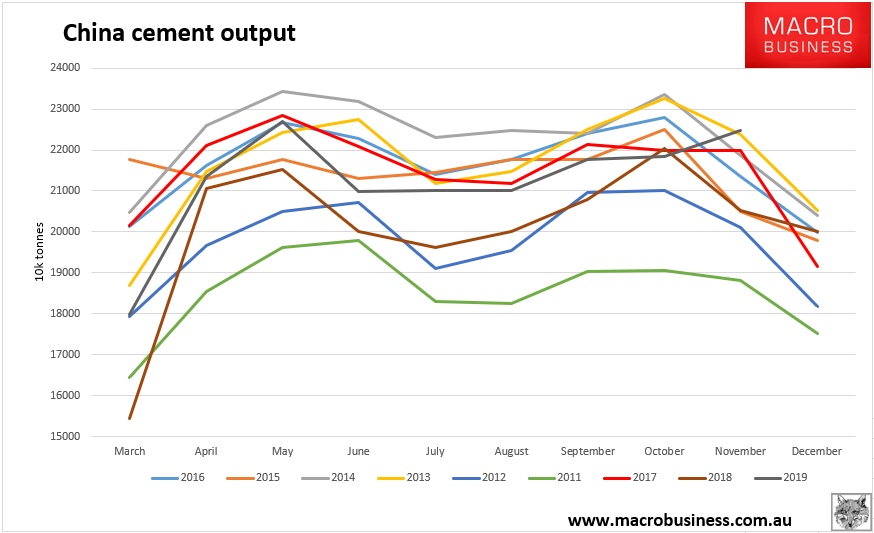 Finally, electricity production was up 3.4% YTD which is a much better guide to actual growth in the overall economy.
The headlines will be about Chinese growth rebounding. The internals are all about the opposite. The growth driver of 2019, empty apartments, is runnig out of steam and, as it happens, it is also the major input into iron ore consumption.
2020 will not be so friendly. Watch for PBOC rate cuts before long.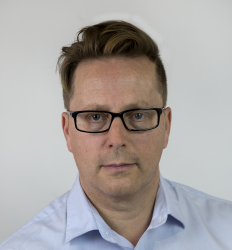 Latest posts by David Llewellyn-Smith
(see all)