By Gareth Aird, senior economist at CBA:
Key Points
RBA cuts to the cash rate have generated both a lift in new housing‑related lending and an acceleration in debt repayment.
We expect national dwelling prices will continue to grow faster than household income in 2020 but any increase in household leverage is likely to be modest.
Households are using lower mortgage rates to speed up debt repayment and housing equity injection sits at a 30‑year high.
Overview
Australian capital city dwelling prices, led by Sydney and Melbourne, have risen sharply since mid-2019. We expect price rises to continue through 2020 (see here). But household credit growth is weak. Intuition would suggest that when house prices rise briskly so too does debt. However, that is not always the case. It is possible for dwelling prices to rise a lot faster than household credit (chart 1).In such circumstances turnover is often low and/or households with existing debt are focused on debt repayment.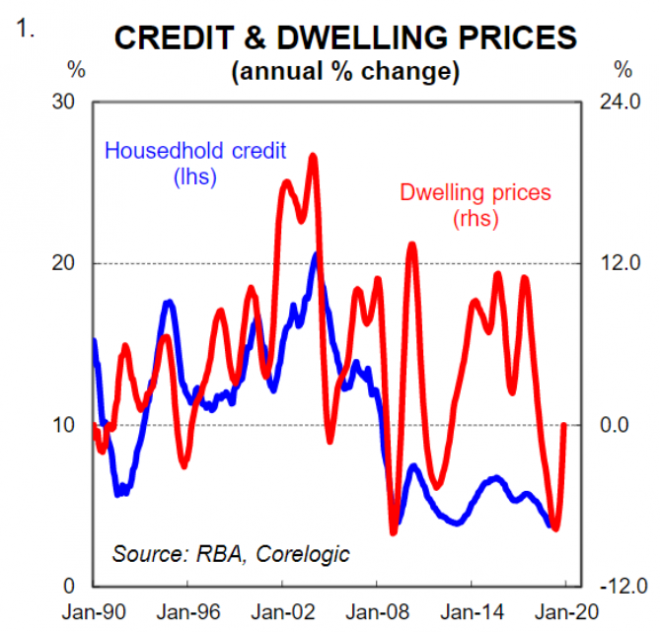 The change in the overall stock of household debt is a function of new lending and debt repayment.Three 25bp RBA rate cuts so far in 2019 have resulted in lower mortgage rates and a sharp lift in new lending and dwelling prices. But they have also been responsible foran acceleration in debt repayment. Most households that have a home loan have not adjustedtheir principal and interestrepayments downwards as a result of recent RBA easing. Just 7% of CBA customers with a principal and interesthome loan, for example,havereduced their monthly repayments as mortgage rates have come down in 2019.
In this note we take a look at the recent trends in new lending, dwelling prices, household credit, housing equity withdrawal and household leverage. Our expectation is that over the next two years we will see a decent rate of growth in the flow of new lending which will be accompanied by dwelling prices rising faster than income, particularly in Sydney and Melbourne. But we expect only a modest lift in the outstanding stock of household debt. The evidence to date indicates that households will continue to use lower interest rates to speed up debt repayment (i.e. deleverage). And housing equity injection (as opposed to withdrawal) is set to remain elevated as a share of household disposable income. This will be an ongoing constraint on household consumption. From a financially stability perspective, our expectation is that the household debt to income ratio plateaus from here. This means that rising dwelling prices are unlikely to be an impediment to further monetary policy easing as overall leverage is not forecast to increase. That picture would change, however, if credit growth was to materially step up and outpace household income growth.
New lending and dwelling prices
The flow of credit (i.e. new lending) has a clear impact on dwelling prices. More specifically, the annual change in the flow of credit has a close leading relationship with the annual change in dwelling prices by around six months (chart 2).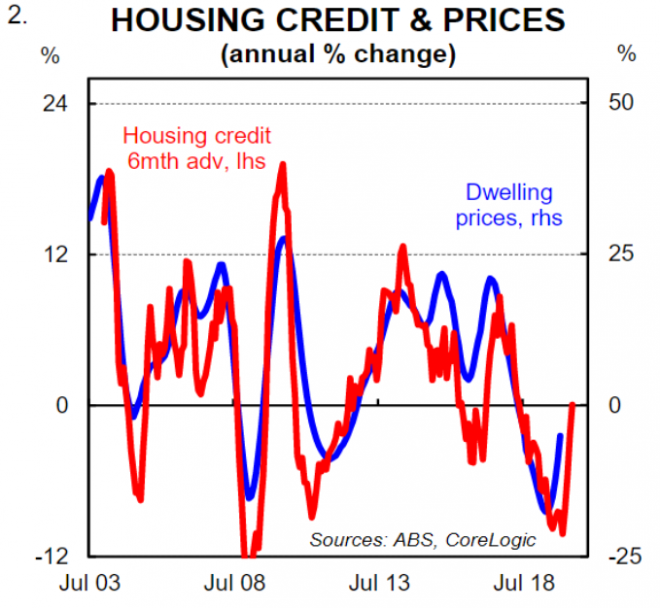 New lending is driven by the supply and demand for credit. The latest ABS lending data indicates that the flow of housing credit has picked up materially over the past four months. Indeed over the four months to September it grew at an annualised pace of 52%. It has been a broad-based increase across investors and owner-occupiers (including first home buyers). New lending, excluding refinancing, adds to the stock of household debt. We expect new lending continue to climb solidly over 2020 with the demand for home loans underpinned by record low mortgage rates and rising prices which pulls in both owner-occupiers and investors.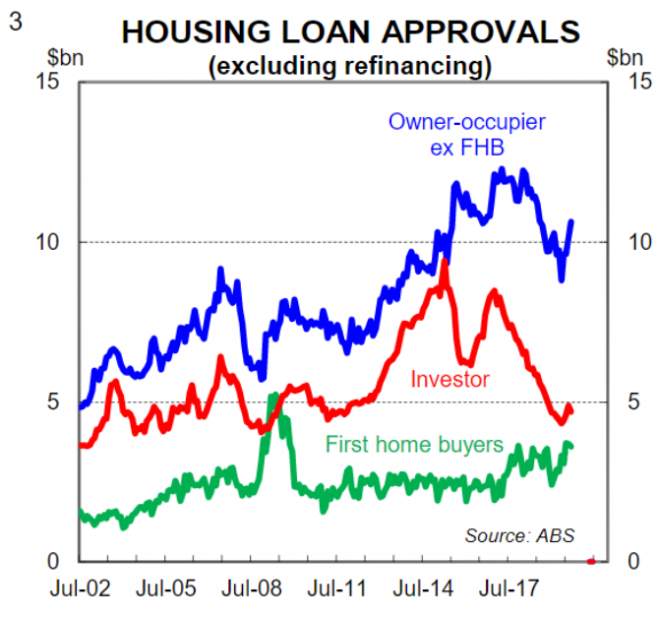 Household debt explained
The stock of household debt is simply all of the outstanding credit to the household sector. Each month the RBA publishes credit aggregates (chart 4). The RBA splits the stock of debt to the household sector into a few categories: housing credit – (i.e. owner-occupier (58% of the total) and investor (34% of the total)) and personal credit (9% of the total).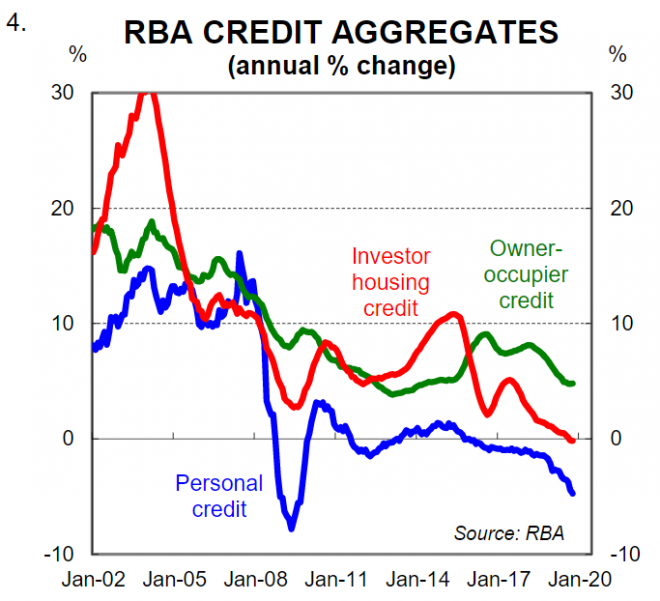 The change in the stock each month is a function of the flow of new lending and the amount of debt repaid. The change in the stock of debt can look quite different to the flow of lending because of the impact of debt repayment (chart 5). As at October 2019, housing credit growth had slowed to 3.0%/yr (owner-occupier 4.8%/yr, investor -0.2%/yr).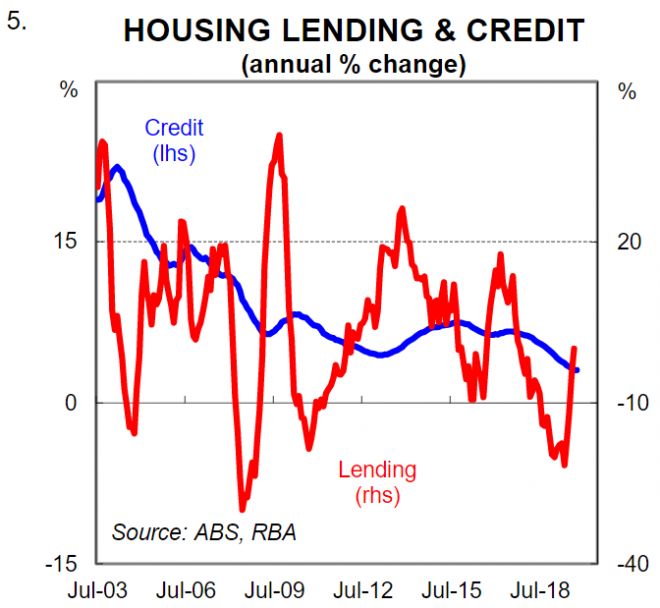 Despite a lift in new lending to investors, the overall stock of investor credit has contracted ever so slightly over the past few months (by an average of 0.1% each month). Roughly speaking, the monthly amount of new lending to investors has been slightly less than repayment of debt made by investors and so the stock of debt has fallen. For owner-occupiers, the monthly lending is a little more than the principal paid. The net result is a subdued rate of overall credit growth. That trend is expected to continue.
For personal credit, the stock continues to fall. Indeed the pace of decline has accelerated. At October 2019 the stock of personal credit was down 4.7%/yr. There are a few reasons for the decline in personal credit:(i)households are increasingly using buffers built up in mortgage offset accounts to fund the type of purchases that in the past may have been funded by personal loans; (ii) the fall in dwelling prices from mid-2017 to mid-2019 created a negative wealth effect which weighed on the expenditure on some big ticket items, particularly motor vehicles, which are often debt funded; and (iii) there is a lack of appetite for debt funded consumption as low wages growth looks increasingly entrenched and household have adjusted expectations of future income downwards; (iv) a fall in margin lending.
Housing equity withdrawal/injection
Housing equity withdrawal is the net cash flow generated by the household sector from transactions in housing assets and mortgage debt. In the period up to the global financial crisis (2001-2007) the Australian household sector in aggregate increased its mortgage debt by more than its net spending on housing assets (chart 6). This generated a positive cash flow that supported consumption. Retail trade, for example, averaged 6.6% pa over that period. But the situation since then has been very different. Housing equity withdrawal has been negative (i.e. housing equity injection has been positive).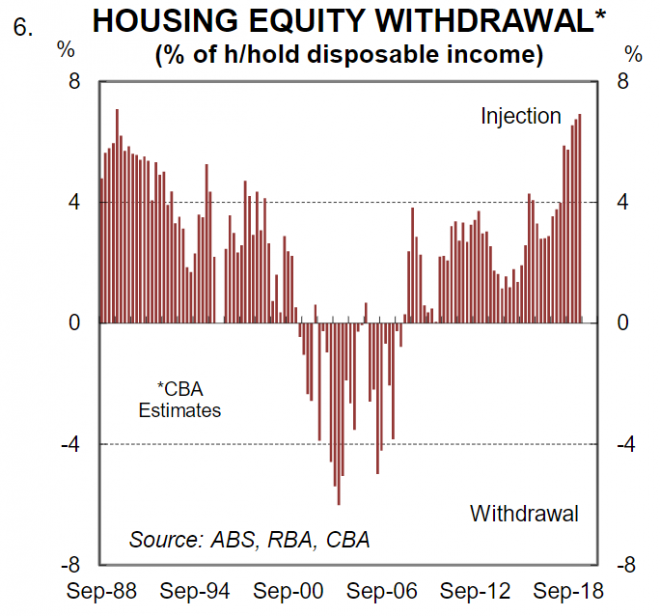 The rate of housing equity injection presently sits at a 30-year high (latest data at June 2019). Housing-related transactions are a net absorber of cash flow from the household sector. The repayment of debt is weighing on household consumption. And the overall picture looks unlikely to change even if house prices continue to rise briskly and the flow lending continues to rise. That is because the bulk of households that carry debt are focussed on repaying debt. We expect the "deleveraging mindset" to remain given the recent readings on consumer confidence indicate a degree of concern amongst households around the economic outlook (both the monthly WBC-Melbourne Institute survey and the weekly ANZ Roy Morgan show that sentiment sits around 4yr lows).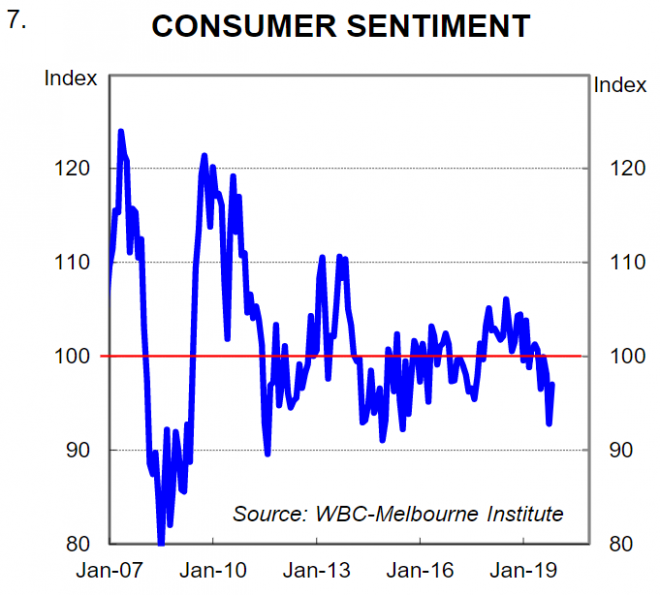 Household leverage and the outlook
The benchmark indicator of overall household leverage is the ratio of household debt to household disposable income. It currently sits at a record high of 191% which puts Australia in the top tier of household indebtedness globally(chart 8).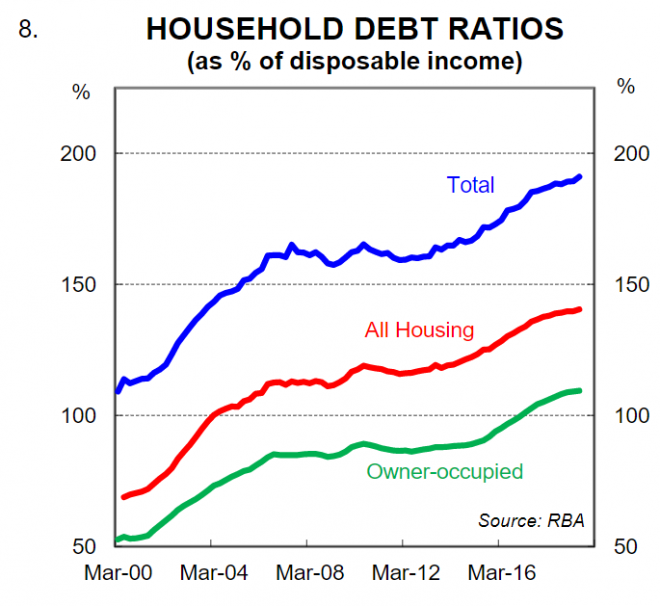 Household credit growth has not been particularly strong in recent years, but the weakness in household income growth has pushed the household debt to income ratio higher (chart 9).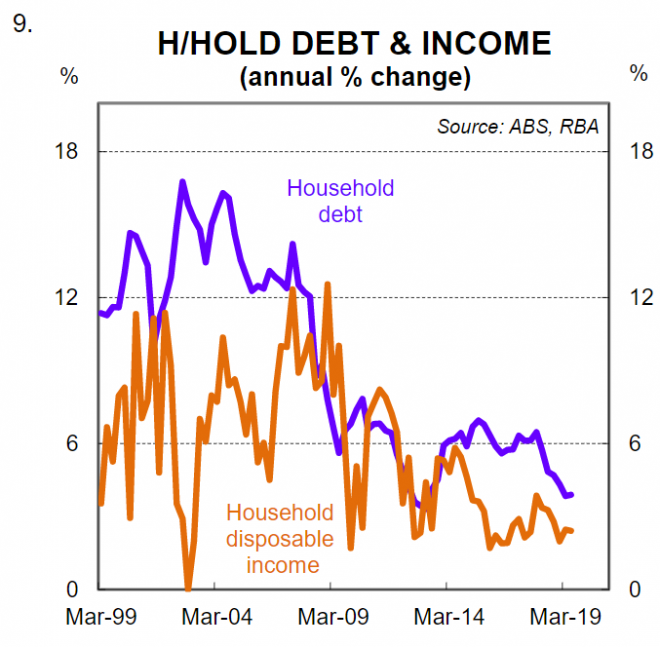 The high debt burden relative to income is constraining household consumption growth which has softened over the past year (chart 10).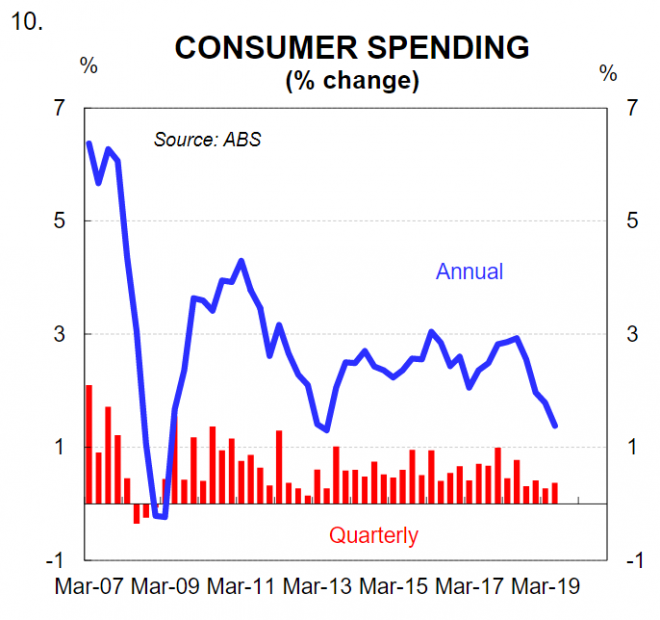 Our expectation over the next two years is that household credit growth will be constrained. Whilst there is an element of FOMO (fear of missing out) at work in the housing market, which is driving new lending higher, households as a collective are focused on repaying debt. The vast majority of households have used rate cuts to accelerate debt repayment. The RBA estimate that the total stock of prepayments (i.e. the sum of balances in offset accounts and redraw facilities) is around 16 per cent of gross housing credit. This equates to 2½ years of required mortgage repayments at current rates. Deleveraging is positive from a financial stability perspective. But the acceleration in debt repayment acts as a headwind on aggregate demand and economic activity. It is one of the reasons why tax cuts rather than rate cuts are a far more effective way to stimulate demand at this point in the cycle (see here).
On our estimates, the household debt to income ratio will plateau at its current level of ~190%. Table 1 below details our forecasts on debt, income and dwelling prices. We believe that it would take a material improvement in consumer sentiment and the household perception of the economy for the credit growth to accelerate. We don't see that as likely in the current economic climate even if house prices continue to rise briskly as we are forecasting. As such, rising house prices and new lending will not be an impediment to further monetary policy easing as overall leverage is not forecast to increase. There is of course a risk that leverage could lift if rising dwelling prices were accompanied by a bigger than expected lift in turnover and lending which pushed credit growth higher than we envisage. Or if household income growth were to be softer than we expect, leverage would lift on our estimates of credit growth. If overall credit growth picks up ahead of income growth in any material sense macro-prudential measures may come into play again in a bid to slow the rate of housing lending. But that is not our central scenario.