I reluctantly ducked into Chadstone Shopping Centre earlier this week to buy Christmas gifts and was pleasantly surprised by how quiet the centre was. I hate shopping – even more so during Christmas, where the crowds are infuriating.
I live reasonably close to Chadstone, therefore, rode my bike to avoid car parking. However, to my great surprise, the shopping centre was fairly quiet and there were car parks aplenty.
My immediate thought was that many shoppers must have completed their Christmas shopping during the Black Friday sales, thus bringing forward demand and leaving shops rather empty during the traditional Christmas crush.
My thoughts are confirmed by an article published yesterday in The ABC:
Analysts say there is anecdotal evidence that the online and in-store campaigns in late November boosted foot traffic.

But there are fears the sales spree may have brought consumer spending forward, detracting from Christmas revenue, and put pressure on retailers to keep the discounts flowing…

Roy Morgan's Michele Levine said anecdotal evidence suggested Black Friday and Cyber Monday sales were particularly strong this year.

"It'll bring the spending back earlier, however it's just really, really difficult to tell [to what extent]," she said.

"One of the big challenges once you go into an early sales period is that the … retailers have to keep discounting."
Curiously, despite the furious price discounting, the volume of retail sales fell for the first time since the early-1990s recession over the September quarter: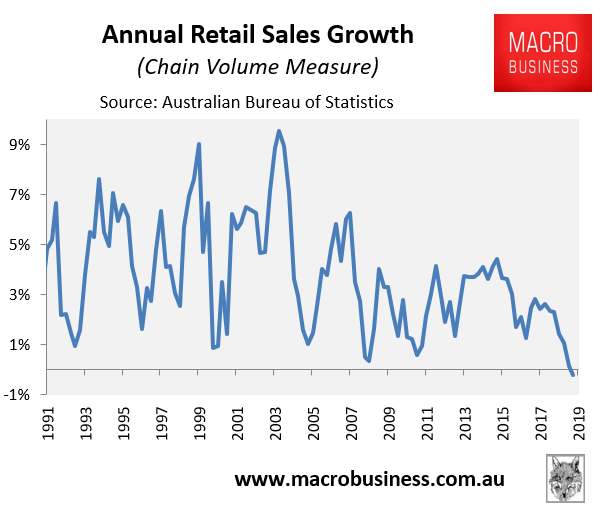 The Australian consumer is clearly sick, and discretionary retailers are feeling the pinch, with both sales volumes and margins getting crunched. This is what happens after seven years of zero real income growth: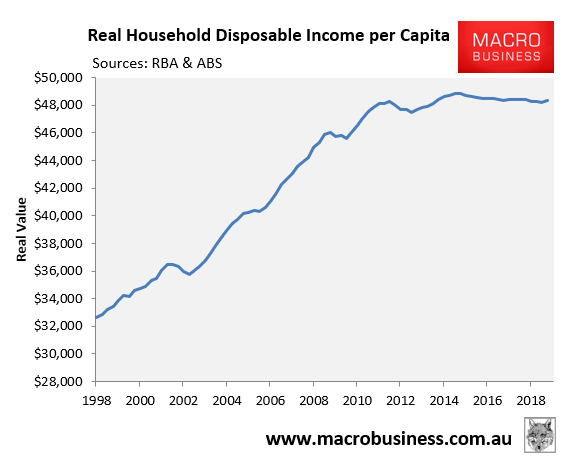 Leith van Onselen is Chief Economist at the MB Fund and MB Super. Leith has previously worked at the Australian Treasury, Victorian Treasury and Goldman Sachs.
Latest posts by Leith van Onselen (see all)