See the latest Australian dollar analysis here:
DXY was hit last night as EUR took off:

The Australian dollar screamed higher against DMs:

And EMs:

Gold was muted:

Oil stable:

Metals were hammered:

But miners loved it:

EM stocks didn't:

Nor junk:

Nor, weirdly, bonds:

Especially Aussie:

Even though stocks fell sharply:

Westpac has the wrap:
Event Wrap

US President Trump raised tariff tensions by firstly surprising with a Tweet to announce tariffs on Argentina and Brazil with respect to steel and aluminium.

He then added that there are many countries taking advantage of a strong USD/devaluing their currencies to the detriment of US manufacturing and agricultural sectors. He ended that Tweet calling for the Fed to lower rates/loosen policy. US Commerce Secretary Wilbur Ross appeared on Fox News and stated that, in reference to the Dec. 15th deadline on Chinese tariffs, the President has made it clear that tariffs will be increased if there is no progress and the two sides can't reach a deal.

US Nov manufacturing ISM surprised with a fall to 48.1 (est. 49.2, prior 48.3) in sharp contrast to the European and earlier final PMI's. New orders (47.2, est. 49.0, prior 49.1) and Employment (46.6, est. 48.2, prior 47.7) led the surprise weakness and contraction that was seen across virtually all components. Earlier, US Final Nov. Markit PMI edged higher to 52.6 (Flash 52.2) with both new orders and employment lifting in tandem, though there was a caveat of "lacklustre" growth momentum. US Oct. construction spending missed estimates and posted a -0.8%m/m decline (est. +0.3%m/m) and the Sept. releases was revised lower to -0.3%m/m from a prior +0.5%m/m suggesting that the rebound in home building has faltered.

Eurozone Final Nov. Manufacturing PMI posted a minor rise to 46.9 (Flash 46.6) after gains in German and French PMIs as well as minor beats for Italy and Spain.

UK Final Nov. manufacturing PMI also firmed to 48.9 (Flash 48.3) but continued to cite concerns over the election and Brexit.

Event Outlook

Australia: the RBA policy decision is universally expected to be on hold as the Board continues to monitor the impact of the previous three rate cuts on the economy. Q3 balance of payments are expected to show net exports adding 0.1ppts to GDP (Westpac fcs: +0.2ppts) while the current account posts a back-to-back surplus of $6.1bn (Westpac fcs $5.0bn). Q3 public demand is expected by Westpac to rise 0.9% and is the last GDP partial ahead of tomorrow's final release.
We might have concluded that markets were suddenly positioning for a global recovery with bonds selling and the AUD taking off. Except that commodities got belted and US data was bad, notably the ISM:
The November PMI® registered 48.1 percent, a decrease of 0.2 percentage point from the October reading of 48.3 percent. The New Orders Index registered 47.2 percent, a decrease of 1.9 percentage points from the October reading of 49.1 percent. The Production Index registered 49.1 percent, up 2.9 percentage points compared to the October reading of 46.2 percent. The Backlog of Orders Index registered 43 percent, down 1.1 percentage points compared to the October reading of 44.1 percent. The Employment Index registered 46.6 percent, a 1.1-percentage point decrease from the October reading of 47.7 percent.
Why would US bonds sell into that? Why would global bonds? Sure, the Chinese PMI was better yesterday but it was hardly glorious and credit flow is far from convincing for any sustained bounce. The trade non-deal added more bad news for China trades:
"Well you have a logical deadline Dec. 15," Ross told FOX Business' Stuart Varney in an exclusive interview. "If nothing happens between now and then, the president has made quite clear he'll put the tariffs in – the increased tariffs."
And the Eurozone PMI also sucked with a tiny improvement: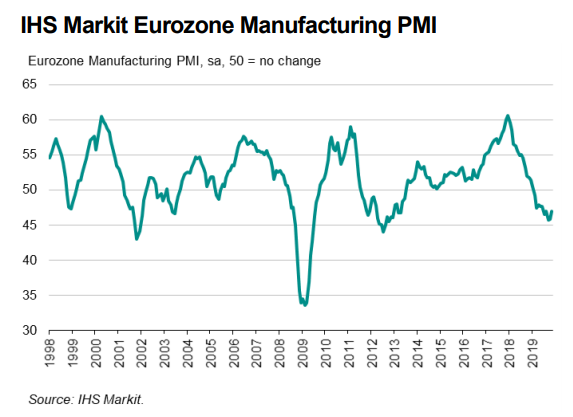 China drove the global PMI into weak expansion but the exports component is still falling: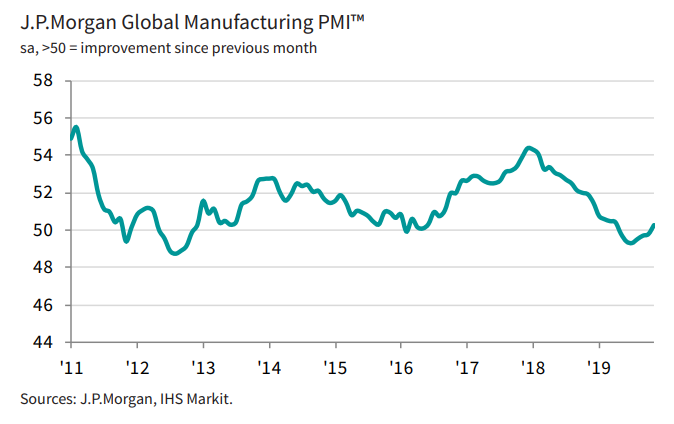 In short, markets interpreted the PMI data literally to mean that China is about to lead a global recovery as the US stalls, and risk gets belted, even as trade tarrifs worsen. So the Australian dollar climbed with bond yields even as DXY got hosed.
You'll padon me for saying so but that is delusional.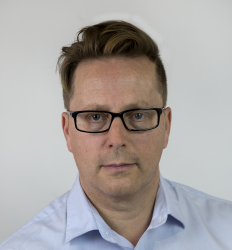 Latest posts by David Llewellyn-Smith
(see all)