See the latest Australian dollar analysis here:
DXY was down last night as CNY jumped:

The Australian dollar roared back against DMs:

But EMs did better:

Gold sagged:

Oil lifted:

Metals too:

And miners:

Plus EM stocks:

And junk:

All bonds sold:

As stocks rebounded:

Another day, another trade rumour, at Bloomie:
The U.S. and China are moving closer to agreeing on the amount of tariffs that would be rolled back in a phase-one trade deal despite tensions over Hong Kong and Xinjiang, people familiar with the talks said.

The people, who asked not to be identified, said that U.S. President Donald Trump's comments Tuesday downplaying the urgency of a deal shouldn't be understood to mean the talks were stalling, as he was speaking off the cuff. Recent U.S. legislation seeking to sanction Chinese officials over human-rights issues in Hong Kong and Xinjiang are unlikely to impact the talks, one person familiar with Beijing's thinking said.

U.S. negotiators expect a phase-one deal with China to be completed before American tariffs are set to rise on Dec. 15, the people said. Outstanding issues in the talks include how to guarantee China's purchases of U.S. agricultural goods and exactly which duties to roll back, they added.
Clearly a pre-market leak that did exactly what it was designed to. Markets are enslaved to this scuttlebutt for now.
Data was US focuseed and pretty ordinary. The services ISM was decent:
The NMI® registered 53.9 percent, which is 0.8 percentage points lower than the October reading of 54.7 percent. This represents continued growth in the non-manufacturing sector, at a slightly slower rate. The Non-Manufacturing Business Activity Index decreased to 51.6 percent, 5.4 percentage points lower than the October reading of 57 percent, reflecting growth for the 124th consecutive month. The New Orders Index registered 57.1 percent; 1.5 percentage points higher than the reading of 55.6 percent in October. The Employment Index increased 1.8 percentage points in November to 55.5 percent from the October reading of 53.7 percent.
But ADP was poor:
Private sector employment increased by 67,000 jobs from October to November according to the November ADP National Employment Report®. … The report, which is derived from ADP's actual payroll data, measures the change in total nonfarm private employment each month on a seasonally-adjusted basis.

"In November, the labor market showed signs of slowing," said Ahu Yildirmaz, vice president and co-head of the ADP Research Institute. "The goods producers still struggled; whereas, the service providers remained in positive territory driven by healthcare and professional services. Job creation slowed across all company sizes; however, the pattern remained largely the same, as small companies continued to face more pressure than their larger competitors."

Mark Zandi, chief economist of Moody's Analytics, said, "The job market is losing its shine. Manufacturers, commodity producers, and retailers are shedding jobs. Job openings are declining and if job growth slows any further unemployment will increase."
The BLS is Friday. Any sustained US weakness that puts more Fed action on the table is an upside risk for the AUD. As well, any tarrif rollback will lower the US inflation profile and be similar.
But we'd still need to see a change in economic leadership too to really give the USD a kick downwards. Especially against EUR: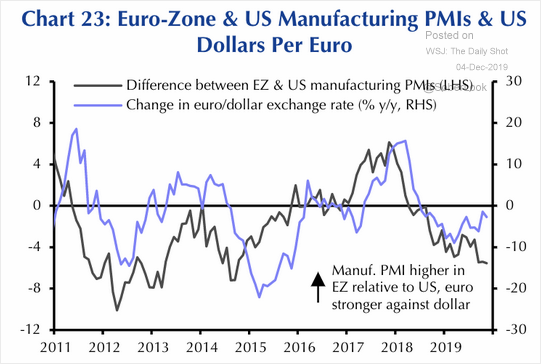 And that still doesn't look the base case: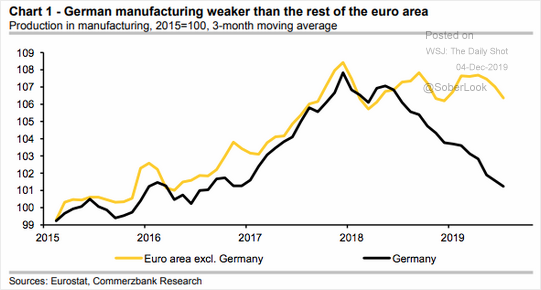 Though German car sales have lifted.
A softer USD to drive a material rally in the AUD is still a risk case but it bears watching.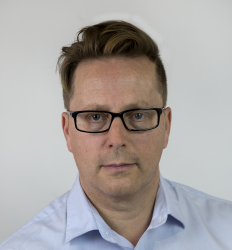 Latest posts by David Llewellyn-Smith
(see all)