Down they go:
ANZ Job Ads slid a further 1.7% m/m in November and are now down almost 15% from their cyclical peak in May 2018. Although there has been a longer lag than usual, the downturn in the number of advertisements may be starting to filter through to the labour market.

In October, we saw the first substantial fall (-19k) in employment in three years (a small 1k employment drop was recorded in May 2018). We expect employment growth to decline into 2020, lagging the deterioration in GDP growth over the past year.

While we expect the Q3 GDP data (Wednesday 4 December) to show growth starting to gradually pick up from its low, the fact that the ANZ Job Ads figure is still falling suggests that the softness in the labour market has a way to run.
It's becoming a pretty good downturn: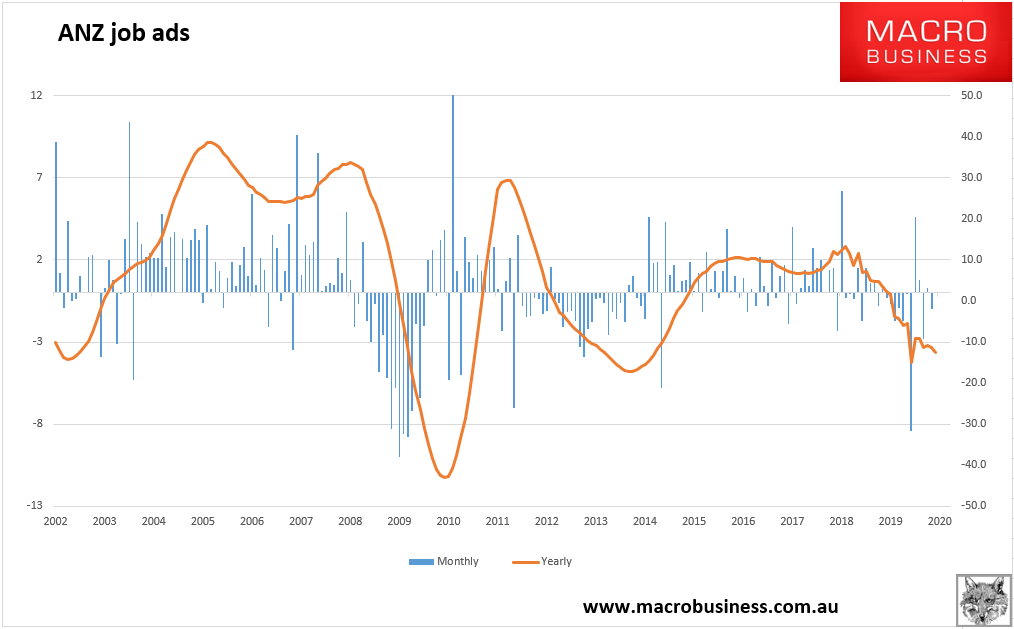 Nothing but downside ahead for wages as unemployment lifts.
David Llewellyn-Smith is Chief Strategist at the MB Fund and MB Super. David is the founding publisher and editor of MacroBusiness and was the founding publisher and global economy editor of The Diplomat, the Asia Pacific's leading geo-politics and economics portal.

He is also a former gold trader and economic commentator at The Sydney Morning Herald, The Age, the ABC and Business Spectator. He is the co-author of The Great Crash of 2008 with Ross Garnaut and was the editor of the second Garnaut Climate Change Review.
Latest posts by David Llewellyn-Smith (see all)