Via the WSJ:
China's sovereign-wealth fund is coming to the aid of a troubled lender in a 100 billion yuan ($14.28 billion) bailout, the latest show of government support for the banking sector, which has come under intensifying financial stress as the economy slows.

Hengfeng Bank, based in eastern China's Shandong Province, will sell 100 billion shares at a valuation of 1 yuan per share, almost all of them to government-backed investors, according the bank and one of its backers.

Central Huijin Investment Ltd., the investment arm of China's sovereign-wealth fund that owns stakes in major state-owned banks and other financial institutions, will buy 60% of Hengfeng's 100 billion share issuance, Hengfeng said.

…China's banking regulator has acknowledged growing financial risks among the nation's small lenders, but has described the risks as generally manageable. Analysts, however, generally forecast more bailouts in the coming year as the Chinese economy continues to slow with few signs that Beijing will backtrack in campaign to crack down on risky lending.
That's a certainty. Previosly via WSJ:
China's banks come in various flavors. There are a handful of giants, and a few more medium-size banks that can also operate nationally. Below that lies a bigger cohort of city commercial banks, and more than a thousand tiny rural commercial lenders. Both city and rural banks have their roots in local credit unions, and tend to have limited geographic reach. Cracks are emerging at some small and midsize banks after years of rapid growth

Compared to the 'Big Four'*, small and mid-sized banks rely more on wholesale funding, such as the bond, repo and interbank markets.
Wholesale funding pressures are still apparent in China, even thought the default rate is very low: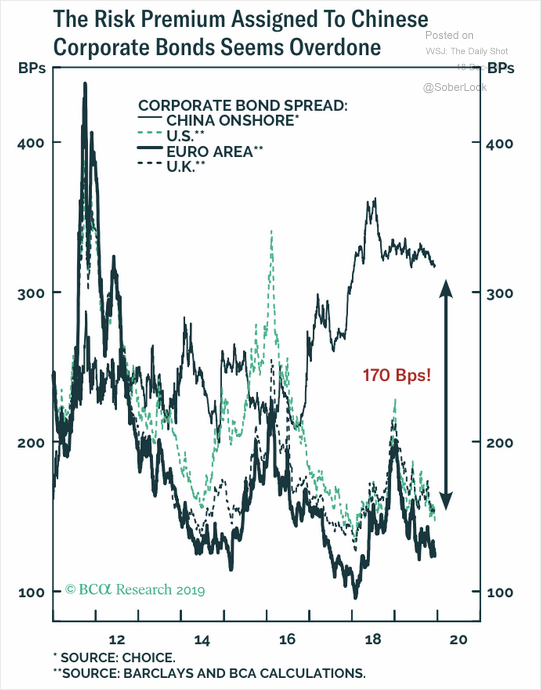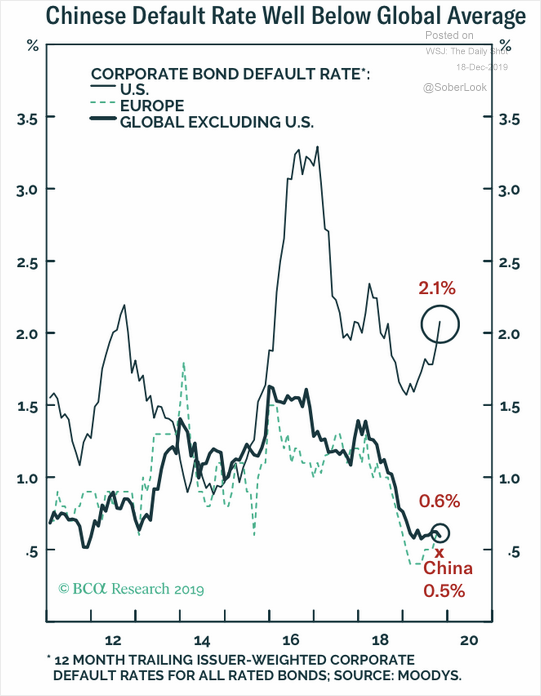 That's becasue nobody believes the default rate is real or sustainable, quite rightly.
As China slows over the next five years expect a chronic, if slow motion, financial crisis in weaker, regional  banks.
Latest posts by David Llewellyn-Smith (see all)