Via Domain:
Millions of Australians are struggling to work more hours and lift their earnings in a "gig economy" that suppresses wage growth, according to new research that reveals key pressure points across the country.

…Labor frontbencher Clare O'Neil will liken the trend to a "drought" for workers who need more work, saying the two million Australians "want to have a go but can't get a go" under the Morrison government.

"The average additional hours sought by an underutilised worker in Australia is 14 hours a week," Ms O'Neil says.

"We are not talking about Australians looking for $50 here or there for luxuries. We are talking about an average per-worker shortfall of hundreds of dollars a week."

…Ms O'Neil presents the research as a "tale of two Queenslands" because the underutilisation rate has more than doubled to 17 per cent in regional areas over the past six years but has improved in the inner suburbs of Brisbane.
Here's the chart: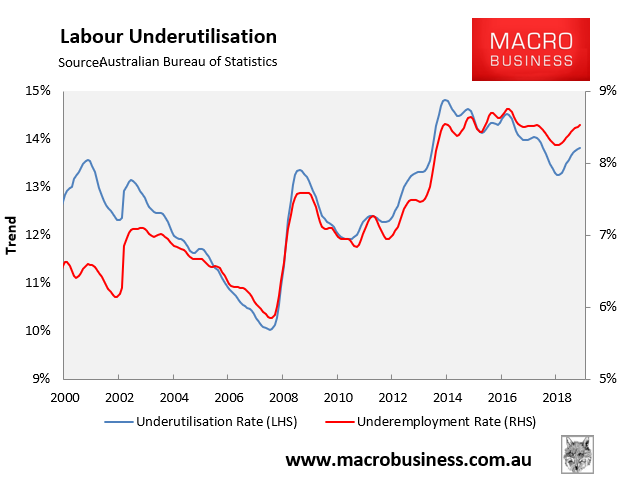 Underemployment is rising quickly towards record highs as the mass immigration economy pours in cheap foreign labour even as demand reamins weak.
O'Neill has previously gestured at what Labor should be doing with this, espeically for QLD:
"I know this is not what was intended. But if our voters hear sanctimony, that is what matters."

"I understand and acknowledge that some people say political correctness has gone too far as cheap cover for racism and bigotry. That is undoubtedly true."

"But when our own people – Labor people of a lifetime – tell us that they feel they are not allowed to question new social standards that seem to be reset every other week, I think we need to listen."
It has nailed half of the problem too, previously via The Australian:
Labor has called for an urgent examination of the temporary visa regime following new ­analysis that reveals the number of ­migrants on the visas has jumped from 1.8 million to 2.2 million in the past four years…

Labor employment spokesman Brendan O'Connor said the "increased overreliance" on temporary visas to supply labour was of great concern when there was nearly two million Australians unemployed or underemployed.

"The government should ­urgently examine the current temporary visa regime with a view to identifying the extent of the misuse and overuse of such visas. Our first employment priority as a nation must be to provide employment opportunities to local workers," he said.

Employment Minister Michaelia Cash said the government was committed to ensuring Australians had priority for jobs and overseas workers were only recruited to fill genuine shortages…

"Under labour market testing, employers must advertise the position within Australia to ­ensure Australians are given first priority. Employers can only seek overseas workers if they can demonstrate Australian workers are not available," she said.

"We make no apologies for trying to get Australians into high-skilled, high-paying jobs."
Permanent migration should also be cut but that is a by-the-by for this post. Which comes to a head with this today, at Domain:
Anthony Albanese heads to regional Queensland this week with the challenge of undoing that mistake.

…"Labor believes in Medicare and the health system. Labor believes in better funding for education and TAFE and skills. That person isn't just concerned about themselves. If they have a trade, they want that trade for others to be able to experience, as well.

That is not the only thing Albanese needs to clear up. The Labor election campaign was also evasive on coal. Shorten tried to appeal to voters worried about climate change in the south but worried about jobs in the north.

Queenslanders saw through the tricky language about the Adani coal mine and swung against Labor, even when national polling showed big concerns about climate.

Albanese drops the ambiguity. He backs coal exports – and the jobs that come with them.
No he doesn't. And QLDers know it. He can't compete on support for coal versus the black-handed Coalition. Blokes like Matt Canavan are coal to the core.
But what Albanese can do is outflank them on the issue. Come up with investment, spending and retraining solutions for country QLD. Moreover, promise to cut the flood of cheap foreign labour destroying their labour conditions.
QLD's One Nation party is an anti-immigration party at the core. Coal is a Johnny-come-lately issue. If you want to capture QLD then go to the heart of their deepest fears and desires. All Albanese needs to do is return migrant intakes to still generous historical levels then he takes the policy and political  lead on wages, house prices, infrastructure and national security.
It is the right thing to do for QLD and national labour!!!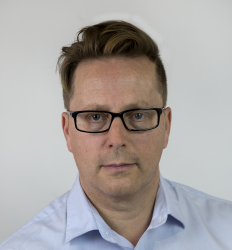 Latest posts by David Llewellyn-Smith
(see all)