Via the FT:
China's fixed-asset investment growth has sunk to its lowest level in two decades as the Chinese leadership's cautious stimulus fails to prop up the domestic economy in the face of a deepening slowdown.

… The deepening economic slowdown, intensified by the US-China trade row, has ratcheted up pressure on Beijing to launch renewed stimulus measures.

Despite China's gross domestic product growing at its slowest pace in three decades, the Communist party's policy response has been limited to tax reforms, cuts to bank reserve requirements and tweaks to local government bond issuance, unlike more robust measures taken during previous slowdowns.

… "Destabilising and uncertain factors from outside the country are currently continuing to grow," said Ms Liu. "The risks and challenges facing the economy are still relatively numerous, so we cannot underestimate them."
Lost int his dicsussion is the fact that China is already simtulating its arse off, running a sub -5% budget deficit: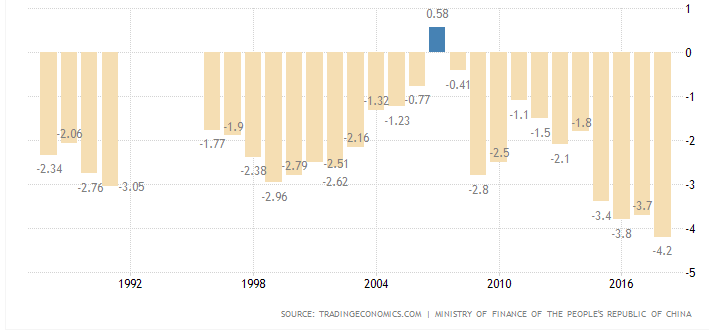 And building empty apartments like a maniac: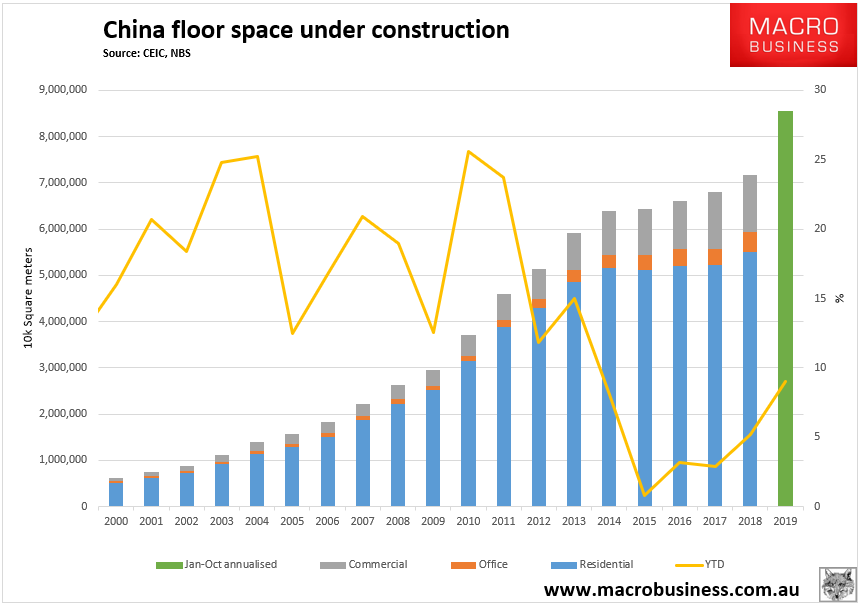 There is room for more infrastructure as the trade war hollows out industrial investment but it, too, is aleady runnig a decent clip: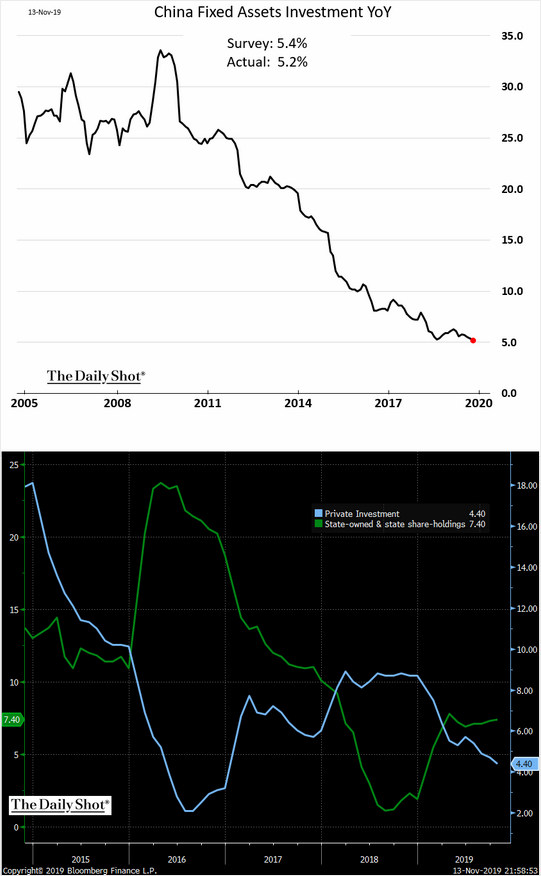 And there is nothing left to build worth building which means it only makes China's debt problems worse, also at the FT:
Sichuan Development Guidance Fund has a problem. The company, based in the southwestern city of Chengdu, is running out of profitable infrastructure projects to fund — and that contributes to China's wider economic woes.

"There are not many economically viable projects for us to take on," an official at Sichuan Development told the FT. "We have plenty of bridges and roads already."

Infrastructure investment by local government-controlled companies such as Sichuan Development has traditionally helped the Chinese government to meet its economic growth target, and been an important source of stimulus whenever China's expansion has flagged.

But now such finance vehicles face mounting challenges in helping the Chinese government to prop up growth.
Li Keqiang doesn't sound like he's readying a deluge:
Addressing the increasing difficulties for domestic growth, Li urged efforts at the local level to further stabilize economic growth, which lays the foundation for high-quality development.

Local governments should make good use of national policies, promote effective investment and industrial upgrades and introduce more targeted measures for enterprises, Li said.

Li stressed that the impetus of development must be enhanced by further releasing the potentials of systematic innovation, in order to delegate power to lower levels and provide better services.

More efforts should be made to strengthen new driving forces and further unleash the potential of the Chinese market by supporting advanced manufacturing industries and emerging service industries, Li said.
That's a reform speech, sensibly enough. A further softening up for lower growth may be underway:
China's economic growth rate will dip below 6.0% next year, according to a major think tank in Beijing.
The Beijing-based National Institution for Finance and Development (NIFD) was the first government-linked think tank to make a prediction of sub-6% growth. It said on Wednesday that China's economic growth rate would slow to 5.8% in 2020 from an estimated 6.1% this year.

…This year's growth forecast is near the lower end of the range between 6% to 6.5% growth that the Chinese government is targeting for 2019. The declining trend underscores the continued pressure on the economy from the trade war with the US as well as domestic headwinds.

…"The economic slowdown is already a trend," said former central bank adviser Li Yang, who heads the institute that is affiliated to the Chinese Academy of Social Sciences (CASS).

"We must resort to deepened supply-side structural reform to change it or smooth the slowdown, rather than solely rely on monetary or fiscal stimulus."

SSSR or "supply-side structural reform" was first introduced by Chinese officials in 2013 and is now a key part of the country's economic agenda.

Broadly speaking, the strategy aims to put China on a more stable economic footing by eliminating excess capacity and inefficiencies in factory production.
The forecast from the Beijing-based think tank is in line with that of the International Monetary Fund.
They still have their 6% target for next year to double growth from 2010 so I expect more incremental stimulus but the following chart shows you that things have changed: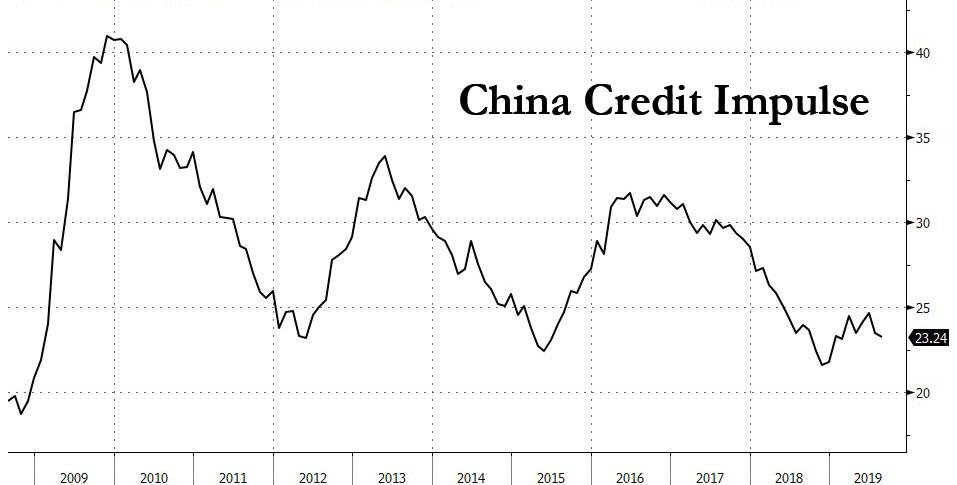 Deleveraging is now an equal priority with growth.
I expect more of the same. What stimulus we will see will be incremental, targeted more at new economy than old economy interests, and insufficient to end the glide slope to lower growth.
Barring some major shock.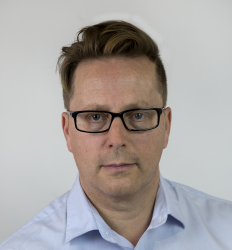 Latest posts by David Llewellyn-Smith
(see all)