See the latest Australian dollar analysis here:
DXY jumped Friday night:

Which dragged the Australian dollar to new closing lows:

It was better that EMs:

The great Australian dollar short has returned at -48k contracts. Check out that relentless 12 month negativity: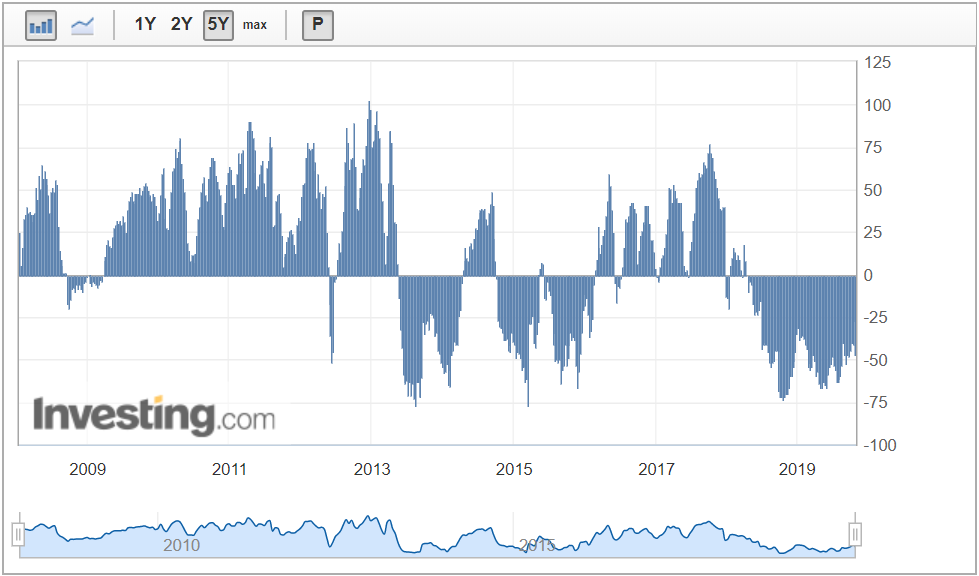 Gold eased:

Oil too:

Metals found a reprieve:

Miners lifted:

EM stocks fell:

Junk was good:

The Treasury curve flattened:

Bunds were bid:

And Aussie:

As stocks ground higher:

US data was positive with the flash PMI bouncing:
▪ Flash U.S. Composite Output Index at 51.9 (50.9 in October). 4-month high.
▪ Flash U.S. Services Business Activity Index at 51.6 (50.6 in October). 4-month high.
▪ Flash U.S. Manufacturing PMI at 52.2 (51.3 in October). 7-month high.
▪ Flash U.S. Manufacturing Output Index at 53.1 (52.4 in October). 10-month high.
U.S. private sector output increased at a faster pace in November, with the rate of expansion quickening to a four-month high. Growth was supported by stronger increases in activity across both the manufacturing and service sectors.
Versus a deeply schlerotic European flash PMI:
▪ Flash Eurozone PMI Composite Output Index(1) at 50.3 (50.6 in October). 2-month low.
▪ Flash Eurozone Services PMI Activity Index(2) at 51.5 (52.2 in October). 10-month low.
▪ Flash Eurozone Manufacturing PMI Output Index(4) at 47.1 (46.6 in October). 3-month high.
▪ Flash Eurozone Manufacturing PMI(3) at 46.6 (45.9 in October). 3-month high.
The Eurozone economy remained close to stagnant for a third successive month in November, according to the flash PMI, losing growth momentum slightly again as new orders fell for a third straight month. The survey showed signs of the steep ongoing manufacturing decline spreading further to services. Employment growth meanwhile slipped to the lowest for almost five years as firms took an increasingly cautious approach to hiring. Price pressures also cooled further, running at the lowest for over three years.
Versus a no hope Australian flash PMI:
The latest Commonwealth Bank Flash Composite PMI® signalled a renewed fall in private sector output in Australia during November, following no change in October. Declines were seen across both the manufacturing and service sectors. Meanwhile, marginal increases were recorded in both new orders and employment. The rate of input cost inflation accelerated, but companies left their selling prices broadly unchanged amid a relatively weak demand environment.
And that's all you need to understand why everybody hates the Australian dollar:
no end in sight to US growth and inflation leadership driving the USD and assets bid;
no end is sight to weak European growth and inflation driving a relentless EUR short;
no growth at all in Australia, leading to poor wages and profits and revulsion for the AUD.
It's the perfect combination to prevent any kind of rally as DXY stays strong and AUD weak for as far as the eye can see, even if global growth rebounds.
David Llewellyn-Smith is Chief Strategist at the MB Fund and MB Super. David is the founding publisher and editor of MacroBusiness and was the founding publisher and global economy editor of The Diplomat, the Asia Pacific's leading geo-politics and economics portal.

He is also a former gold trader and economic commentator at The Sydney Morning Herald, The Age, the ABC and Business Spectator. He is the co-author of The Great Crash of 2008 with Ross Garnaut and was the editor of the second Garnaut Climate Change Review.
Latest posts by David Llewellyn-Smith (see all)