Check out the below chart from yesterday's June quarter wage data from the ABS: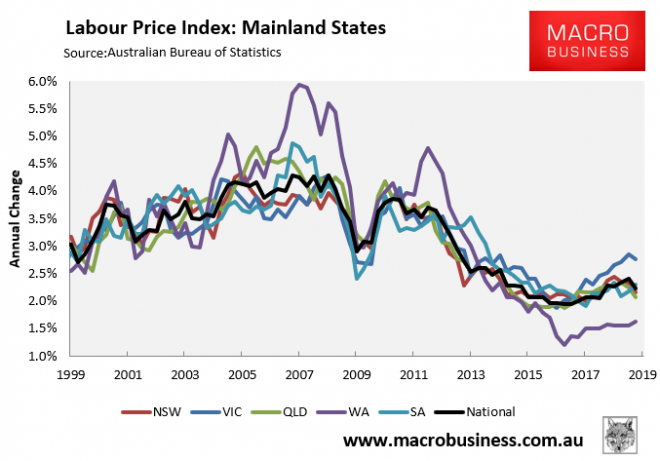 As you can see, Victoria is way out in front on wage growth, recording wage rises of 2.8% over the year to September.
Now check out the next chart showing wage growth across Australia's various public sectors: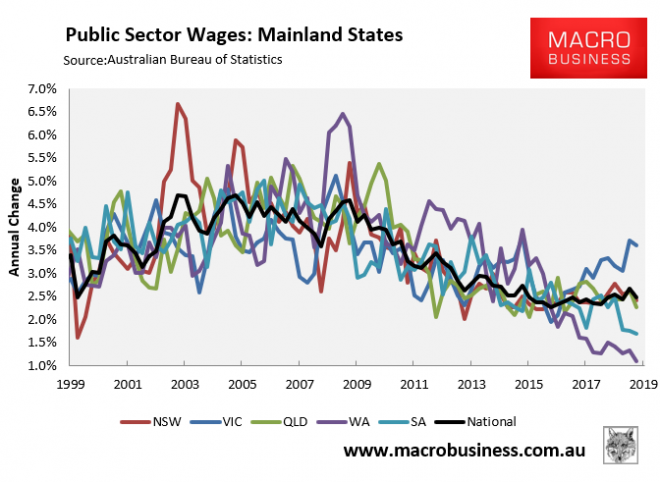 As you can see, Victoria is even further in front, registering public sector wage growth of 3.6% in the year to September, way ahead of the national average of 2.5% across the public sectors.
As noted by Adam Creighton, Victoria was one of just two states to post negative productivity growth in the year to June:
In a state where the Premier had 64 taxpayer-funded advisers last year, more than Scott ­Morrison, it's no surprise the state's public servants are enjoying thousands of dollars a year in extra pay… Too bad for the rest of us…

Across 18 different industries, healthcare and social workers — largely propped up by subsidies — enjoyed the fastest growth in wages…

Higher public sector wages don't reflect higher productivity, rather an arbitrary transfer of wealth from taxpayers.

Indeed, Victoria was one of only two states (South Australia, the other) to ­exhibit negative productivity growth over the 12 months to June last year.
The state's Auditor-General has also warned that Victoria's public service is growing at an unsustainable rate:
Public servant expenses continue to be the state's biggest operating expense, which at $26.6 billion have increased by 40 per cent between 2013/14 and 2018/19.

The workforce grew from 217,000 to 263,000 in that time.

The public service has been expanding faster than the population, with the sector growing by 21.1 per cent since 2014/15 compared to population growth of 11.9 per cent…

It noted if the public service continues to grow it will put pressure on the state's operating position.

"These expenses are difficult to reduce without reducing either the level or standard of service."
Hilariously, CommSec's debunked State of the States report ranked Victoria the number one economy in the nation.  Go figure!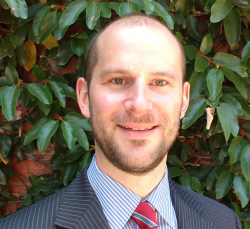 Latest posts by Leith van Onselen
(see all)