Victoria looks to become the first jurisdiction to implement direct road user charges, according to confidential sources leaked to The Age, with electric vehicles in the immediate firing line:
Victoria is likely to be the first mover, with senior government and industry sources confirming consultations had begun on a charge that is under consideration for May's Victorian state budget…

The sources, who declined to be named because the consultations were confidential, said there had been "a lot of conversations" and the tax "was on the radar" as both Victoria and NSW look for reforms to stimulate the economy…

The shift towards road-user charging, which charges motorists for each kilometre they drive, is likely to be the first step in a transformation long advocated by Infrastructure Australia to encourage all motorists to catch public transport and to avoid clogging city streets, by driving only when necessary.

The charges would apply only to electric vehicles initially, because they do not pay a fuel excise tax, worth 4¢ per kilometre at the bowser, like petrol and diesel powered cars…

The research finds that over the lifetime of an electric vehicle, with an equivalent road user charge of 4¢ per kilometre, electric vehicle owners will save at least $3600 over an eight-year span in operating costs compared to fuel-using motorists.
The impending collapse in fuel excise is a legitimate concern, given the projected rise in electric vehicles: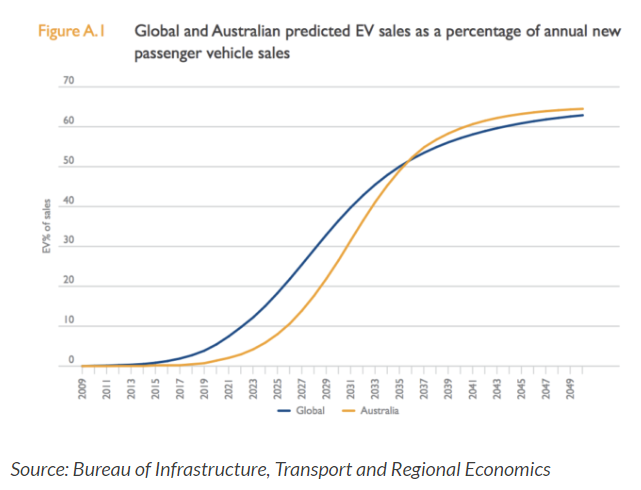 Alongside improvements in fuel efficiency: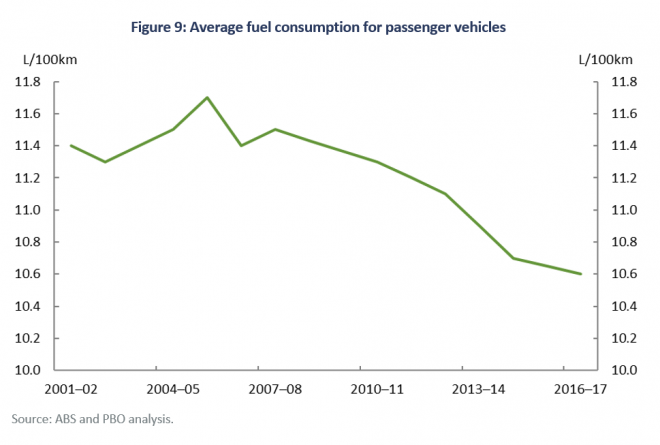 Already, fuel excise receipts are on the decline: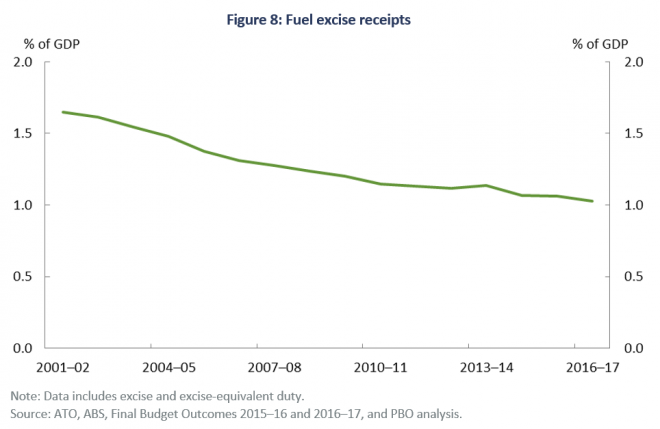 And this will only accelerate as electric vehicles increase their share.
This means policy makers will be forced to shift to some sort of direct road user pricing, as we are witnessing in Victoria.
Ideally, reform would focus on all types of vehicles by eliminating fuel excise in exchange for direct charges.
However, the politics is fraught, which means that incremental 'second best' reforms like the above are more likely.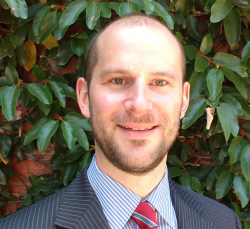 Latest posts by Leith van Onselen
(see all)