According to The Australian's Higher Education Editor, Tim Dodd, Australia's Group of Eight (Go8) universities have averted a decline in Chinese international students:
The latest enrolment figures show that in the first nine months of this year the influx of Chinese students commencing courses was 9 per cent higher for the Group of Eight universities than in the corresponding period last year.

The news is not as good for the universities not in the Group of Eight that have seen numbers of newly arriving Chinese students decline this year.

But, overall, the number of commencing Chinese students is up 3.2 per cent this year. That does mean the market is very soft — particularly compared with the 17 per cent annual growth seen only two years ago — but it is not yet in disaster territory.

The fact Chinese student growth is holding up is very good news for the big five in the Group of Eight — the universities of Sydney, NSW, Queensland and Melbourne, plus Monash.

They are the ones that would be picking up most of the Chinese growth because the Australian National University is not seeking to increase its international student numbers, and the universities of Adelaide and Western Australia have never been strong destinations for the Chinese.

This means, for the moment, the Chinese revenue stream that supports research at the big five is still flowing.
The picture is nowhere as rosy as suggested by Dodd.
The total number of student visa applications granted to Chinese fell by 3.3% in 2018-19, which is a leading indicator for overall enrolments: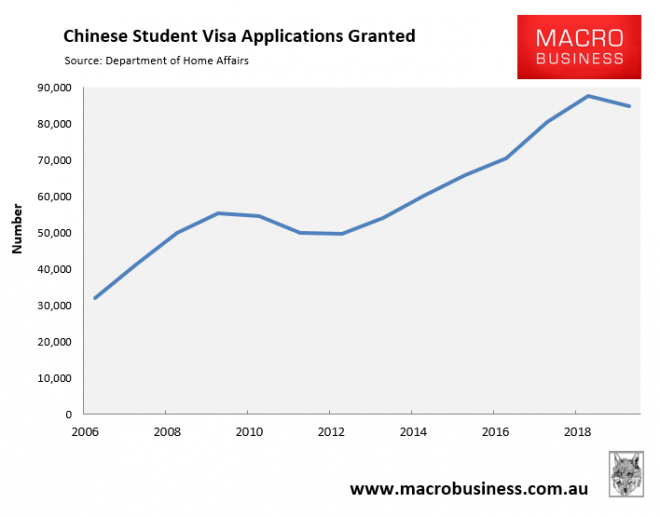 New enrolments of Chinese international students across Australia's educational institutions also declined by 4.0% in the year to August 2019: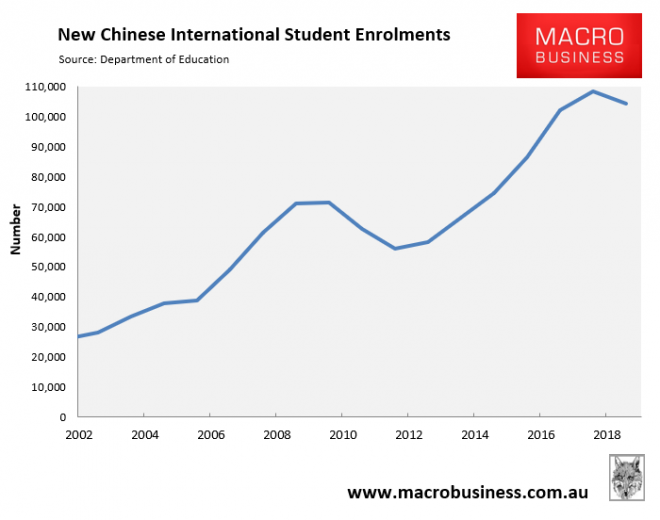 However, total enrolments of Chinese international students actually increased by 2.2% in the year to August: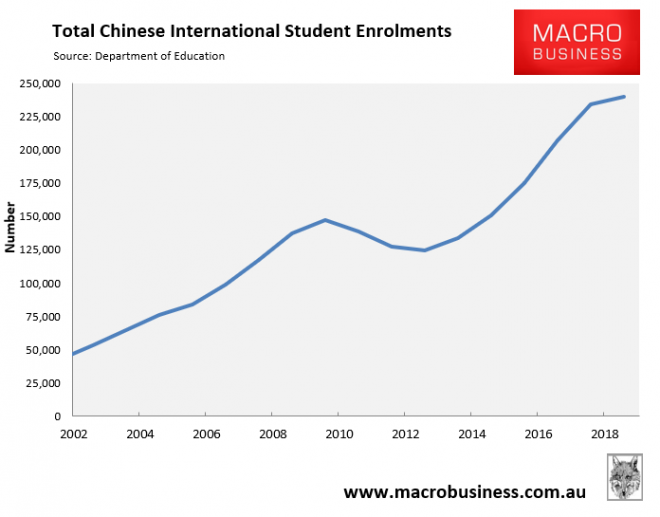 What this data tells us is that while the inflow of Chinese international students is slowing, this is being more than offset by fewer departures of existing Chinese students.
However, since visa applications lead enrolments, and new enrolments lead total enrolments, it is only a matter of time before total Chinese international student numbers decline.
Given Australia has by far the highest concentration of Chinese international students in the developed world: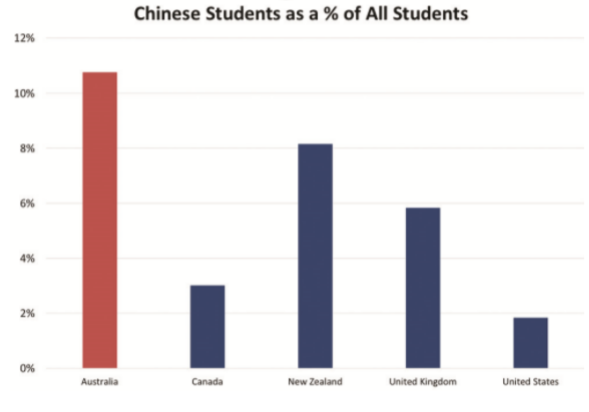 A decline in numbers should not only be expected, but also welcomed by everyone other than the top brass at our rent-seeking universities.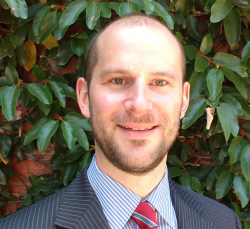 Latest posts by Leith van Onselen
(see all)