SQM Research MD Louis Christopher expects growth in housing prices in Australia's capital cities to average 11% in 2020. The latest edition of Christopher's Housing Boom and Bust Report forecasts that dwelling prices in Melbourne will rise by up to 15%, while Sydney's housing market will record growth of 10%-14%. However, Christopher says the housing market rebound is unlikely to be sustained over the longer term:
The base case forecast is for dwelling prices to rise between 7% to 11%, which is a strong bounce back from the price falls recorded over 2018 and the first half of 2019.

Sydney and Melbourne will drive the rises. The forecast is for Sydney to rise between 10% to 14% and Melbourne 11% to 15%. Other cities are also expected to record price rises.

The base case forecasts assume no changes in interest rates and, importantly, no intervention by the Australian Prudential Regulation Authority (APRA). The base case also assumes a recovering Australian economy that has responded to the rate cuts of 2019 and reduced international trade tensions. One that is also been driven by ongoing strong population growth rates.

As a result of the improved international outlook and an existing recovering in mining investment, the city of Perth will finally record price rises next year after a prolonged housing downturn. The forecast is for Perth dwelling prices to rise between 3% to 6%. Brisbane will also benefit from the recovery in mining investment and should also record price rises in the order of 3% to 6%.

Darwin is the only city expected to record price declines. The forecast of for prices to fall between -2% to -5%, as the Darwin economy continues to struggle and excess stock for sale continues to weaken the local market.

Louis Christopher, Managing Director of SQM Research said, "The Sydney and Melbourne housing markets have recorded a sharp turnaround in the 2nd half of 2019 following on from the surprise result of the Federal Election, interest rate cuts, the loosening of credit restrictions and ongoing strong population growth rates. These factors are expected to drive the national housing market into 2020. In a close call, APRA is expected to not immediately intervene despite the strong price rises.

"However we have some misgivings on the sustainability of this new recovery. Sydney and Melbourne are rising from an overvalued point. Long term, our two largest housing markets look vulnerable and forever reliant on cheap credit. Housing debt, while falling compared to GDP over 2019, is still very high. Better value can definitely found elsewhere such as Perth and Brisbane", said Christopher.

SQM Research also anticipates an ongoing recovery in the Brisbane and Perth rental markets in 2020. While Sydney, will still likely record a fall in rents for the 3rd year running.
Louis Christopher also made the following comments at The AFR:
"We're pretty convinced the markets are going to rise strongly throughout the course of 2020," he said.

"However, I don't think this double-digit growth can be sustained over the medium to long term.

"I think this is going to be a relatively short recovery"…

The previous boom which started in 2013 through to mid-2017 had lasted for more than four years and in Mr Christopher's view, the current upswing could fizzle as early as 2021.

"I do have some concerns about the recent rapid growth," he said.
As far as forecasts go, these look good.
The current price momentum is very strong, which should carry into 2020: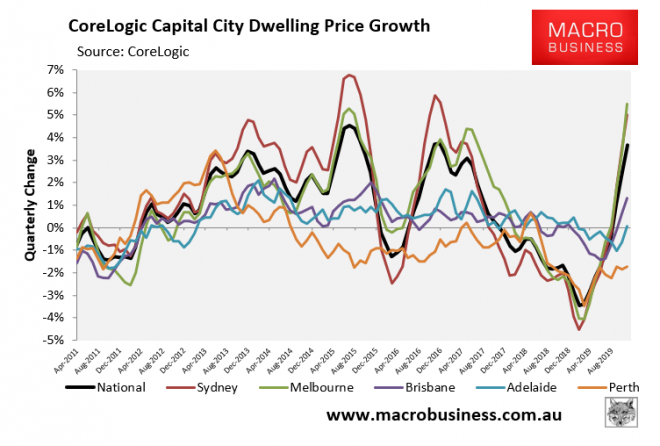 The Coalition's first home buyer deposit subsidy scheme will also come into effect in from 1 January, which will provide modest tailwinds.
That said, both Sydney and Melbourne are already way over-valued, the domestic economy is very weak, income growth is absent, and the interest rates are about to hit their absolute bottom.
Therefore, the recovery should be short-lived and peter out in 2021, followed by another correction.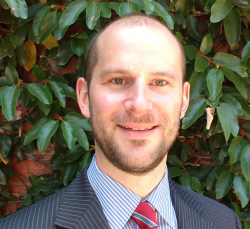 Latest posts by Leith van Onselen
(see all)