The Coalition's plan to divert migrants to the regions has already run head first into reality, with schools in the regional Victorian city of Ballarat bursting at the seams after experiencing strong population growth:
Population growth continues to put pressure on Ballarat's booming secondary colleges, with the number of year sevens set to start high school in 2020 almost double the number of year 12 students who finished in 2019…

Across the city, about 900 students will start year seven at a government secondary school in 2020, compared to 475 year 12s who have just completed their final exams…
Three years ago, the Grattan Institute estimated that the number of school students across Australia would balloon by 650,000 (17%) by 2026, requiring the construction of an additional 400 to 750 new schools (up from 9,400). NSW (mostly Sydney) was projected to require a further 213 schools to be built to cope with 14% growth in student enrolments over the decade, whereas Victoria (mostly Melbourne) was projected to need an additional 220 schools to cope with 19% growth in students over the same period (see below graphic).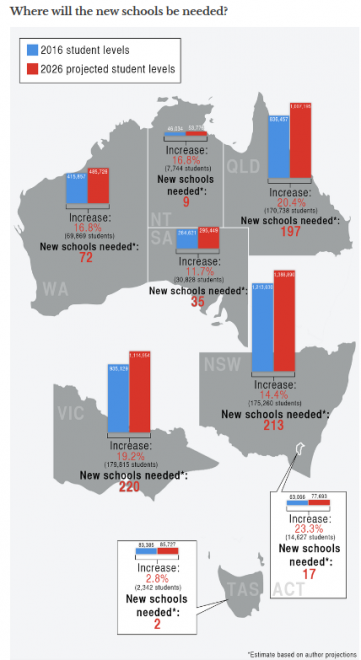 All of which reminds me of the below graphic from The Australia Institute, which estimates that Australia needs to build an additional 61 public primary schools merely to keep pace with immigration-fuelled population growth, alongside 2 additional public hospitals and 25 residential aged care facilities: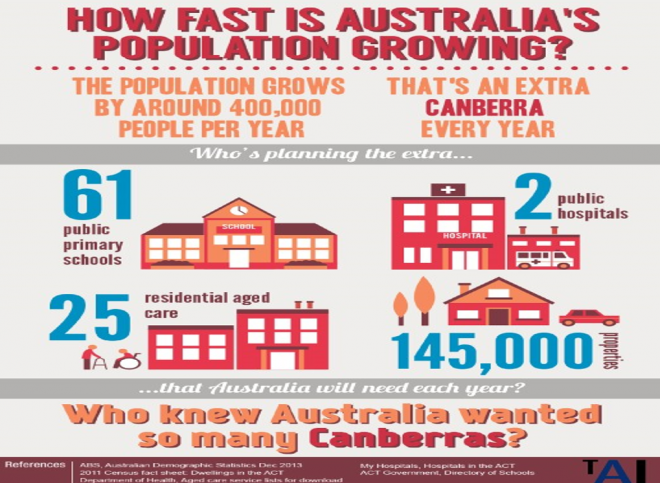 Clearly, public investment has not kept pace, which has caused widespread crush-loading across all categories of economic and social infrastructure.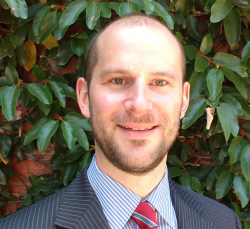 Latest posts by Leith van Onselen
(see all)