You've got to love the powers that be. Their arrgoant disregard for standards of living, for the wishes of the people, for simple economic sense, via Domain:
A new blueprint for the NSW economy predicts the state's annual output will hit $1 trillion by the end of next decade and reach $2 trillion by around 2040 as consumer demand from Asia's fast-growing middle-classes boosts exports.

Treasurer Dominic Perrottet will on Wednesday launch the NSW 2040 Economic Blueprint, which identifies seven key policy "levers" that can be used to enhance economic performance.

These include skills development and education, the performance of government, budget policy, infrastructure, innovation, energy and natural resource management and industry growth and development.

The blueprint, prepared by NSW chief economist Stephen Walters, also suggests policy makers target "two different horizons" when deciding on reforms to boost productivity.

"Immediate strategies" should focus on improvements to systems of planning, regulation and taxation while "longer-term strategies" should nurture future growth industries including tourism, advanced manufacturing and resource management.

But in his speech on Wednesday Mr Perrottet will say NSW is poised to benefit from strong growth in demand from Asia's middle-class, a group forecast to number more than three billion by 2040.

"This is a major shift in the global order," he will say.

"And it's happening right on our doorstep. NSW is a state of millions in a region of billions. And as Asia's middle class booms, so too will demand for world class goods and services. Like finance services, business services, tech services, tourism and education. Like premium produce, medical technology, advanced manufacturing and resources beyond just coal. In short: demand will boom for what we in NSW do best."

The blueprint identifies three groups of industries likely to play a prominent part in the state's economic future. First are well-established sectors with growth potential including financial services, education, tourism and mining.
Here is the NSW export mix:

Let's cut the bullshit:
By mining the good minister means thermal coal which will decline dramtically by 2040 as climate change runs riot thoughg lobal poltics.
Financial services exports are $3bn a year now, which is nothing, and nearly all of it is garbage sub-categoies like IP. This little chestnut gets wheeled out every year and it never goes anywhere. The only financial services that are exportable are cheap back office staff and that's all going to India.
Resources management? Who cares.
There's little bit going on in advanced manufacturing but it's tiny too.
All that is left is…wait for it…tourism and education exports. In other words, people imports, lot's of 'em. Which is why NSW runs a massive current account deficit: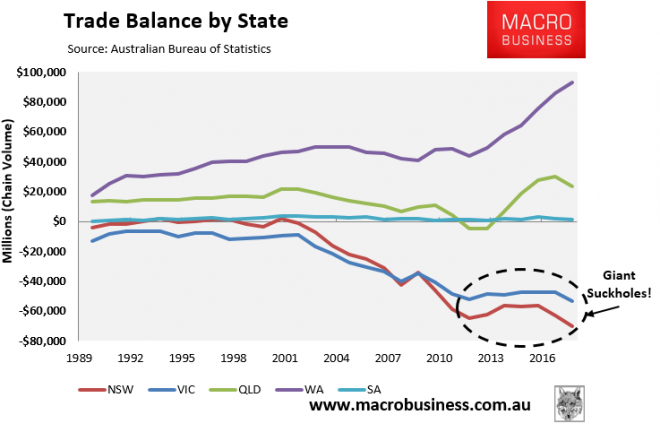 And don't mention any of the political risks that come that, which is no doubt the real reason why this propaganda was launched in the first place.
The productivity stuff might have been better but of course it will be laid waste by the crush loading.
It took me all of five minutes to destroy this drivel. The people of NSW deserve a lot better.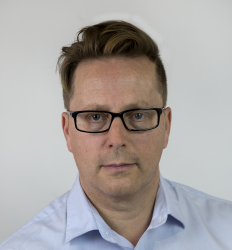 Latest posts by David Llewellyn-Smith
(see all)