Via Zero Hedge comes CTA wizard Charlie McElligott of Nomura:
Nomura's Charlie McElligott who echoed what we said on Saturday, writing that "the Treasury selloff feels "tactically tired," with positioning now well-cleansed (massive duration sale from leveraged funds in the last reporting period, plus short-term CTA model now-having established their "short" TY and ED$ positions with no proximate next "sell trigger" levels)."

And since we showed previously that 10Y yields, momentum, and value is just one big trade…

… McElligott next goes on to note that with the TSY selling reversing, he would now expect this recent cross-asset "Momentum" reversal in the prior 2019 "trend trades" to also normalize—particularly in Equities, where the "bond proxies" should again benefit from this anticipated stabilization in USTs.

One key reason why the Nomura quant is turning bullish on rates is that as he points out, according to the latest COT data, Hedge Funds have very much "pressed" this selloff move in US Rates, as hedge funds sold a net record $32 million/DV 01 the week prior to the breakout from the high end of the UST yield range—the single largest absolute duration change in either direction since the UXY contract was introduced in 2016 (h/t Ryan Plantz).

Meanwhile, stepping back from the Rates-Value pair trade, "investors are back VERY long Equities (Asset Managers 98.5%ile Net $ position in SPX futures; CTA's "+100% Long" in 12 of 13 Global Equities futures we track…

… SPX / SPY consolidated Net (long) $Delta at 98%Ile since 2013, with Net (long) $Gamma 94%ile via resumption of large "overwriter" activity)

— which from a back-test perspective tilts risk to downside on any sort of "negative" macro catalyst over the short-term window—particularly as the US / China "Phase 1" relief looks more tenuous than previously hoped, with Hong Kong lingering in the background as well.

For those asking, here is what the back-test revealed:

When QQQ Net Gamma > 95.5%ile AND Net Delta > 97.8%ile since 2013, expect near-term pullback and vol higher, e.g. -2.9% median return over 1m and VIX median return +37% over 3m
When SPX New Gamma > 94.6%ile AND Net Delta > 98.4 %ile, SPX -0.3% median return over 2w and -3.9% median return over 6m, with VIX median return +55.4% over 3m

The precarious balance is not only in stocks and derivatives, but also in VIX, where positioning also remains extreme, with the "Net Vega" long position for ETNs at 99.7%ile since 2011 (back-tests like these folks are "right")…

… while the much-discussed Non-Comm VIX Futures "Net Vega" SHORT position is 0.2%ile since 2011 (thanks to Systematic "Roll-Down" players in VIX futures) builds a base for a potential squeeze in from models short the front-end of the VIX futures curve.

In short, we are nearing a market tipping point where the slightest catalyst could set off an avalanche of selling, especially with markets once again priced to perfection, yet as Trump's speech at the NY Economic Club has made the crowd who was saying that the potential Dec signing of a "Phase 1" deal as a shortable event in Equities ("sell the news") further incentivized to take profits sooner-than-later, as that unwillingness to back-down on tariffs (and thus backing-away on a "hard date" on a signing) makes it now look like "the easy money" has been made and risk is to downside with trade news / rhetoric.

So amid rising risks that the US-China trade situation may sour again, and that the HK violence could result in something even more ugly, McElligott asks "who would be taking profits in Stocks" and answers: Asset Managers, who are long $132.9B of SPX, which is 98.5%ile since 2006:
I always like to leaven these quanty discussions with a strong macor narrative. On that fron ti seems to me that we far from out the woods with:
a phase one trade deal little more than PR exercise even if it is signed;
Brexit still likely, even if via a deal;
the disintetration of Hong Kong.
These still leave me leery of any 2020 economic recovery of substance which has laready been thoughly priced in equities.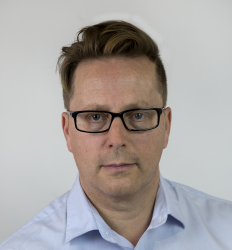 Latest posts by David Llewellyn-Smith
(see all)