Cancelations now as prices are lower than anyone can remember for winter around USD5, via Reuters:
Singaporean gas importer and marketer Pavilion Energy has taken the unusual step of cancelling the loading of a liquefied natural gas (LNG) cargo from the United States, but has agreed to pay for it, several industry sources told Reuters.

The global LNG market is awash with new supply amid slowing demand in key countries such as China and Japan, leaving some traders with cargoes they have bought but are unable to resell.

"Pavilion Energy evaluated scheduling and other commercial matters, then took the decision not to lift the cargo in full coordination with the supplier," a spokeswoman for the company, which is owned by Singapore's sovereign wealth fund Temasek Holdings [TEM.UL], told Reuters on Tuesday.

She declined to provide further details of the LNG cargo, which industry sources said Pavilion was supposed to load from the Cameron LNG plant in Louisiana in the United States in November.

…Traders said several other buyers of U.S. LNG cargoes may also be considering simply paying for instead of loading them, although Reuters could not immediately confirm details.

U.S. producers typically sell their LNG at 115% of U.S. gas futures plus a liquefaction fee of between $3.00 and $3.50 per mmBtu, with a few buyers paying less.

The liquefaction fee is a sunk cost in what is known as "the take-or-pay" model because it still needs to be paid even if buyers cancel purchases, a risk known years ago when sales and purchasing agreements were signed.
Expect more. Much more. The marginal buyer of new supply is China and it's growth is slowing fast: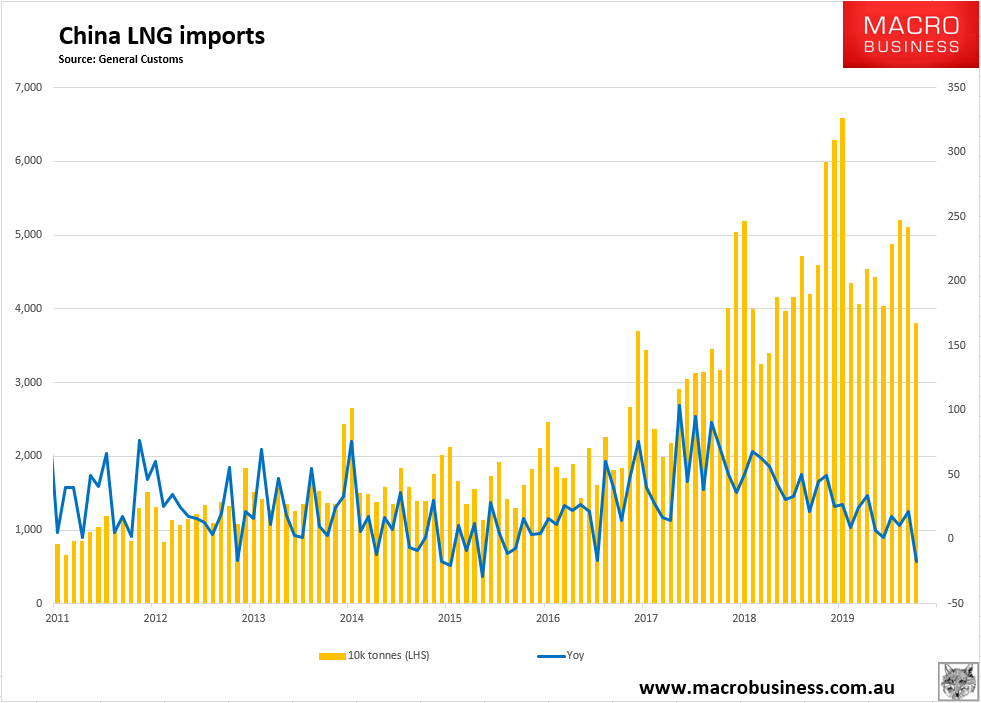 With the Power of Siberia coming online and ramping over the next few years there is oodles of gas. Chinese LNG demand will keep growing but at a much diminished rate.
There there is supply! Holy shit, via Reuters:
The U.S. Federal Energy Regulatory Commission (FERC) is scheduled on Thursday to vote on four proposed liquefied natural gas (LNG) export facilities in Texas totaling about 6.2 billion cubic feet per day (bcfd) of capacity.

The projects are NextDecade Corp's (NEXT.O) 3.6-bcfd Rio Grande, Cheniere Energy Inc's (LNG.A) 1.5-bcfd Corpus Christi Midscale, Exelon Corp's (EXC.O) 0.8-bcfd Annova LNG Brownsville and Texas LNG's 0.3-bcfd Brownsville.

Analysts at Height Capital Markets in Washington, D.C. said in a note that the majority-Republican commission is likely to approve all four facilities with a likely holdout from Democratic Commissioner Richard Glick in line with the recent trend.

…Last week, FERC issued the final environmental review for Pembina Pipeline Corp's (PPL.TO) 1.0-bcfd Jordan Cove LNG export project in Oregon.

The projects FERC is expected to approve on Thursday are just four of more than four dozen LNG export projects under development in the United States, Canada and Mexico.

Just looking at the projects under construction, U.S. LNG export capacity is expected to rise to 6.9 bcfd by the end of 2019 and 9.6 bcfd by the end of 2020 from 6.8 bcfd now.
By my calculations that is 52mtpa by year end. Another 20mtpa next year. With another 40mpts imminent, from the IEA:

Plus in excess of 200mtpa on the drawing board. And this is only the US. Qatar, Russia and Africa are also charging.
Even when I plug in good demand growth, I can't find any end to the LNG super-glut: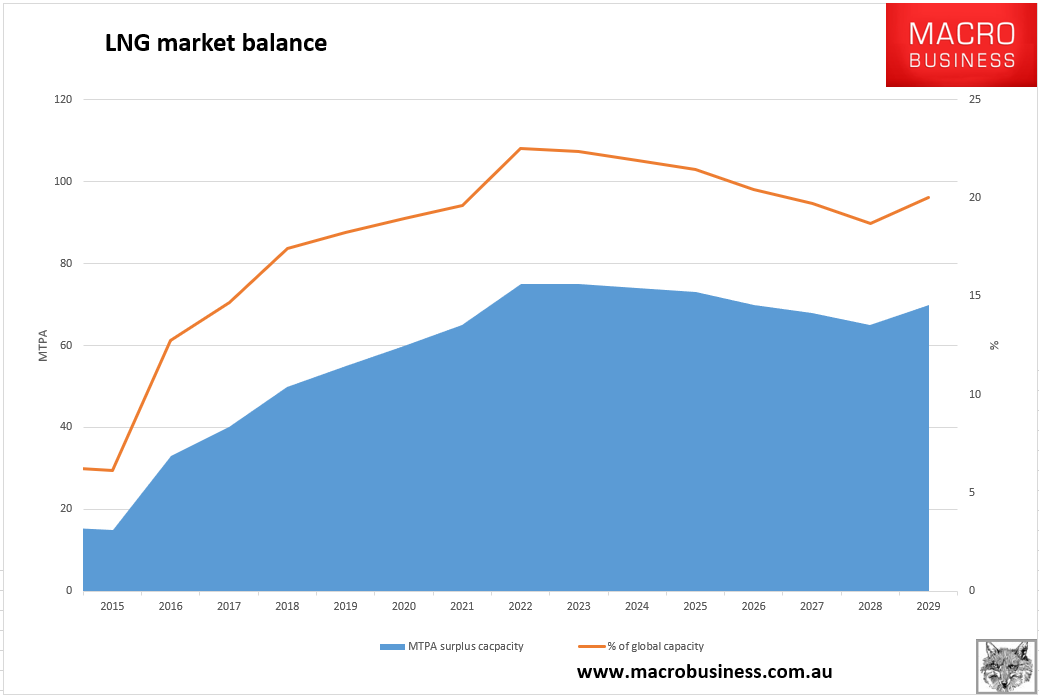 This is mixed news for Australia. The west coast gas indutry will suffer. Not that is pays much tax anyway.
But for the east coast it is fantastic news. Even Australian spot gas prices are being forced down now as the net back price refuses to rise: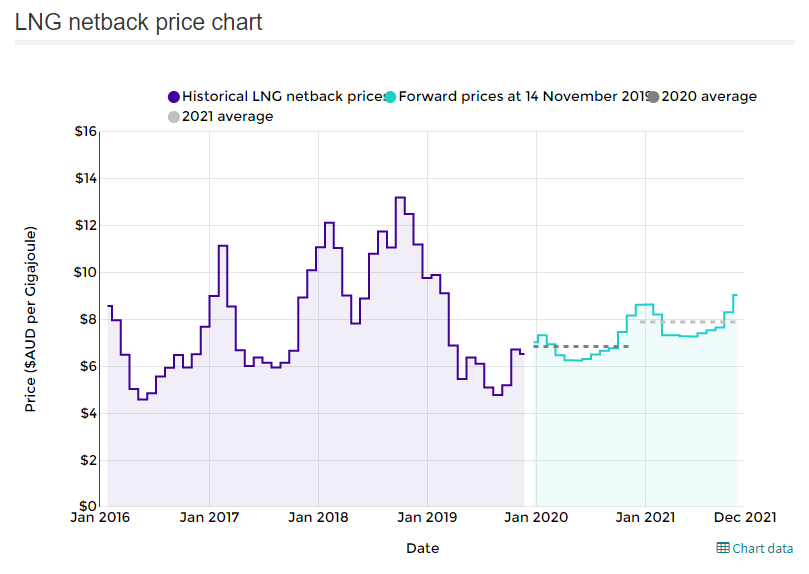 Forget those futures prices. They're stupid. The Asian gas price is going nowhere and the local spot market has cracked below $7Gj for the first time since in two years.
The critical calculation is whether or not those prices will be passed thorugh contracts which have been sticky at more like $10Gj. If so then power prices will also begin to fall and income relief will rise across households and business.
Latest posts by David Llewellyn-Smith (see all)