Via the excellent Damian Boey at Credit Suisse:
With the Fed recently suggesting that it is done cutting rates for now, it was interesting to observe the market reaction to October payrolls and ISM data. To re-cap:

US non-farm payrolls came in above expectations, rising by 128K in October, with 95K worth of upward revisions to prior months' data. The unemployment rate ticked higher to 3.6% from 3.5%, while average hourly earnings rose by 0.2%, leaving year-ended wage inflation steady at 3%.
The ISM manufacturing index came in slightly below expectations, picking up to 48.3 in October from 47.8. New orders picked up to 49.1 from 47.3, but have remained below the neutral 50 level for 3 consecutive months. The good news was that new orders continued to outpace inventories, because firms have been de-stocking at a brisk pace.

On Friday night, we also saw several attempts at verbal intervention in markets, with:

The US Treasury and Chinese officials jointly announcing continued, constructive trade talks. The US Treasury said that the two sides are in the process of resolving outstanding issues, with Secretary Mnuchin suggesting that talks we constructive, and that they were working hard, and Kudlow also suggesting that there had been enormous progress on intellectual property theft, and that the agricultural and foreign exchange components of the deal had been virtually completed. The Chinese Ministry of Commerce stated they have achieved consensus in principle. These comments follow recent reports suggesting that the Chinese were not optimistic about progress on even phases of the trade deal. They also come ahead of pre-scheduled tariff increases in December.

The Fed's Kashkari saying that we are no at maximum employment, and therefore remain in the "free lunch" zone. The Fed's Clarida suggested the Fed will be data-dependent, and that the economy is in a good place. The Fed's Quarles suggested that the current policy stance is likely to remain appropriate unless the data weakens.

There were some slightly hawkish Fed comments worth noting. The first set of comments came from Rosengren who was predictably hawkish, suggesting that further monetary accommodation is not needed. Daly highlighted annual wage growth of 3% as good news. Finally, Williams suggested that the economy is in a very good place, and is strong. On balance though, all Fed officials talked up the economy, with mixed views about where short rates should be.

In response to these data points and announcements, US 10-year bond yields rose, and the 3-month/10-year curve steepened. Equities rallied, while the USD weakened. Within equities, value factors materially outperformed, while momentum significantly underperformed, continuing the trend since late August. Also, we note that quality factors (low-beta, high profitability, low-leverage) generally underperformed, but to a lesser extent than momentum.

Why did investors react in this way? We suspect it is because the data have printed like "Goldilocks" – not too hot, and not too cold, while policy makers have tried to reinforce this point of view and reduce uncertainty levels. The October data corroborate other data points, suggesting that the economy is not headed in a straight-line down:

While the pace of job creation slowed, it has not done so especially sharply. Importantly, employment is a lagging indicator, strangely enough, behind US retail sales. The conventional wisdom is that employment drives the consumer, and no doubt it does. But there is a feedback mechanism at work in large, credit-driven economies, because the consumer represents the lion's share of GDP. Because US consumption is so large (70% of GDP), swings in spending growth tend to filter through to the rest of the economy, including capex and employment. Recently, we have seen US (real) retail sales growth accelerate to 4.7% from a cyclical low of 3.2% recorded in May. Retail sales growth leads employment by several quarters, and if historical relationships are anything to go by, we may well be witnessing the low point for job creation right now.
The US consumer is the buyer of last resort of goods and services produced globally. For this reason, US retail sales growth leads world industrial production (IP) by several quarters, and also leads the leading indicator of IP, the ISM, by a few months. Again, if historical relationships are any guide, recent acceleration in US retail sales growth foreshadows improvement in the ISM, especially if we were to see a re-stocking cycle take place. Recent trade war uncertainty and USD strength has caused world IP to undershoot US retail sales growth – but once the uncertainty passes, firms should have enough conviction in the strength of final demand (the US consumer) to start re-investing and re-building inventories again. Interestingly, the fact that the ISM new orders index has been deteriorating less rapidly than the ISM inventories index, suggests to us that we are indeed on the verge of a re-stocking cycle.
While no-one believes that the Fed is going to be raising rates anytime soon, Fed Chair Powell has tried to strengthen his neutral stance by highlighting that persistently high inflation could eventually trigger tightening. In this regard, the data suggested that there is no imminent inflation trigger to worry about. To be sure, wage inflation remains elevated at 3% annualized, and productivity growth is slightly negative. So unit labour cost inflation is high, supporting higher CPI inflation outcomes in the longer-term. But so far, there has been no flex up in labour cost inflation, with slack in the labour market actually increasing in October, undermining wage bargaining power a little.

Going forward, we continue to expect that US retail sales growth will hold up irrespective of the state of the labour market, because loan demand is improving. Historically, the strength of mortgage demand, as measured by the Fed's Senior Loan Officer's Survey, has been a powerful leading indicator of the spread between consumption and labour income growth. At currently strong levels of loan demand, we would expect to see US retail sales growth continue to do well, eventually dragging employment growth up with it. The dynamics in this cycle are looking surprisingly classical.

Returning to markets, the Fed desiring to be on hold for longer, with some technical forces possibly forcing it into more cuts, supports a weaker USD. The economy not heading into an imminent recession, combined with the Fed's neutral-to-easy stance, supports curve steepening. Weaker USD supports reflation, especially in the emerging market arena, while curve steepening supports value investing.

What could go wrong in all of this? The usual suspect is trade war-related volatility. Indeed, sceptics might point out how much verbal intervention was actually involved in Friday night's rally. But for now, it looks as though uncertainty is receding from very high levels, while the US consumer remains strong, supporting a re-stocking cycle.
Like I said this morning, this is still a narrative not reality. To make it so hangs on a number of factors including a European rebound, trade non-deals turning into real deals that wind back tarrifs, and more Fed cuts than easing elsewhere. I am not confident on any of the three, for now.
Hence I am not yet convinced that DXY is headed for further falls beyond this narrative as a short term pain trade. DXY can correct another 5% before its uptrend is even threatened.
Thus for now I see this as tradable rally but not yet any kind of durable reflation. Before we get there I still fear we will see greater volatility and more DXY safe haven buying.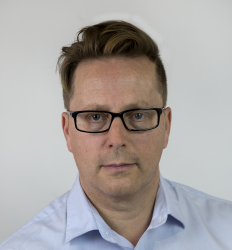 Latest posts by David Llewellyn-Smith
(see all)