Today's retail sales figures released by the ABS will subtract from the September quarter GDP when the national accounts are released early next month.
As noted earlier, seasonally adjusted monthly sales rose by 0.2% in the month of September to be up just 2.5% over the year, with a clear downtrend evident: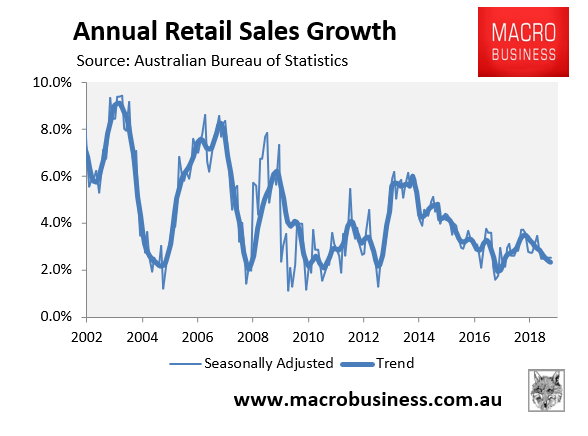 In quarterly real chain volume terms, retail sales fell by 0.1% in the September quarter, which was below the June quarter's 0.1% rise: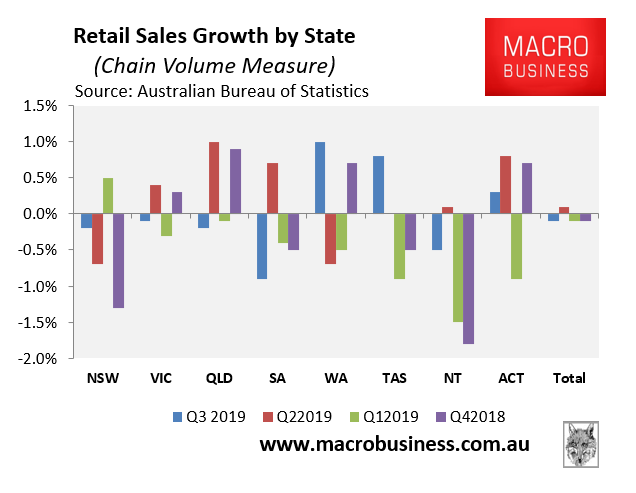 Annual real retail sales plunged into recession at -0.2% – the lowest recorded level since the early-1990s recession: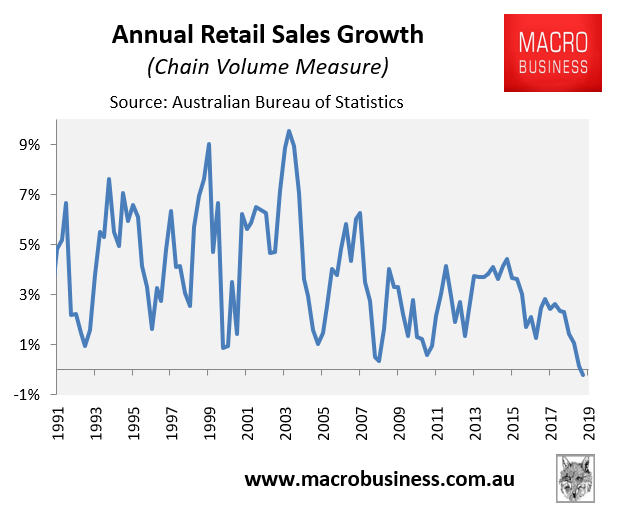 Retail sales are a sub-component of household consumption, which is itself the largest component in GDP (circa 55%). It is volumes that matter for GDP, so as stated above the 0.1% quarterly decline will subtract from GDP growth.
That said, as the ABS has been at pains to point out, retail's share of Household Final Consumption Expenditure (HFCE) has fallen significantly over the past 50 years as Australians spend a greater share of their incomes on services:
Historically, Retail Trade estimates contributed 55-60% of HFCE in the expenditure side of Gross Domestic Product (GDP). However, this coverage of HFCE has fallen over time as household expenditure patterns have gradually shifted from goods to services. As a result, Retail Trade now contributes approximately 30% of quarterly estimates of HFCE.
Therefore, the impact on HFCE depends more on what happens to the other components. Nevertheless, retail's weakness portends another soft Q3 GDP print, especially when viewed in light of the weakness in other areas (i.e. dwelling and public investment).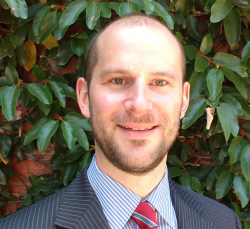 Latest posts by Leith van Onselen
(see all)