See the latest Australian dollar analysis here:
DXY was soft last night as EUR and CNY lifted:

The Australian dollar added a bit versus DMs:

And EMs:

Gold held on:

Oil let go:

Metals did better:

And miners:

Plus EM stocks:

Junk was soft:

Bonds all rallied:
Despite stocks charging on:

Wrap from Westpac:
Event Wrap

US Oct. housing starts (1314k, est. 1320k) and permits (1,461k, est. 1,385k) were relatively firm, although the m/m change for starts (+3.8%m/m, est. +5.0%m/m) disappointed slightly. Permits rose to the highest level since early 2007 and were led by gains in the main value-add area of single-family homes.

FOMC member Williams stayed close to the recent Fed's stance that the economy is in a "good place", but markets picked up on his comments about watching for downside risks to their outlook due to inflation being below target.

The GDT dairy auction resulted in prices overall rising 1.7%, with whole milk powder up 2.2% (to a three-year high), skimmed milk powder up 3.3%, and butter down 1.3%.

Event Outlook

Australia: Oct Westpac-MI leading index is released.

US: The FOMC minutes are released. The major change at the October meeting was the move to a more reactionary stance – the FOMC will now "assess the appropriate path" whereas previously would "act as appropriate". Given Chair Powell sees the US economy in "a good place", of key interest in the minutes will be the FOMC's view on the risks to the outlook.
There was more trade scuttlebutt, via Bloomie:
The near-deal between the U.S. and China that fell apart six months ago is now being used as the benchmark to decide how much tariffs should be rolled back in the initial phase of a broader trade agreement, people familiar with the talks said.

The two sides, who are locked in tough — perhaps final — negotiations on a phase-one pact, are discussing linking the size of tariff rollbacks to the preliminary terms set in that failed May deal, according to the people, two of whom said the White House is still debating the precise percentage internally. The Chinese have demanded that all tariffs imposed after May be removed immediately and then tariffs imposed before that be lifted gradually, according to one of the people.

The duties under discussion for a potential rollback include the initial tariffs on some $250 billion in Chinese goods that President Donald Trump imposed last year, according to two people. Some of his advisers had been pushing to keep those in place longer term, to ensure China lives up to its end of the bargain, but now are open to a partial relief in order to get the phase one deal signed.
And CNBC:
President Donald Trump threatened higher tariffs on Chinese goods if that country does not make a deal on trade.

The comments came during a meeting with the president's Cabinet on Tuesday. The U.S. and China, the world's two largest economies, have been locked in an apparent stalemate in trade negotiations that have lasted nearly two years.

"If we don't make a deal with China, I'll just raise the tariffs even higher," Trump said in the meeting.
Take your pick.
Meanwhile, US data was good where it mattered, via CR:
Housing Starts:

Privately‐owned housing starts in October were at a seasonally adjusted annual rate of 1,314,000. This is 3.8 percent above the revised September estimate of 1,266,000 and is 8.5 percent above the October 2018 rate of 1,211,000. Single‐family housing starts in October were at a rate of 936,000; this is 2.0 percent above the revised September figure of 918,000. The October rate for units in buildings with five units or more was 362,000.

Building Permits:

Privately‐owned housing units authorized by building permits in October were at a seasonally adjusted annual rate of 1,461,000. This is 5.0 percent above the revised September rate of 1,391,000 and is 14.1 percent above the October 2018 rate of 1,281,000. Single‐family authorizations in October were at a rate of 909,000; this is 3.2 percent above the revised September figure of 881,000. Authorizations of units in buildings with five units or more were at a rate of 505,000 in October.
The booming bond market has done its job on the world's market of last resort. There's no US recession coming for now with housing construction booming.
Nor is there any turn in the US dollar to my mind. Tarrifs will prevent much spillover into the global economy. And core Europe is still weighed down by carpocalypse: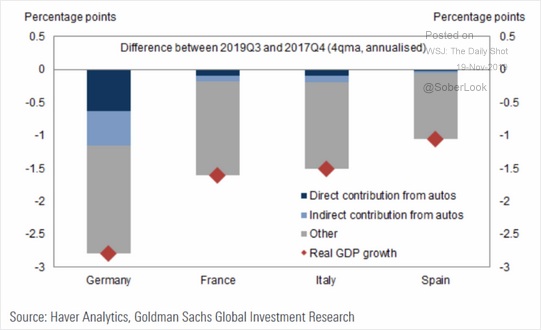 Meaning there isn't much prospect of a turn in relative core inflation for EUR/USD: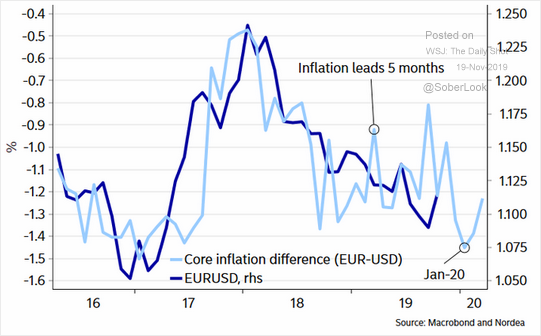 Central banks have seen off the worst cases for global growth for now but that's about all. Any equities led growth bounce will be US-led as well. Barring a game changer trade deal or European fiscal simulus I still can't see the EUR catching an enduring bid.
Which means the AUD remains weak.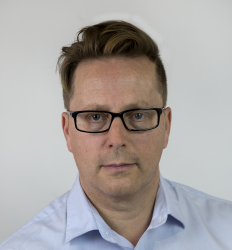 Latest posts by David Llewellyn-Smith
(see all)