The latest CoreLogic Pain & Gain Report shows that a much higher share of investors sold their properties for a loss over the June quarter than owner-occupiers: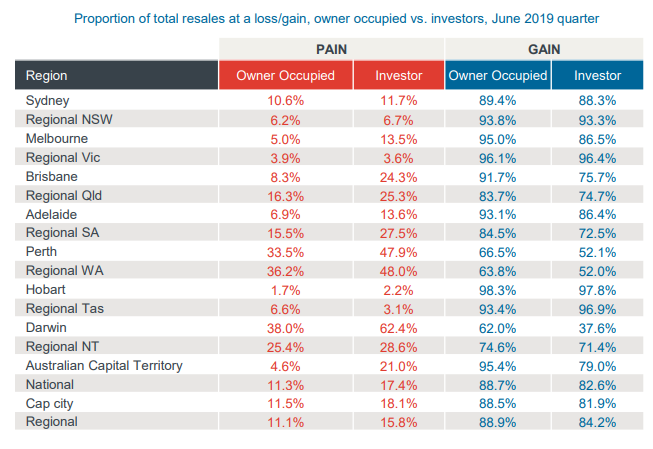 As shown above, nearly one-in-five investors across Australia's capital cities made a loss in the June quarter, versus just over one-in-ten owner-occupiers.
According to CoreLogic:
If home values fall, investors may be more inclined to sell at a loss and offset those losses which in turn could result in more supply becoming available for purchase at a time in which demand for housing remains below average due to recent weak conditions and tighter credit availability however, these trends have started to reverse over recent months.
In truth, negative gearing was always primed to be pro-cyclical and add volatility to the market.
First, investors are more prone to be fickle and to cut-and-run than owner-occupiers, whose primary objective is shelter and who typically buy for the long-term.
Second, losing money via negative gearing is akin to paying your property a dividend in the hope that it repays you with capital growth.
Running a negative carry is a strategy that can only work financially in a rising market. And with prices falling until June, along with rising investor mortgage costs associated with the interest-only mortgage reset, it made sense for financially stretched investors to bail-out in order to stem the losses.
The Australian Treasury explicitly acknowledged the inherent volatility of investors earlier this year:
"Where around two-thirds of housing investors are negatively geared, these investments are implicitly predicated on expectations of capital gain in the future"…

"Should these expectations be reconsidered in light of the recent declines in prices or increased difficulty in rolling over financing, such as under the interest-only mortgages preferred by housing investors, investor sales may put additional downward pressure on prices."
Investor finance has also shown much bigger boom/bust cycles than owner-occupied finance: