The Morrison Government is hailing the success of its regional visa scheme after new figures reveal that the number of 'skilled' migrants landing in Tasmania has more than doubled:
Figures to be released today by Immigration Minister David Coleman show 609 people came to Tasmania between July and September under the regional sponsored migration and skilled visas scheme.

This compares with 240 people in the same quarter the previous year and is higher than the number of migrants going to regional Victoria (595) and Western Australia (536) from July to September…

"Regional migration is a key pillar of our Population Plan which is working to ease the pressure on the big capitals while supporting the growth of those regions that want more people," Mr Coleman said.

"Already we're seeing results, with a 124 per cent increase in regional visas being granted in the first three months of the program year."
The number of migrants settling in Tasmania is a drop in the bucket when compared against the overall intake. As shown in the below charts constructed using ABS data, 85% of migrants settled in Australia's capital cities in 2017-18, with 65% of total migrants settling in Sydney and Melbourne: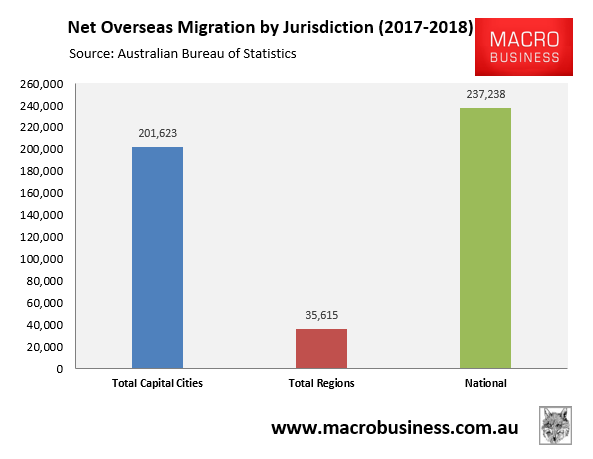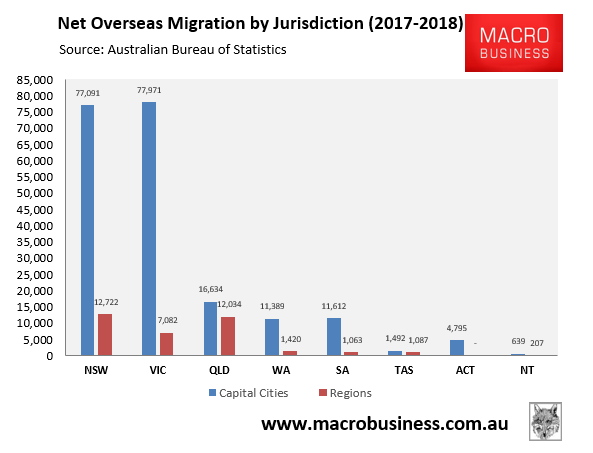 Moreover, while a handful more migrants are heading to Tasmania, there is nothing in place to actually keep them there long-term.
State-based migration schemes have been systematically gamed, with migrants temporarily settling in places like Tasmania and Canberra to gain bonus points towards permanent residency before moving to either Sydney or Melbourne, as noted by SBS News last year:
During recent months and years, a large number of prospective permanent residents – particularly international students from the Indian subcontinent – moved to Tasmania and the ACT for a relatively easier pathway to permanent residency…

State and territory governments in Australia run their own immigration program and can nominate visa applicants to fill the skill gaps and meet labour demands. Such a nomination carries additional points for immigration…

Many visa seekers, including international students, began heading to the ACT and Tasmania…

Applicants and migration agents are further concerned about the government's decision to increase the minimum score on the general points test to 65 from previous 60 for applying for skilled visas.

"It's a heartbreak for many applicants who thought 60 points is enough for their bid to PR [Permanent Residency]," said Rohit Mohan of Lakshya Migration.
ANU research of settlement patterns also shows that 60% of migrants that moved to Australia's regions subsequently settled in capital cities within five years after they gained permanent residency:
ANU material went as far as saying new migrants were "fleeing" regional Australia for better opportunities in the cities…

ANU demographer Bernard Baffour told SBS News, "you can move migrants to areas, but you can't force them to stay there"…

The study found Chinese-born migrants are more likely to settle in Sydney… Elsewhere, Melbourne is the city of choice for most Indian-born migrants.
Thus, the Morrison Government's regional visa program is likely to lead to exactly the same outcomes of those before it.
Migrants will temporarily move to the regions that offer bonus points towards permanent residency. And then, once permanent residency has been gained, they will move to the major crush-loaded capital cities.
Rather than selling voters a decentralisation smoke screen, the Morrison Government needs to halve Australia's immigration intake back to something that resembles the historical average: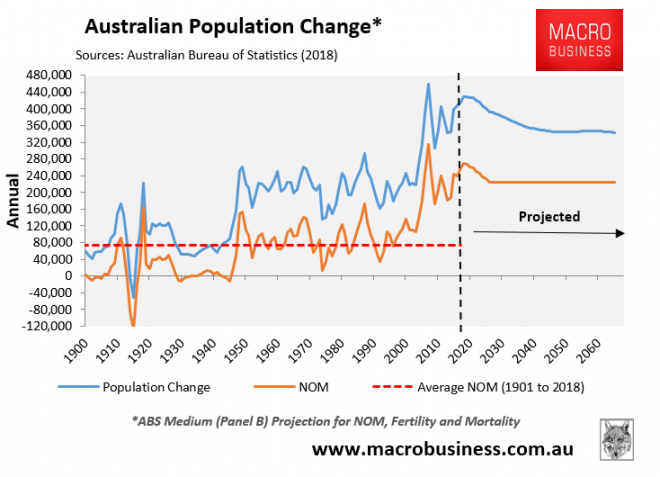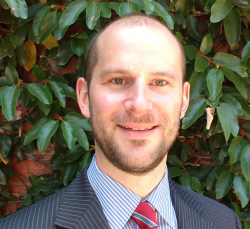 Latest posts by Unconventional Economist
(see all)