Department of Home Affairs officials have confirmed that around 95,000 asylum seekers have arrived in Australia by plane over the past five years, which Labor claims is fuelling "exploitation and slavery":
The figures were disclosed in answers to Questions on Notice from Labor's spokesperson for Home Affairs and Immigration Kristina Keneally.

"There's nothing wrong with claiming asylum. It's an important right," Senator Keneally said.

"However, in 90 per cent of these particular cases, the individuals are not legitimate refugees and are often being trafficked to Australia for the explicit purpose of being exploited"…

Labor is warning Australia is on track to post a new annual record for asylum seeker arrivals by air.

It said 4,037 aeroplane arrivals have made a claim for protection between 1 July 2019 and 19 August 2019…

Senator Keneally has called the figures a crisis, citing concerns for those arriving by plane being exposed to "exploitation, slavery and even sexual servitude across the country"…

"The truth is we have no idea how many aeroplane people may have been critically injured or even died … because of exploitation and slavery that is taking place under his nose"…

Its chair Liberal MP Jason Wood issued a warning over criminal syndicates exploiting vulnerable arrivals.

"Organised crime and illegitimate labour-hire companies are using this loophole to bring out illegal workers who are often vulnerable and open to exploitation," he said.

"This enables these criminal elements to exploit foreign workers in Australia until their claims are finalised."
John Coyne, the Australian Strategic Policy Institute's head of border security, recently raised similar concerns:
"Organised crime are indeed facilitating unlawful migration on a fee-for-service basis, using methodologies from fake identity documents, to gaming Australia's visa system"…

"Australia's border security arrangements are being exploited, and individuals who have not been appropriately identified are at times entering the country".

"The Australian black economy is indeed being supported by organised crime, who along with businesses involved, are using these methods to exploit workers, and those involved are not paying taxes and are often remitting their salaries out of the country"…
The best graphical illustration of the rise in 'plane people' entering Australia is the explosion in Bridging Visas, which are typically handed to migrants awaiting decisions on permanent residency through the Administrative Appeals Tribunal (AAT):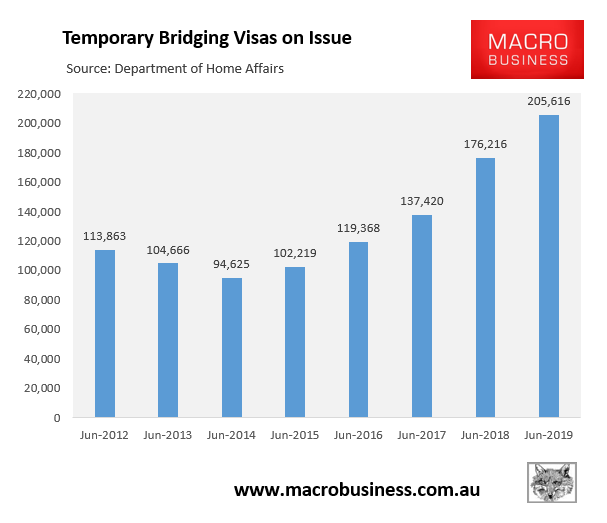 As shown above, the number of Bridging visas on issue has roughly doubled since the Coalition was elected in 2013, numbering 205,000 as at June 2019.
Back in July, former High Court Justice, Ian Callinan claimed that the AAT has been inundated with spurious asylum seeker claims, fuelled in part by organised criminals:
[Ian Callinan] said "almost everyone" with migration law experience had told him there were applic­ants and representatives who "game the system, well knowing there is an automatic entitlement to a bridging visa".

The Australian Skills Quality Authority told Mr Callinan that delays had repercussions beyond the AAT. It told him it was aware that organised crimin­als were sometimes, "perhaps even regularly", benefiting from fake vocational training prog­rams or "ghost'' colleges…

The AAT now handles about 59,000 lodgements a year: more than half (52 per cent) are migra­tion and refugee cases…

The AAT's caseload of migra­tion and refugee matters doubled in the two years to June 30 last year…
Thus, while the Coalition pretends that it is strong on border control because it has "stopped the boats", bogus asylum seekers are pouring into Australia via plane.
However, this is only the tip of the iceberg. The reality is that Australia's borders have become increasingly porous, with visa scamming occurring through a variety of channels, including:
Migrants arriving by plane lodging bogus asylum applications;
International students undertaking spurious courses for working rights and subsequent permanent residency;
Illegal labour hire firms, people smugglers and criminal syndicates facilitating undocumented migrants to work for below market rates; and
Businesses using pretend 'skills shortages' to hire temporary migrant workers at below market rates.
The visa rorting is systemic and has permeated across the entire Australian economy.
And now we're going to privatise it?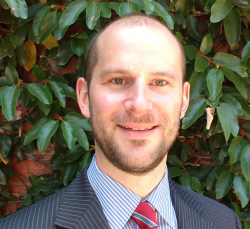 Latest posts by Leith van Onselen
(see all)