According to the SCMP, there has been a notable lift in Hong Kongers applying for Australian business visas. And this is supposedly helping to lift Sydney and Melbourne property values:
A recovery in the Melbourne and Sydney property markets is being boosted by Hong Kong investors fleeing anti-government protests, experts said.

The number of Hong Kong residents applying for business visas for millionaires looking to migrate to Australia might have doubled since June this year, when the protests started.

"Since June, I have seen a significant increase in demand from Hong Kong for Australian visas, with business visas being of great interest to those with the wealth to make it work," said David Lesperance, an international citizenship and tax law expert and managing partner at Lesperance & Associates.

"I would not be surprised if Hong Kong applications for business visas were up by half, or even twice what they were a year ago."

This view was shared by Eli McGeever, a Hong Kong-based vice-president of international property at property portal Soho.

"As tensions in Hong Kong show no signs of abating, locals are considering residential options elsewhere," he said. "Interest in obtaining the business visa is up by at least 200 per cent at the property marketing events that I track in Hong Kong."

According to Australia's Department of Home Affairs, 220 Hong Kong residents received two kinds of business visas – Subclass 188 and Subclass 132 – between July 2017 and June 2018, the latest year for which data is available.

"In 2018, 2,400 Hong Kong residents moved to Australia. That compares with 1,600 who moved to the US and 1,100 who moved to Canada," McGeever said, citing official figures.
We are obviously talking about very small numbers here, so the impact is likely marginal at best.
That said, the latest NAB property survey did show a modest rebound in foreign buyers, driven by Sydney (established) and Melbourne (new):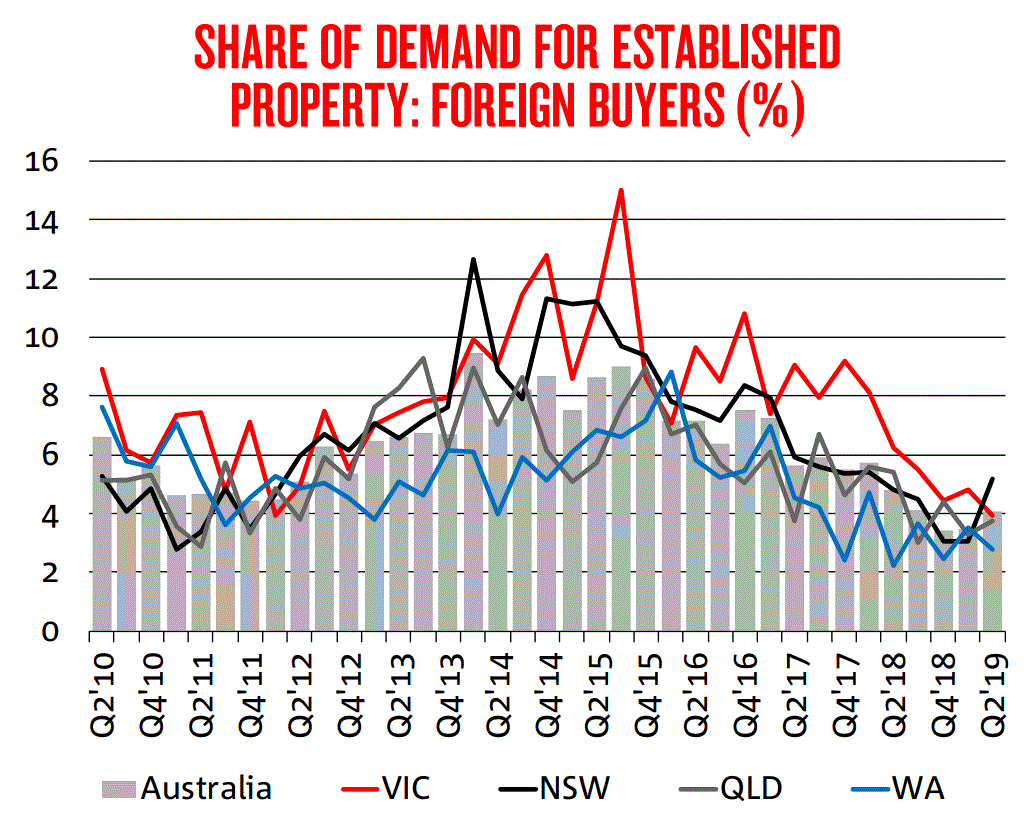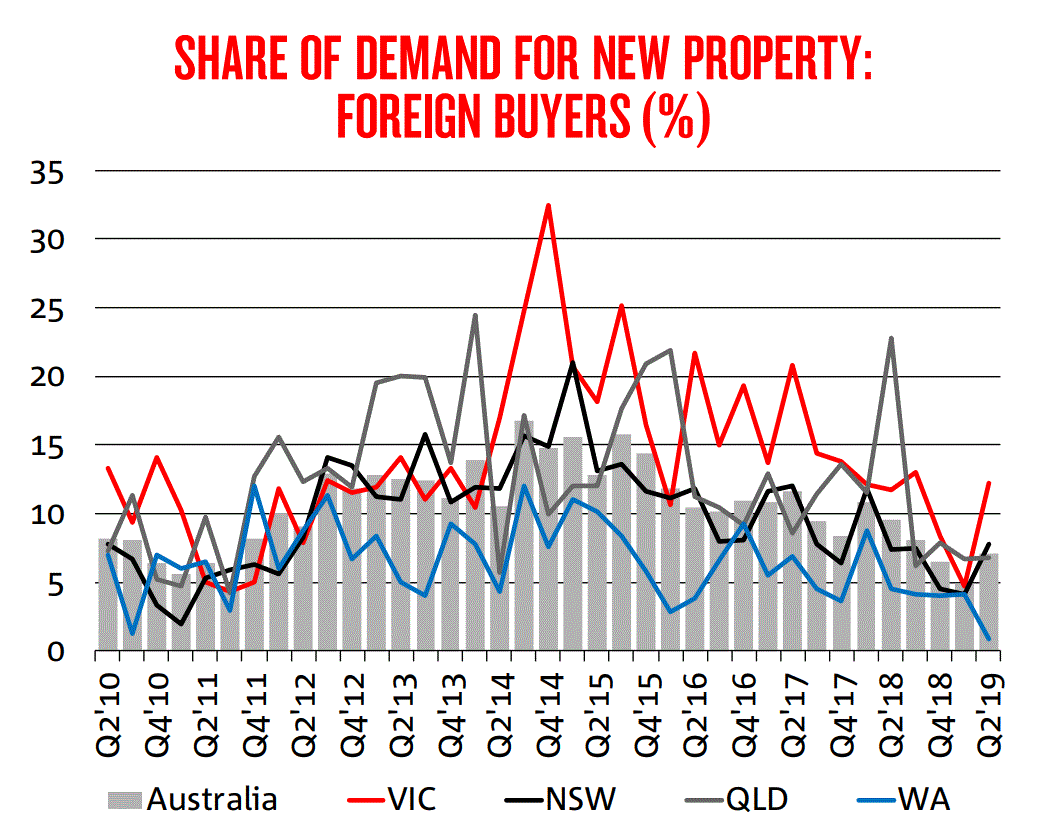 Previously, we have seen this at The Australian:
In Sydney, the wealth management arm of global investment bank Citi reports a 50 per cent lift in "funds flow" out of Hong Kong and into Australia.

Anthony Si, an investment specialist at Citi says, "high net worth clients view Australia as a safe haven during political unrest in Hong Kong and that's coupled with the Australians dollar nearing a 10-year low against the US."

With the Hong Kong dollar "pegged" to the US dollar and our currency falling almost 40 per cent against the US dollar since 2011, it is clear that the richest Hong Kongers are viewing all Australian assets as bargains at current exchange levels.

…Any new funds entering Australia from Hong Kong could add further fuel to a recent turnaround in Sydney and Melbourne residential prices, though Citi says the majority of the recent fund flows have gone into the bond market.
Makes sense. If you're setting up a bolt hole in the case of a CCP crackdown in Hong Kong then you sure as hell don't want to buy Aussie property which will be in deep trouble in such a scenario.
But bonds will be bid bigly.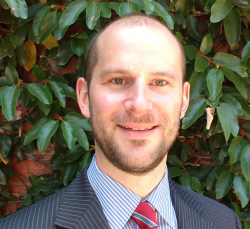 Latest posts by Leith van Onselen
(see all)