With Perth's property market experiencing its biggest downturn on record: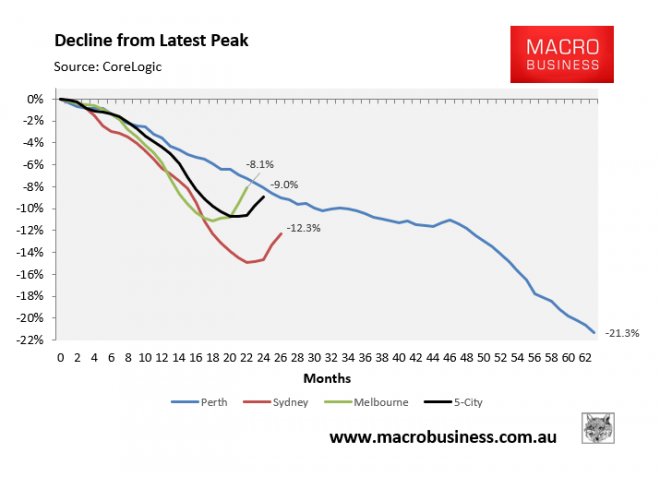 The Real Estate Institute of Western Australia (REIWA) has demanded a raft of additional first home buyers (FHB) subsidies to fix the dead market:
REIWA released a six-point plan to address the issue, under which the state would increase the stamp duty exemption threshold for first-home buyers from $430,000 to $550,000. Collins said this would help first-home buyers purchase established properties that are located close to the city.

"This will open up 49% of properties in the Perth central sub-region," he said.

Another proposal is the reintroduction of the $7,000 First Home Owner Grant for established properties. Collins said this will boost the number of first-home buyers, who are more likely to go after established homes…

"By re-introducing the $7,000 FHOG for the purchase of existing dwellings, all West Australians will get a helping hand into their first home, regardless of what they choose to buy," Collins said.
This follows the REIWA's pre-election demand for an increase in migrants to help fill the empty homes:
POPULATION growth supports the property market, employment and the economy according to Reiwa…

[REIWA President] Damian Collins… is calling on all political parties contesting the Federal election to commit to putting Perth back on the Regional Migration Scheme to attract skilled workers and fill the current oversupply of housing…

"The Federal Government has control of key levers of economic growth that directly link to the health and sustainability of local property markets".
They also follow the Western Australian Government's recent expansion of its Keystart low-deposit scheme to help stimulate demand in the housing market:
Keystart is a government-owned agency that lends to lower income earners who might have difficulty getting a home loan approved by a big bank…

Borrowers only need a two per cent deposit to qualify and are not charged mortgage insurance.

Under changes to be made in the Budget, income thresholds for borrowing from Keystart will be lifted by $15,000 for singles and couples and $20,000 for families.

This will see income limits increased to $105,000 for singles, $130,000 for couples and $155,000 for families buying a home valued at up to $480,000 in Perth.

In regional areas, where income thresholds are higher, limits will rise by the same amount…
We obviously hate these types of policies because you don't "fix" housing affordability by sucking sub-prime buyers into the market and raising demand. You fix it by implementing policies that lower demand and boost supply.
However, these schemes are not about improving affordability, but rather blatant housing stimulus.
The REIWA is in full scale panic mode as its members bleed.
Latest posts by Leith van Onselen (see all)