Oh yes, via the AFR:
Treasurer Josh Frydenberg has rejected a renewed push by NSW to bring back federal incentives for state asset recycling, a privatisation scheme designed to help fund large infrastructure projects, saying the state's budget is in better shape than the Commonwealth's and needs no more handouts.

Speaking ahead of today's meeting in Canberra between state and federal Treasurers which will focus on trying to generate growth, Mr Frydenberg also said there was more the states could do to boost productivity outside the infrastructure sphere.

He pointed to the Productivity Commission's 2017 Shifting the Dial report. Of its 28 recommendations, 22 were the sole or joint responsibility of the states and included such measures as replacing property stamp duties with a land tax, replacing vehicle registration with road user charges, and improving efficiencies or reducing duplication in health and education.
I am no fan of asset recycling. It results in poor planning and rentier profiteering of monopoly assets. That said, Recessionberg is also effectively shutting down any hope of federally-aided accelerated infrastructure as the economy slides away so he's also shooting everybody in the foot.
The other measures should be done but they're not going to be. There is some hope for minor support, via Domain:
Time has been set aside to talk about the nation's infrastructure program, with Victorian Treasurer Tim Pallas saying there was scope for a run-out of programs worth less than $50 million.

Much of this could be used for maintenance programs that, while not likely to attract voter attention, would be important given signs the national economy was soft."The economy is slowing and it appears that the federal government's tax cuts have been used to pay down credit cards rather than go into the economy," he said.

"Anecdotally, we're seeing more empty shops in our suburbs and in the regions."
Not very big and they're all underestimating how bad the slowdown is, via Credit Suisse: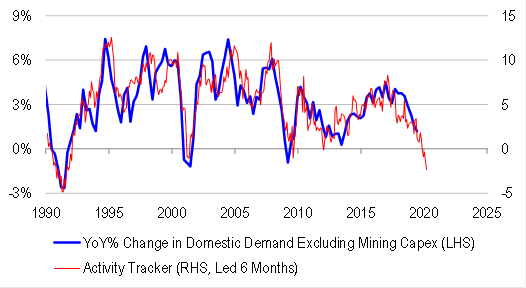 As the terms of trade rock lower over the next six months it will get worse. By the time Recessionberg wakes up it will be too late.
David Llewellyn-Smith is Chief Strategist at the MB Fund and MB Super. David is the founding publisher and editor of MacroBusiness and was the fouding publisher and global economy editor of The Diplomat, the Asia Pacific's leading geo-politics and economics portal.
He is also a former gold trader and economic commentator at The Sydney Morning Herald, The Age, the ABC and Business Spectator. He is the co-author of
The Great Crash of 2008
with Ross Garnaut and was the editor of the second
Garnaut Climate Change Review
.
Did you know the MB International Shares Fund has returned an average of 17.1% per annum and the Tactical Growth Fund an average of 10.4%? Register below to learn more:
Latest posts by Houses and Holes (see all)