Oh yes, the absurdity cometh. Via NGI:
Tokyo Gas, Japan's largest natural gas utility, is joining like-minded gas importers and plans to renegotiate long-term liquefied natural gas (LNG) contracts to remove restrictive destination clauses and increase flexibility.

"For most new term contracts, we basically try to win deals that come destination-free," Tokyo Gas President Takashi Uchida said in late September. "For our existing long-term contracts such as 20-year contracts, we are trying to renegotiate to gain flexibility in destination when prices are reviewed."

Historically, most Asian LNG supply contracts have been long-term sale and purchase agreements (SPA) for 20 years or more, with an option to extend or renew. Long-term SPAs typically include price review clauses, which are reviewed every four or five years. Contracts that accept a close price link to oil prices are naturally exposed to price reviews.

Want access to the trading data behind our news coverage?

Subscribers also get PDF downloads and daily updates, charts, & analysis.
SPAs may include destination restrictions that requires the buyer to take delivery at a specified port or only sell the LNG in a specified geographic area. Most LNG contracts signed by Japanese buyers include such destination restrictions.

In 2017 Japan's Free Trade Commission ruled that destination clauses in contracts that prevented reselling contracted LNG cargoes were anti-competitive and therefore illegal. Yet, in the ensuing two years few Japanese buyers have pressed the commission's ruling in their existing deals, preferring to hold off on enforcing the ruling when long-term deals are up for renegotiation or when they sign new SPAs.

Tokyo Gas has also stepped up its efforts to diversify supply sources and price formulas by using different types of pricing indexes in an effort to improve competitiveness, Uchida said.

The utility in April signed an unprecedented LNG supply deal indexed to coal prices with a unit of Royal Dutch Shell plc. Tokyo Gas in the deal would buy 500,000 metric tons/year for 10 years beginning next April. A pricing formula based on coal indexing is to be used for part of the supply, while the rest of it would be priced off conventional gas and oil-linked indexes.

Price reviews and changes in destination clauses indicate further fundamental and structural shifts in LNG markets in the Asia-Pacific region, particularly among the region's legacy buyers.

Jera, a joint venture between Tokyo Electric Power Co. and Chubu Electric Power Co., in September said it renegotiated some contracts to drop destination clauses. Jera increasingly is a major LNG reseller.
Nearly a third of volumes are now traded on spot without destination clauses and it will keep climbing as contracts roll off. By 2030, it will be two-thirds of the global market: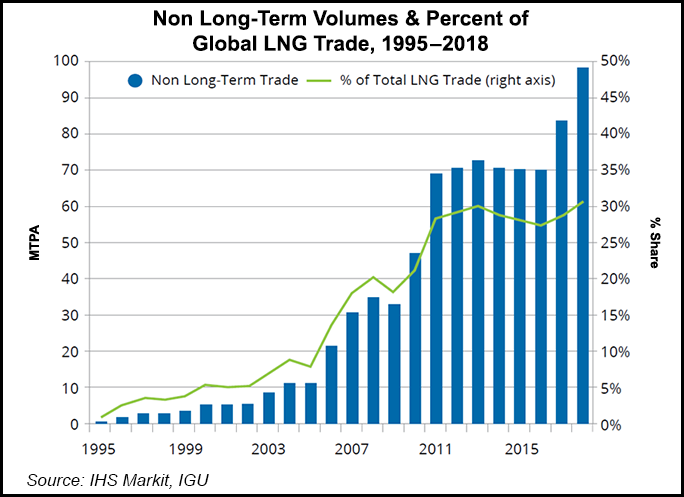 This should have been a boon for Australia as it sank gas cartel market power as average offshore prices kept falling. Instead it presents an appalling twist in Australian gas management as the decline of "destination clauses" raises the prospect of Australia importing its own gas to itself.
JERA is a big importer of Aussie gas and a partner in a planned east coast import terminal so it will be in a position to sell us our own gas.
It will be both unnecessarily costly and bothersome for the import/export cartel to actually bring in foreign gas. It will make much more sense to import Australian gas.
Victoria especially will then enjoy its own gas after it has done a rather amusing round trip. It will be extracted from Bass Strait, piped north to QLD export terminals, frozen for transport, sailed out to the reef for a bit, then motor south to the Victorian LNG import terminal. There it will be unfrozen and distributed into the same pipeline network that carried it north and sold to Victorians. Along the way it will have added costs of:
massive overcharging for the original gas via the BHP/Exxon Gippsland cartel;
$2Gj to pipe it north;
$2Gj to freeze it and ship it south;
$3Gj to unfreeze it and release into the "market".
That'll give you $11Gj gas which came out of Bass Straight down the road at $1Gj or similar. At this point the molecule of gas might be used to make, cook or heat something. Or, it might be bought again by the gas cartel and make the same round trip a second time for some more ticket clipping.
And, of course, all the while, gas will set the marginal cost of electricity and drive up your power bill too.
Go Straya.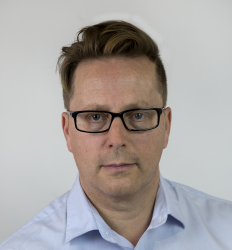 Latest posts by Houses and Holes
(see all)