The ABC has published a detailed report on how rabid population growth is wrecking liveability across the Gold Coast:
The Gold Coast may just be the urban equivalent of human growth serum.

Over the next two decades, development there will be fuelled by an expected population boom of 350,000 people — more than half of the city's current population…

As the population builds along one of Australia's most iconic tourist destinations, some locals are worried it could wipe out the very character that makes the Gold Coast unique.

'Unattractive and overpopulated'

Ms Jensen was one of 200 people who attended a community meeting this week in Palm Beach, where locals voiced their concerns over the council's proposed city plan.

"It seems to me architects and town planners just decide to put a high-rise up without even looking at the area," she said…

Kim Parker, who has lived on the Gold Coast for 20 years, said the area had become "overpopulated and unattractive"…

"We're not against development … but a lot of the buildings we're seeing are just horrible brick blocks of concrete with ugly black and grey verandas.

"We can still fit people in, but we don't have to do it in a way that crowds out character."
Meanwhile, Gold Coast's universities are lobbying the federal government to classify it as 'regional' so that it can attract more international students and 'skilled' migrants:
The Gold Coast wants to be reclassified as a regional area so it can boost its number of skilled migrants and international students.

The south-east Queensland city is classed as 'metro' under the federal government's migration program, alongside Sydney, Melbourne, Brisbane and Perth.

That means the Gold Coast won't benefit from new visas and incentives set to be introduced next month as part of the federal government's push to ease congestion in the cities and encourage migrants and international students to go regional…

Study Gold Coast chief executive Alfred Slogrove said the city only attracted four per cent of the international student market…

"We're not looking to be treated differently, we're just looking to be treated the same when it comes to international education"…

From November, international students who graduate from a regional university will be able to work for an extra year in Australia. There will also be 1,000 scholarships worth $15,000 available every year to international students in regional areas.

Study Gold Coast, a consortium of tertiary education providers including Bond and Griffith universities, has submitted a business case to Immigration Minister David Coleman in a bid to change its classification before then.

"We need the incentives to help us attract us the best quality talent here to the coast that support all different types of the economy including visiting family and relatives to our tourism market. They also help local businesses globalise," Mr Slogrove said…

Universities in the area fear they are already being disadvantaged, as education agents begin spruiking the new incentives and encouraging prospective students to look elsewhere.
A similar situation is playing out across Australia's major capitals. Living standards are being crush-loaded, residents want immigration to be cut, and yet the growth lobbyists continue to demand more migrants in order to line their pockets.
With Australia's population projected to balloon by another 17.5 million people over the next 48 years, driven entirely by mass immigration: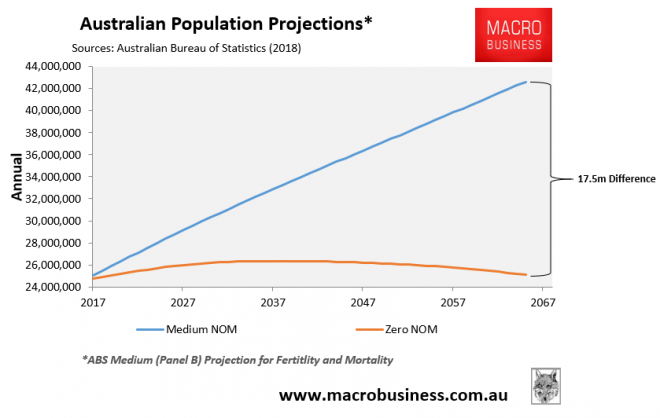 And Australia's major urban areas projected to balloon in size: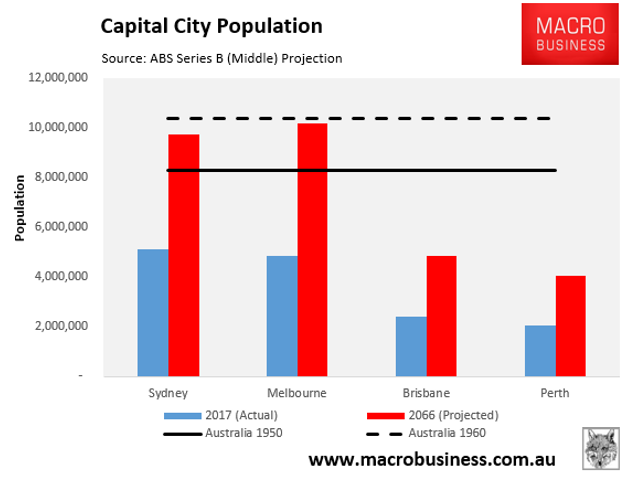 Liveability will destroyed coast-to-coast.
Cut immigration.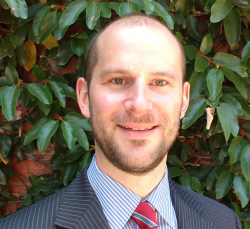 Latest posts by Unconventional Economist
(see all)