The Australian's James Kirby has penned another article bemoaning that Australians on the Aged Pension are being penalised by the RBA's interest rate cuts and is arguing for the deeming rate to be cut even further:
With the official cash rate suddenly at historic lows of just 0.75 per cent… pensioners are already up in arms with a "new" deeming rate, which at 3 per cent, is more than three times higher than official rates…

On the lowest individual deeming rate (for investment amounts of less than $51,800) the deeming rate was cut from 1.75 per cent to 1 per cent, but on the higher band (more than $51,800) the rate was merely trimmed from 3.25 per cent to 3 per cent – that last government change has already been effectively nullified by the most recent RBA rate cuts.

Lobby groups complain that older investors with conservative portfolios cannot deliver returns that are anywhere near the rate assumed by the government. Recent surveys have shown older Australians often have at least a third of their savings in cash accounts, which means they are being penalised for making conservative decisions.
Labor's shadow Treasurer, Jim Chalmers, has made similar arguments:
Shadow treasurer Jim Chalmers believes the latest round of interest rate cuts should spark more federal government relief for pensioners.

The Labor frontbencher is urging Prime Minister Scott Morrison to look at again reducing deeming rates, which are used to estimate how much some pensioners earn on their financial investments.

"He is not passing on the benefit of these interest rate cuts at the same time as he's getting all hairy-chested about the banks not passing it on," Mr Chalmers told Sky News on Sunday.
However, Council on the Ageing Australia CEO, Ian Yates, recently countered, arguing that most pensioners earn significantly more than the deeming rate on their investment earnings:
"Those calling for the full cut in the cash rate to be applied to deeming need to be honest about how many pensioners are affected, and about the fact that if the Government replaced the deeming rate with actual earnings the majority of part pensioners would be worse off," he said.
The argument that the deeming rate is unfair does not pass scrutiny. Deeming rates apply to all financial assets, including equities like shares and unit trusts. And equities typically rise as the cash rate falls – a point conveniently ignored by lobbyists.
Deeming rates have to provide a simple benchmark that takes account of cash returns, dividends and other equity returns. That's why there are two deeming rates – a lower one biased to cash (1.00% on the first $51,800 of investment assets for a single), and a higher one biased to equities (3.00% on investment assets over the amount of $51,800 for a single).
If anything, the upper deeming rate is far too generous, since actual earnings on equities (dividends) are typically much higher than 3%.
The Guardian's Greg Jericho recently made the important point that it is not current, but future, retirees that are likely to suffer under the current system, due to the rise in household debt among pre-retirees, alongside plummeting home ownership rates:
In 2017-18 something happen that has never occurred before – more 55-64-year-olds were still paying off a mortgage than owned their home outright:

At the turn of the century, 64% of people in their pre-retirement years lived in a house owning no mortgage; now it is just 37%.

Forty per cent of such households are still paying a mortgage compared to 20% in 2000.

The percent of renters aged 55-64 has also risen in that time from 14.7% to 21.0%.

And this is where that nice little sentence in the superannuation guides comes back with a vengeance. Because "assumes you own your home" means assumes you have paid off the mortgage.

If you go to the Association of Superannuation Funds of Australia's retirement guide, none of the budget expenses for "ASFA Retirement Standard for retirees" include rent or mortgage repayments.

For those aged 44-54 the issue is even more stark…

In 2000, almost as many 44-54-year-olds had paid off their mortgage as held one. Now 55% have a mortgage and just 17% have paid it off…

Right now our retirement systems operates with three quarters of retirees owning a home; in 20 years it will need to work with less than a third doing so.
That's right. Australia's retirement system is geared towards people owning their home. However all generations, other than today's retirees, have seen home ownership rates plummet: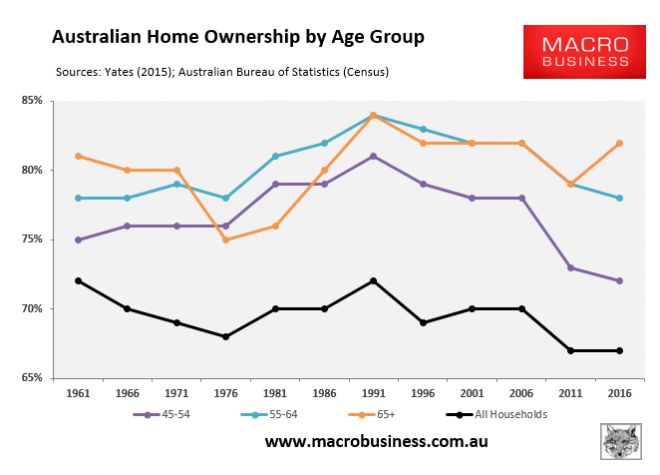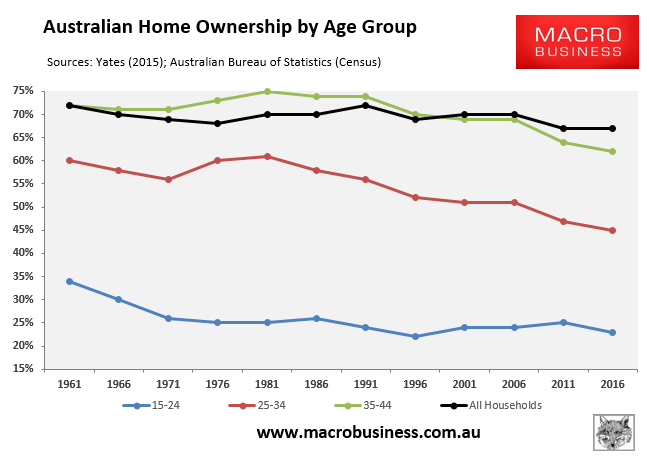 All of which makes the whinging from today's over-fattened retirees a bitter pill to swallow. They are sitting pretty when compared against the younger generations.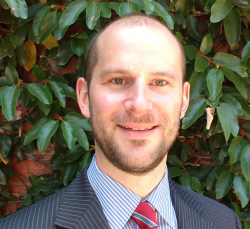 Latest posts by Leith van Onselen
(see all)