Labor has one again attacked the high number of asylum seekers entering Australia by plane, which is being spearheaded by Malaysians arriving on electronic tourism visas:
Labor argues the number of [asylum seeker] arrivals in July and August suggests 2019-20 is likely to bring the largest number of arrivals on record…

The Government links the increase to a rising number of visitors… But it's clear there are also other issues at play, including a disproportionately high number of Malaysians coming to Australia then applying for asylum.

A Senate committee report from earlier this year stated: "The Department of Home Affairs agreed that Malaysian nationals would apply for an electronic travel authority (ETA), arrive in Australia and, quite often, would immediately put in for protection which would enable them to work and stay in Australia for as much as eight years".

The ETA allows visitors from countries such as Malaysia to visit Australia using a visa, which is available online.

The Department of Home Affairs told the committee there was an integrity issue with the ETA.

But there are currently no plans to restrict access to the ETA for people from Malaysia or other countries…

Senator Keneally said people smugglers were taking advantage of these people.

"They traffic them out to illegal labour-hire companies, to nail salons, to hospitality, restaurants, to brothels, and they have them here," she said on Tuesday.

"They hold their passports, they pay them pittance, some of these people have reported conditions that sound like slavery.
Last month, The ABC revealed that 33,000 Malaysians had exploited visa system loopholes over recent years to lodge fraudulent applications for asylum:
High Commissioner Andrew Goledzinowski said 33,000 Malaysians had applied for asylum in Australia in recent years… "Many who overstay then apply for refugee status…. They are doing it because they know we are a generous country"…

"From the information we have, the large number [applying for asylum] is due to the fact that Malaysians are taking advantage of Australia's immigration laws to enable them to stay longer in an unlawful manner," said a statement from Malaysia's Ministry of Foreign Affairs…

"Everybody [in Malaysia] has got this idea that it's so easy to get asylum in Australia," [James Chin, director of the Asia Institute Tasmania] said.
The large volume of Malaysians making fraudulent applications for asylum helps to explain why the number of bridging visas on issue has more than doubled over the past five years, from around 95,000 in 2014 to 206,000 in 2019: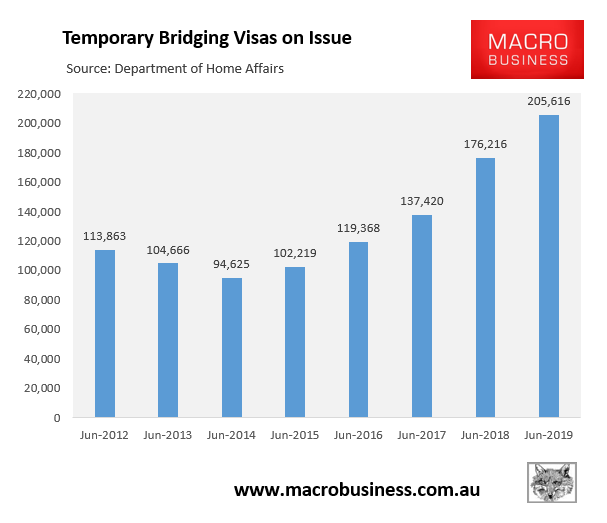 Bridging visas are typically given to people awaiting decisions on applications for permanent residency and asylum from the Administrative Appeals Tribunal (ATT). The AAT has been swamped with such applications, many of which are fake. As noted by former High Court justice, Ian Callinan:
"Almost everyone" with migration law experience had told him [Justice Callinan] there were applic­ants and representatives who "game the system, well knowing there is an automatic entitlement to a bridging visa"…

The AAT's caseload of migra­tion and refugee matters doubled in the two years to June 30 last year…
Australia's electronic travel authority (ETA) has facilitated the rorting of Australia's visa system by Malaysians. Perversely, Malaysia is one of only a handful of nations that has been permitted to apply for short-term travel to Australia for only $20, without needing to attend an embassy or high commission. Thus, ETAs have opened the door for Malaysians to travel to Australia on a tourist visa with the intention to work or gain permanent residency, knowing that as soon as they set foot in Australia they can apply for asylum.
Once asylum is claimed, they are automatically granted a bridging visa, which extends their stay for years while they await review from the AAT. In the meantime, they can work illegally.
The cost of reviewing migration and refugee cases is also exorbitant at between $2137 and $3036 per review. And once their application is eventually rejected, they are flown home at Australian taxpayers' expense.
Malaysia's Deputy Foreign Minister explained the visa scam as follows:
The Malaysian government this week acknowledged Malaysians seeking to earn money in Australia were scamming the country's protection visa system by the thousands each year…

Malaysian Deputy Foreign Minister Marzuki Yahya told parliament there were few disincentives for workers to try their luck because it was so cheap to apply for a protection visa.

The worst that could happen was they would be sent home at Australia's expense…
The incentives are such that Australia's visa system is being overrun by tens-of-thousands of fraudulent Malaysians making bogus claims for asylum. This is undermining the system's integrity, costing Australian taxpayers millions, and is undercutting Australian workers.
The flood of fake plane asylum seekers also makes a mockery of the Coalition's 'strong on borders' claim.
At a minimum, the federal government must immediate suspend Malaysia from the ETA scheme. This would require each visa application to be individually reviewed and close the pathway to exploitation.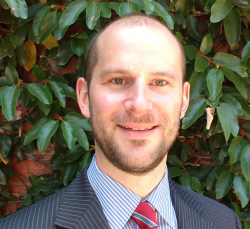 Latest posts by Unconventional Economist
(see all)