ACTU president Michele O'Neil has criticised Labor's decision to support legislation to establish free trade agreements (FTAs) with Indonesia, Hong Kong and Peru. She says the trade deals breach Labor's national policy platform. Unions' concerns about the trade deals include the clauses regarding investor-state dispute settlement and labour market testing. The legislation was passed by the lower house yesterday and is expected to be passed by the Senate in November. From The AFR:
Labor leader Anthony Albanese urged the ACTU to consider the jobs bonanza that could flow, especially from the deal with Indonesia…

Unions argued the FTAs would facilitate the entry of foreign workers and leave the federal government prone to legal action from abroad via Investor-State Dispute Settlement (ISDS) clauses…

ACTU President Michele O'Neil said the concessions did not go far enough and the FTAs still violated Labor's policy platform, which outlawed deals with ISDS clauses and mandated labour market testing.

Labor claimed the platform would only apply if it were in government and negotiating the deals.

"This is not an agreement that Labor would have made … but it is an agreement that the government has put forward and one which, overall, provides benefits for Australian workers," Mr Albanese said.
ACTU president, Sally McManus, also continues to fight against Labor's treachery: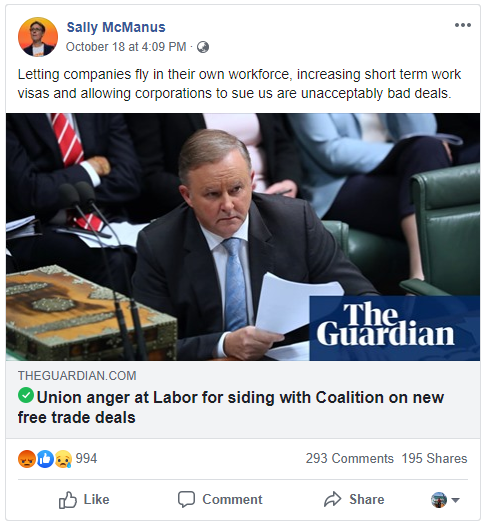 The policy platform the unions refer to is explained below:
Back in December 2018 the AMIEU and other Unions made a deal with the Labor Party that the conditions of Australian workers would be protected in all future trade agreements.

Labor was so embarrassed when we threatened to picket a Bill Shorten fundraising event they agreed to introduce better and fairer trade agreement legislation.

We expect Labor to honour the deal struck with the Union movement…

These new trade agreements will increase the number of temporary visa workers in Australia, of which there are already 1.4 million. Visa workers are taken advantage of by multinational corporations and used to erode the wages and conditions of everyone.

Not only have these free trade agreements not been independently assessed, they do not require labour market testing and even allow multinationals to sue the Australian government if they aren't making enough money.

The AMIEU has written to Federal Labor, Greens and Independent Parliamentarians to oppose the proposed free trade agreements. We urge these Parliamentarians to closely examine the new trade agreements to see just how they will disadvantage Australian workers.

Federal Labor Parliamentarians, if you aren't going to fight for the workers you claim to represent, you aren't fit for your job.
To be fair, neither Labor nor the union movement are properly representing Australian workers.
Both support Australia's mass immigration policy, which crushes workers' wages and inflates the cost of housing, thus worsening inequality.
Heck, the union movement even signed a 'Big Australia' immigration compact with employer groups last year.
Both need to abandon wokesterism and rediscover their working-class roots. Otherwise they will both continue to evaporate into irrelevance.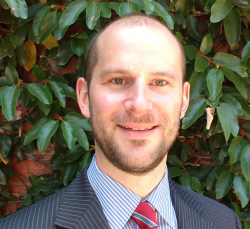 Latest posts by Leith van Onselen
(see all)